Disclosure: This article may contain affiliate links. We will make a small commission from these links if you order something at no additional cost to you.
New York's Capital Region is magical during the holiday season, and one of my favorite places to visit to get some festive cheer is Capital Holiday Lights in Albany.
Capital Holiday Lights has been running in Albany's Washington Park since 1997, making 2021 its 25th season. It's worth noting that 2021 is the last year this display will be set up in Washington Park (a victim of its own popularity), but there are plans to set it up at a yet undetermined location in future years.
Note: The Capital Holiday Lights will not be running in 2022, but there is a tentative plan in place to reopen them in 2023 at the Altamont Fair Grounds.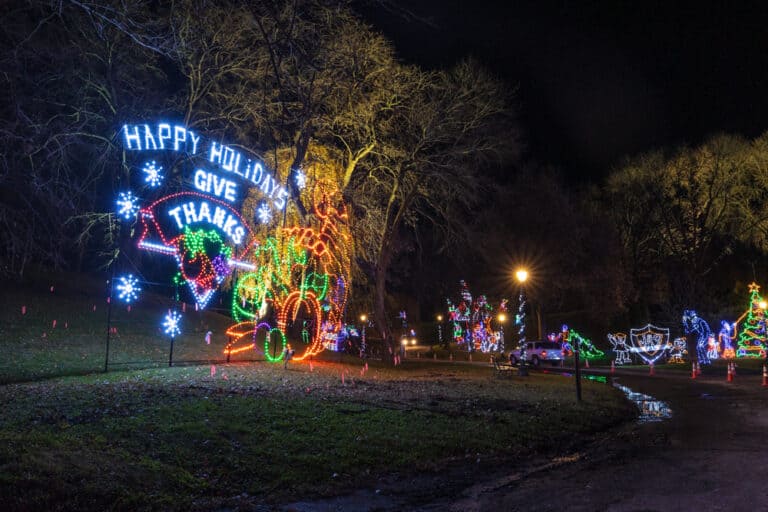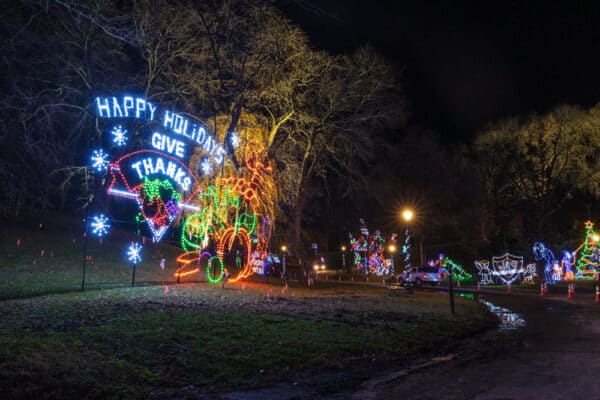 The display, which supports the Albany Police Athletic League, costs $25 per car, and tickets must be purchased online prior to arriving at the ticket window. Tickets are for a 20-minute window on a specific night, which should help alleviate some of the traffic issues and waits that you can often experience at these drive-through displays.
Turning into Washington Park, the lights actually start even before you get to the ticket booth. This means that you can enjoy a bit of festive fun as soon as you get to the park, even if you have to wait a bit to get to the official start of the show.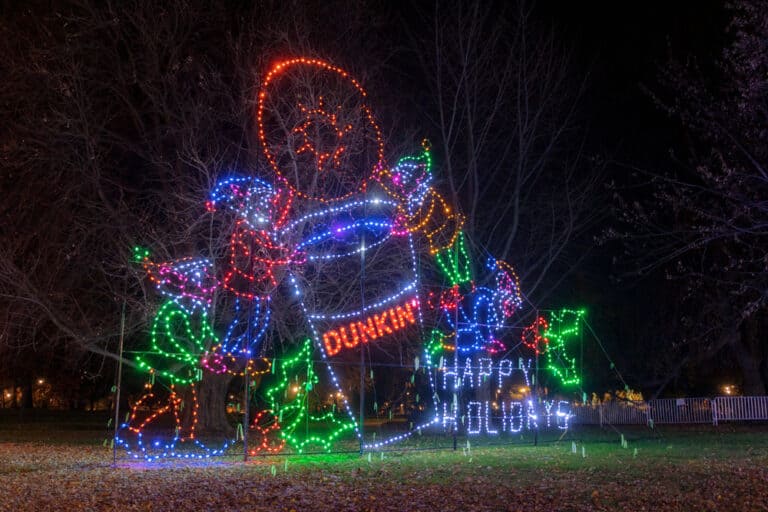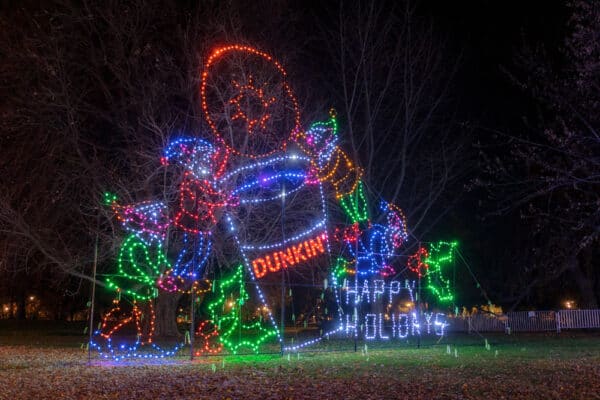 The actual driving route through Washington Park is roughly a mile in length and passes by over 100 different Christmas light displays. These displays range from classic holiday scenes, like the Victorian Village and the 12 Days of Christmas, to more whimsical displays such as a giant Santa and a cannonball exploding to say "Merry Christmas".
The displays are a mixture of static lights and ones that move either back and forth or tell a little story, like the aforementioned exploding cannonball.
Speaking of dancing lights, it's worth noting that the lights aren't set to any particular music, which would have been a nice touch. Nevertheless, the display does have a recommended radio station for visitors to tune into, 95.5FM.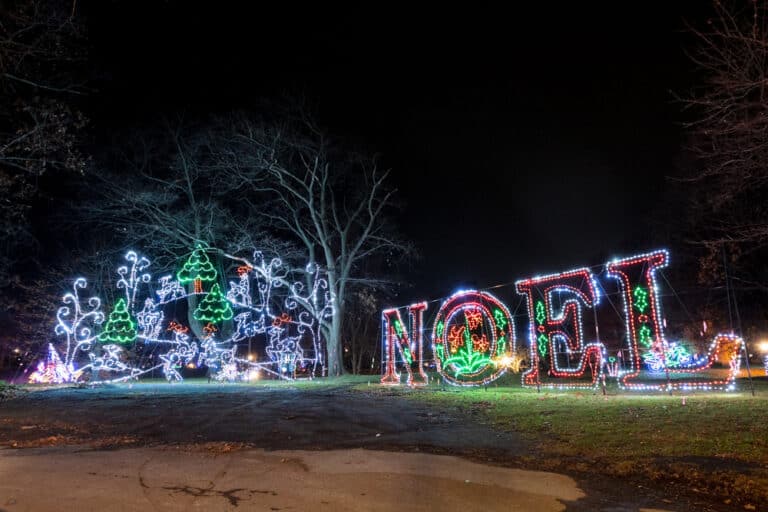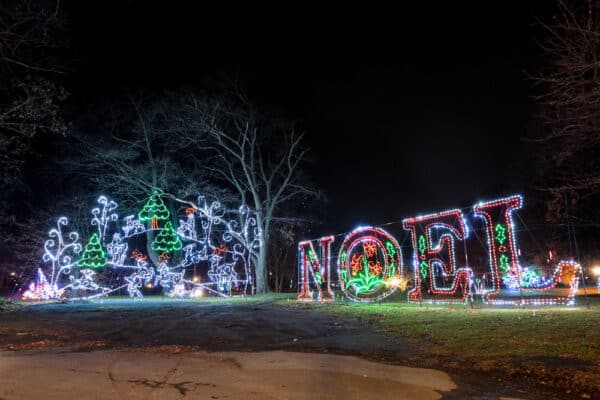 While this station does play a nice mix of Christmas music, it's worth noting that this is simply a local radio station that plays holiday tunes and not a station specific to the display. Because of this, you'll have periods of commercials as you would on any commercial station.
Since you likely don't want to listen to commercials while driving through the display, I'd recommend bringing along your own holiday music in some form to listen to while driving through Capital Holiday Lights.
Another aspect that I liked about Capital Holiday Lights was the setting. While many light shows are set in empty fields, the show here twisted around small hills, and the reflections off of the park's lake really added a lot of beauty to the display.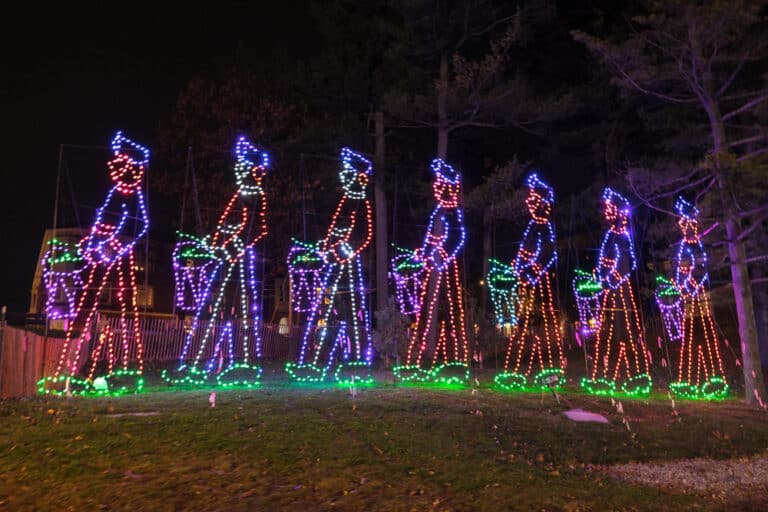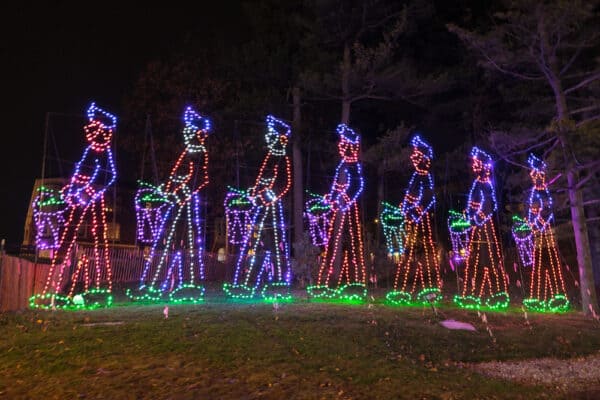 Hopefully, when they move to another location, they can retain the uniqueness of this setting as it really does add a lot to the show in my opinion.
In addition to the light displays, cars also drive past the decorated Park Playhouse near the end of the route.
Here, you'll find several places to park, where you can hop out and get some snacks and hot drinks at a concession stand. Santa was also there waving to cars as I drove past.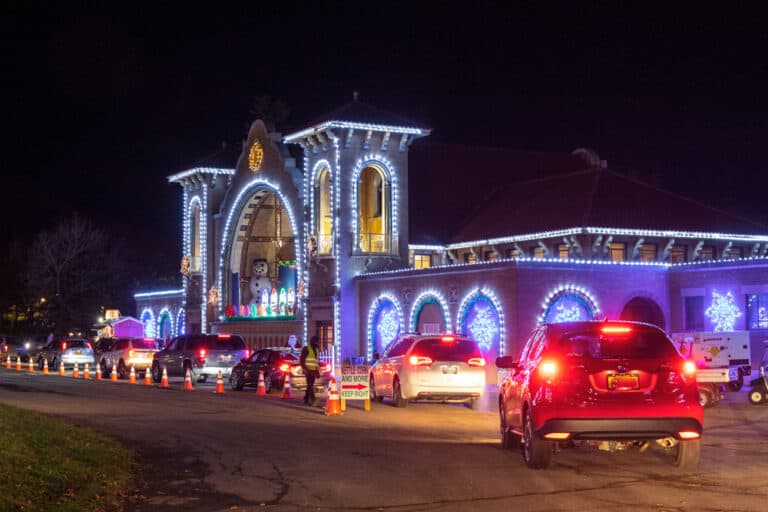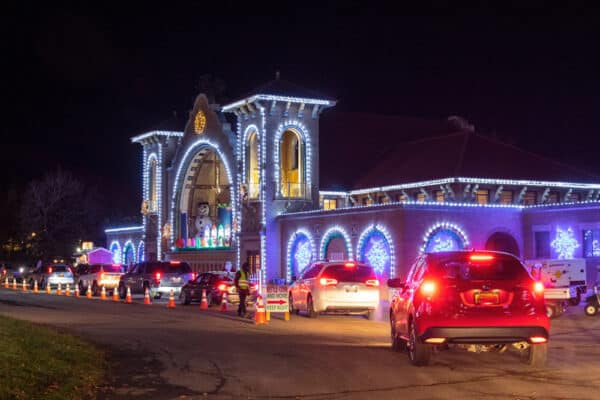 Since Syracuse is only about a two-hour drive from Albany, those that live in the middle might have to decide which of the two to visit. While I enjoyed the Albany show, if the cities are about the same distance from you, I'd probably opt to check out Lights on the Lake in Syracuse as the display was a bit larger and less expensive.
That being said, Capital Holiday Lights in Albany is a fantastic drive-through light display and one that is sure to leave you with some festive cheer.
If you are looking for great lights to see this holiday season in the Capital Region, that might be no better choice than Capital Holiday Lights.
In 2021, Capital Holiday Lights is open nightly from November 26 through January 2, 2022. It costs $25 per vehicle and tickets must be purchased online prior to arrival.
Looking for more places to visit nearby? Check out New York State Museum, Cohoes Falls, Fort Orange Brewing, and Plotter Kill Preserve.