Disclosure: This article may contain affiliate links. We will make a small commission from these links if you order something at no additional cost to you.
When I was doing a tour of Christmas lights around New York in 2021, I noticed a light show along the side of I-81 as I was driving north of Binghamton. It looked to be very well done, so, when I was making a similar trip the next year, I made a point of stopping to check out the Broome County Festival of Lights.
The Broome County Festival of Lights is held in Otsiningo Park a few miles north of downtown Binghamton in Broome County, NY. It got its start in 2020 to provide socially-distant holiday cheer but has since grown into one of the largest displays in the region in only a few years.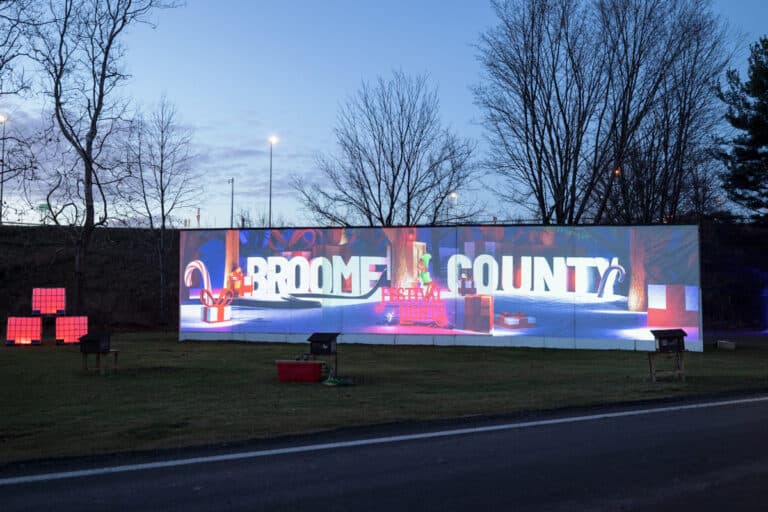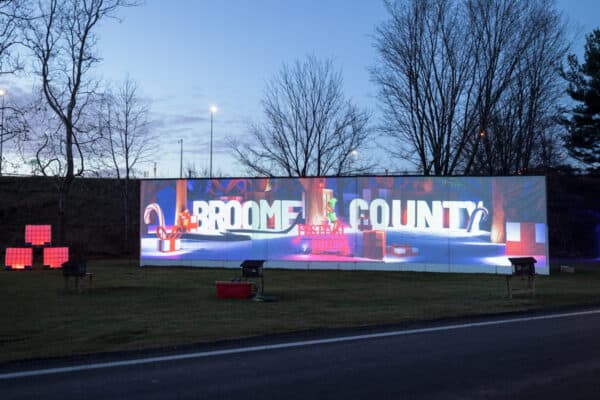 In 2022, the show acquired the light displays from the Tall Pines Players Club in Friendsville, PA (about 30 minutes to the south), which means that the display here is now quite large, boasting over a million twinkling lights according to the official information.
The Festival of Lights takes up the entirety of Otsiningo Park, which some may be more familiar with as the site of the annual Spiedie Fest each August. The course here is about 1.5 miles in length and follows along the paved roadway through the park.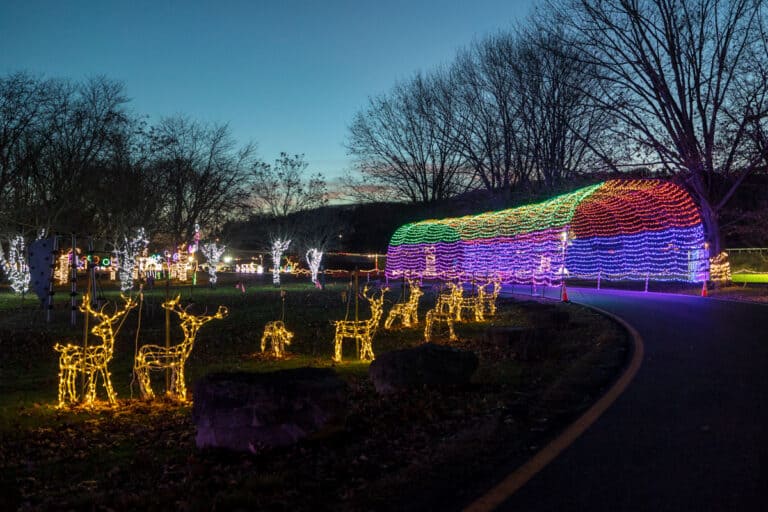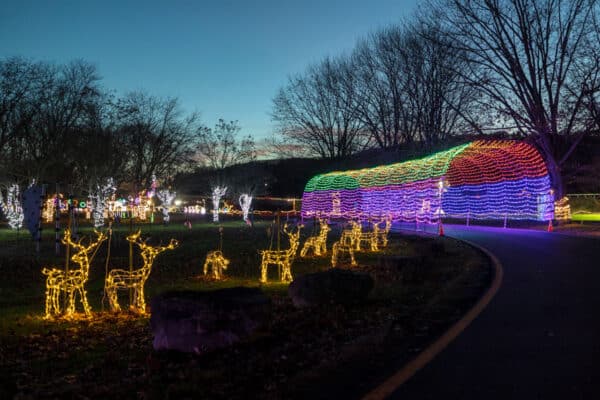 One thing that I loved is that the display actually starts before you even get to the ticket window. This means that if you are stuck in line waiting to get in, you can still enjoy lights outside of your car.
Once through the ticket window, the show really starts, and there are many great displays to be seen on both sides of the car. (Once you get to the last third of the show, most of the lights are on the driver's side because of the proximity of I-81 to the show.)
Most of the displays here are whimsical lights that feature various fun scenes ranging from snowmen and Santa to snowflakes and winter scenes. There are also plenty of light-wrapped trees, which add a lot of beauty to the entire park.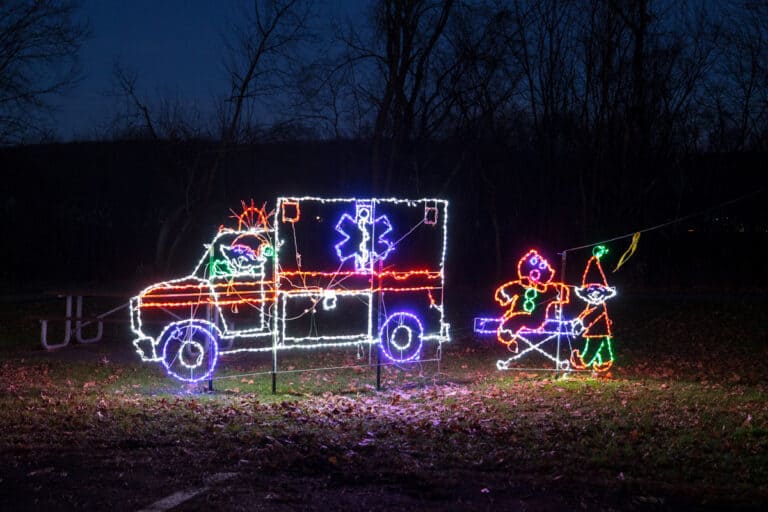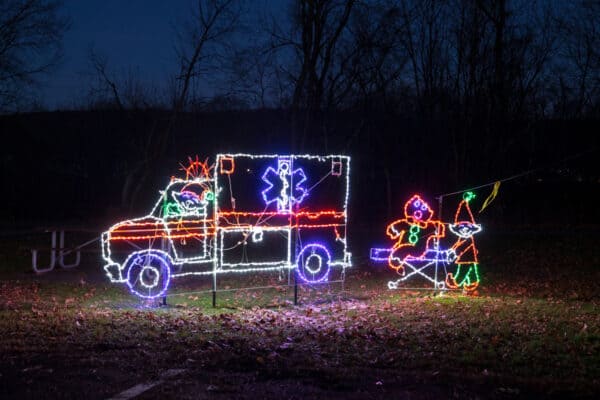 One of my favorite parts of the light show featured several scenes with Santa and his elves in various emergency rescue vehicles. The scene with paramedic elves helping a gingerbread man with several bites taken out of him made me laugh.
Another fun highlight of the drive around the display is the light tunnel. While there is only one on the course, it's rather long and quite nicely done, which makes it a lot of fun to drive through.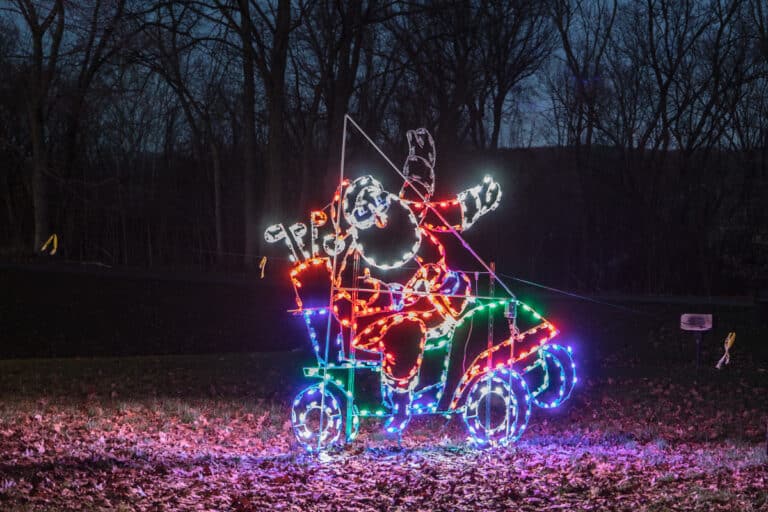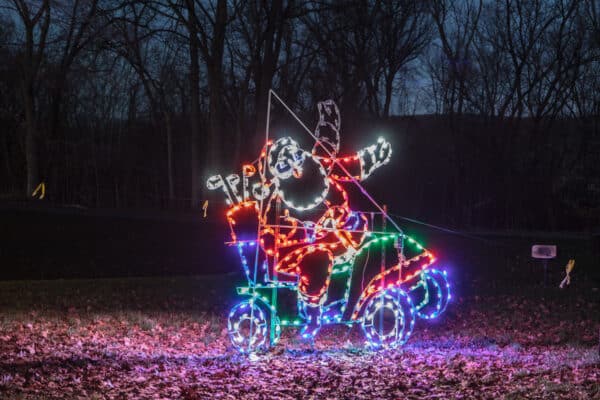 As you drive through the light show, you can turn your radio to the show's station, which plays a nice mix of Christmas music. There are no lights synched to this music, however, so if you prefer to listen to something else, you certainly could do so without missing any of the experience.
In addition to a great drive-through display, the Festival of Lights also features an area where you can get out of your car for a few additional attractions. These include visits with Santa, food and snacks, and some fun photo opportunities.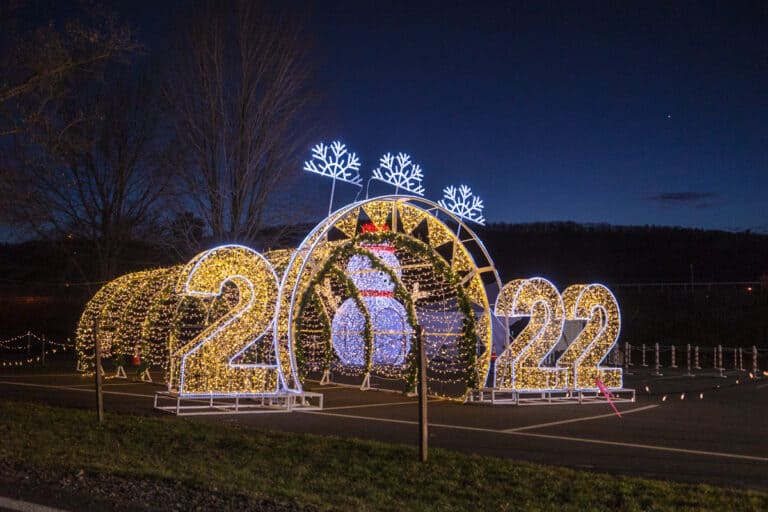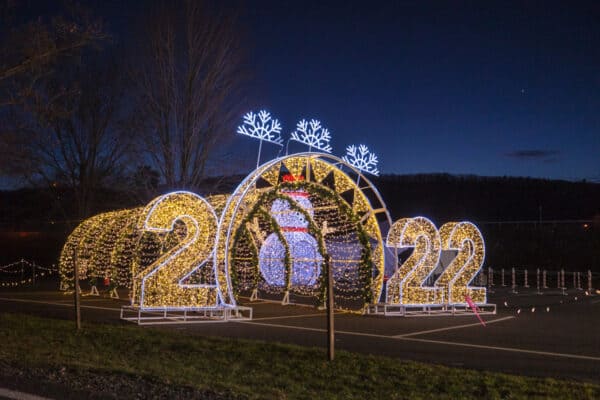 One thing that I really liked about this show, which is unique among New York light shows that I've visited, is that you can go around more than once. While there isn't any signage on-site about this, it is listed on the event's website.
If you want to go around a second time, simply follow the road to the left once you get back to the entrance gate (but before passing the gate). This is definitely a fun benefit, especially if visiting on a slower night when you can go more at your own pace.
Overall, the Broome County Festival of Lights is really a fantastic light show and worth checking out if you're in Central New York or northeastern Pennsylvania. That being said, it's not nearly as large as the Lights on the Lake in Syracuse (about 75 minute north), so if you find yourself trying to pick between those, I'd head towards Syracuse.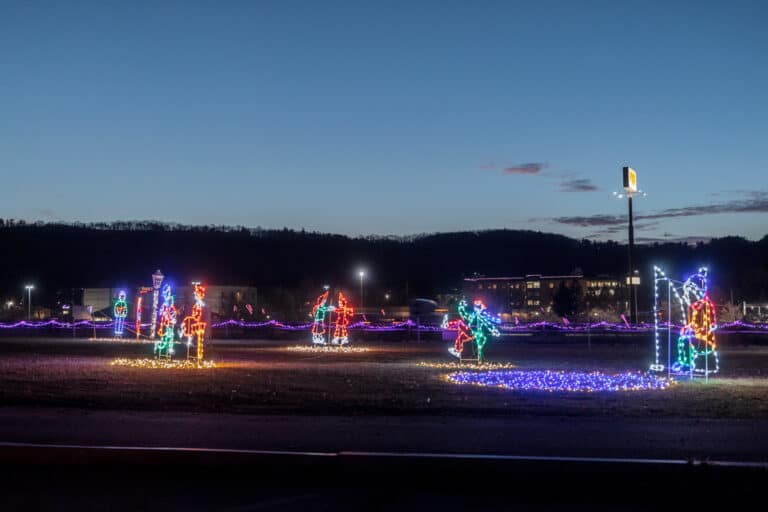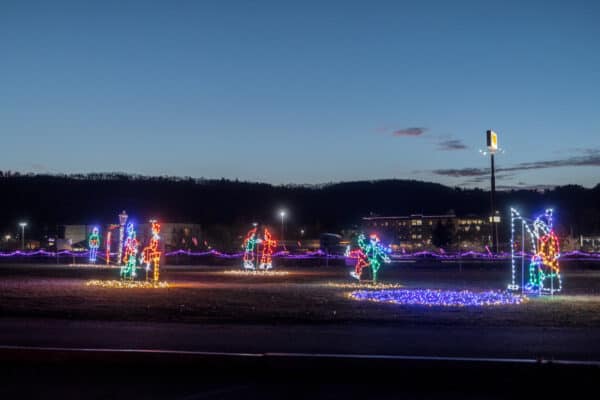 However, if you do opt to check out this show, you are sure to not be disappointed, as it's really great and is growing larger every year.
The Festival of Lights is open nightly from November 21, 2022 through January 1, 2023. The lights turn on at 5 pm each night and stay on until 9 pm. (Until 10 pm Friday and Saturday nights). The cost is $25 per car or you can buy a season pass for $50.
As with all drive-through light shows, I recommend visiting early in the season and on a weeknight, if possible. Weekends, especially those close to Christmas, can be very busy and you may encounter a long wait.
Looking for even more light shows to visit nearby? Check out Jungle Bells at Animal Adventure Park and Twinkle Town in Elmira. Also, note that you shouldn't confuse this display with the Festival of Lights in Buffalo or the Festival of Lights near Tunkhannock, Pennsylvania.