Disclosure: This article may contain affiliate links. We will make a small commission from these links if you order something at no additional cost to you.
I've traveled all over New York, and there might be nowhere that I enjoy visiting more than Ithaca in the Finger Lakes region.
That's because not only is this area incredibly beautiful thanks to Cayuga Lake and the many fantastic waterfalls in the area, but there are also some excellent museums, great adult beverages, and much more to see and do here.
So, if you're looking for the best things to do in Ithaca, NY, I've got you covered with some of my personal favorite spots that I've visited during my travels to this area.
Taughannock Falls State Park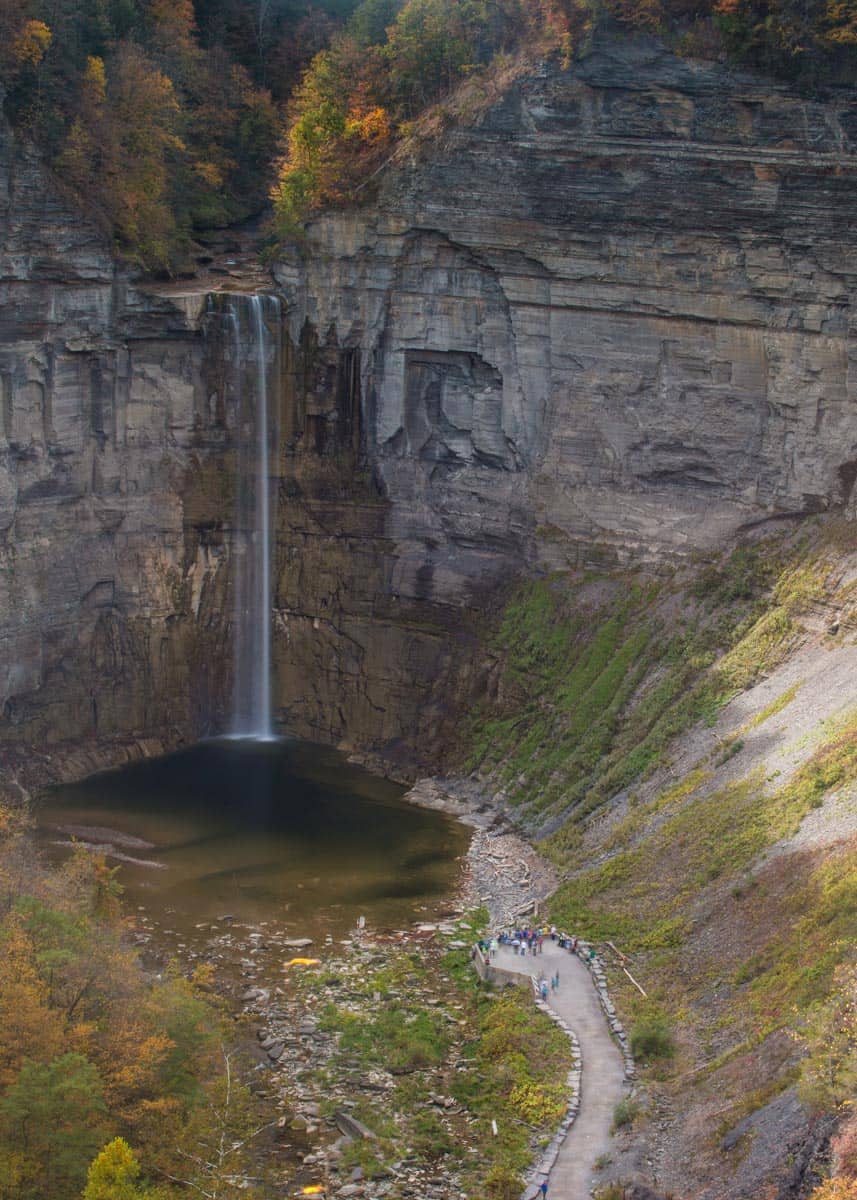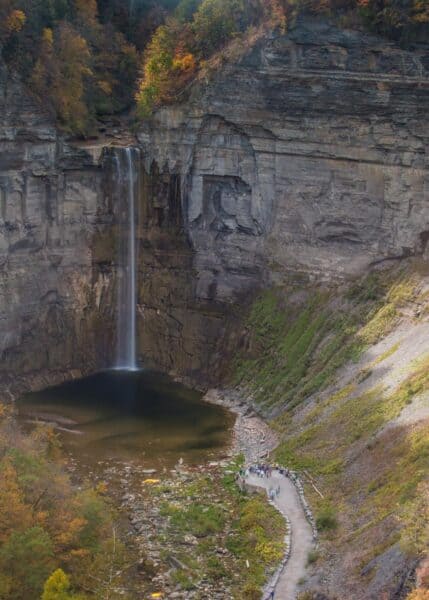 If you have time to only visit one spot in the Ithaca area, Taughannock Falls State Park should be your choice.
This park is centered around Taughannock Falls, which, at 215 feet in height, is the tallest single-drop waterfall east of the Rocky Mountains. Even more impressive, the cliffs here stretch upwards of 400 feet above the gorge, making the spot truly breathtaking.
Visitors can most easily view Taughannock Falls from above just steps from the parking lot (a view that is handicapped accessible). You can also hike the flat trail to the base of the waterfall, which is truly an awe-inspiring view.
The park is also home to two other beautiful waterfalls, a campground, and a small beach area.
Ithaca Falls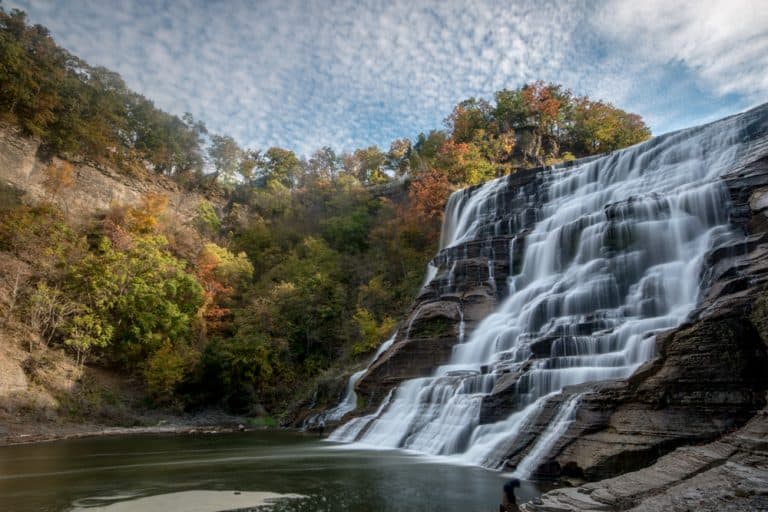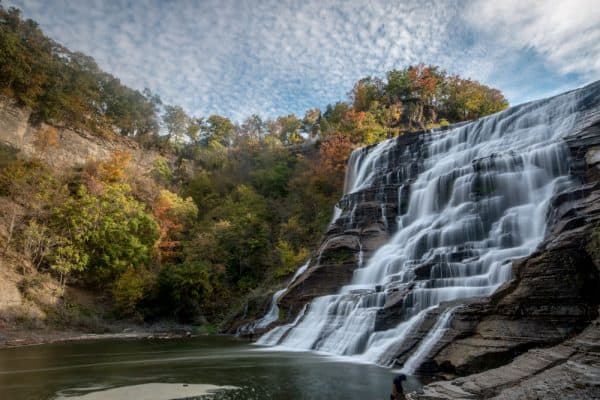 Given that the Finger Lakes region is so well known for its waterfalls, it shouldn't come as a surprise that there are a few on this list, and Ithaca Falls, which is located in the heart of the city, is another worthwhile one to check out.
Ithaca Falls can be found in a residential area of the city just east of downtown Ithaca and Cayuga Lake along the aptly named Falls Creek. At over 100 feet in height, this is an incredibly impressive waterfall to see in person.
Visitors can either enjoy it from a distance on the sidewalk along the bridge over the creek or walk the short hike to the base of the waterfall.
Johnson Museum of Art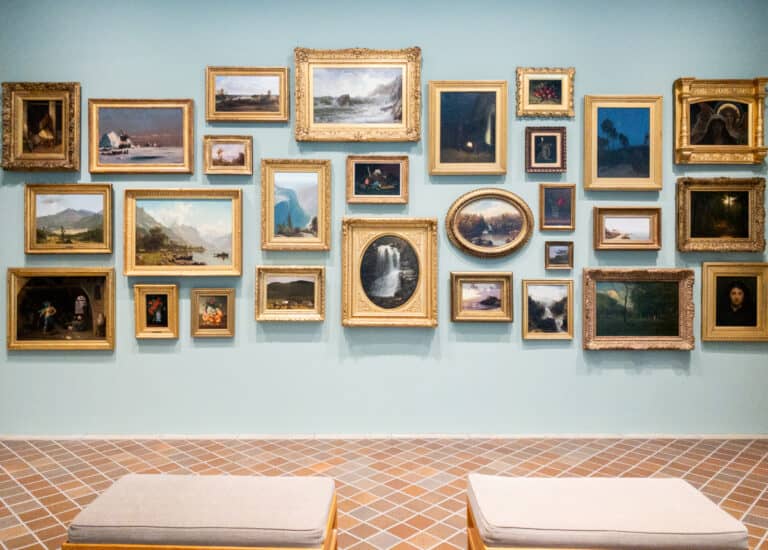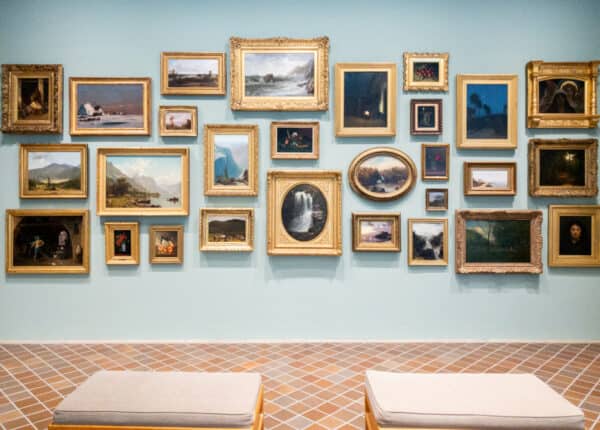 There are a lot of fantastic things to do on the Cornell University campus, and one of my favorites is the Herbert F. Johnson Museum of Art.
This free art museum features five floors of exhibits ranging from ancient Asian art to pieces done by university students in recent years. However, what connects them all together is the fantastic amount of artistic talent conveyed in each piece.
It's also worth noting that the top floor of the museum features an incredible view of the city, the campus, and Cayuga Lake.
Museum of the Earth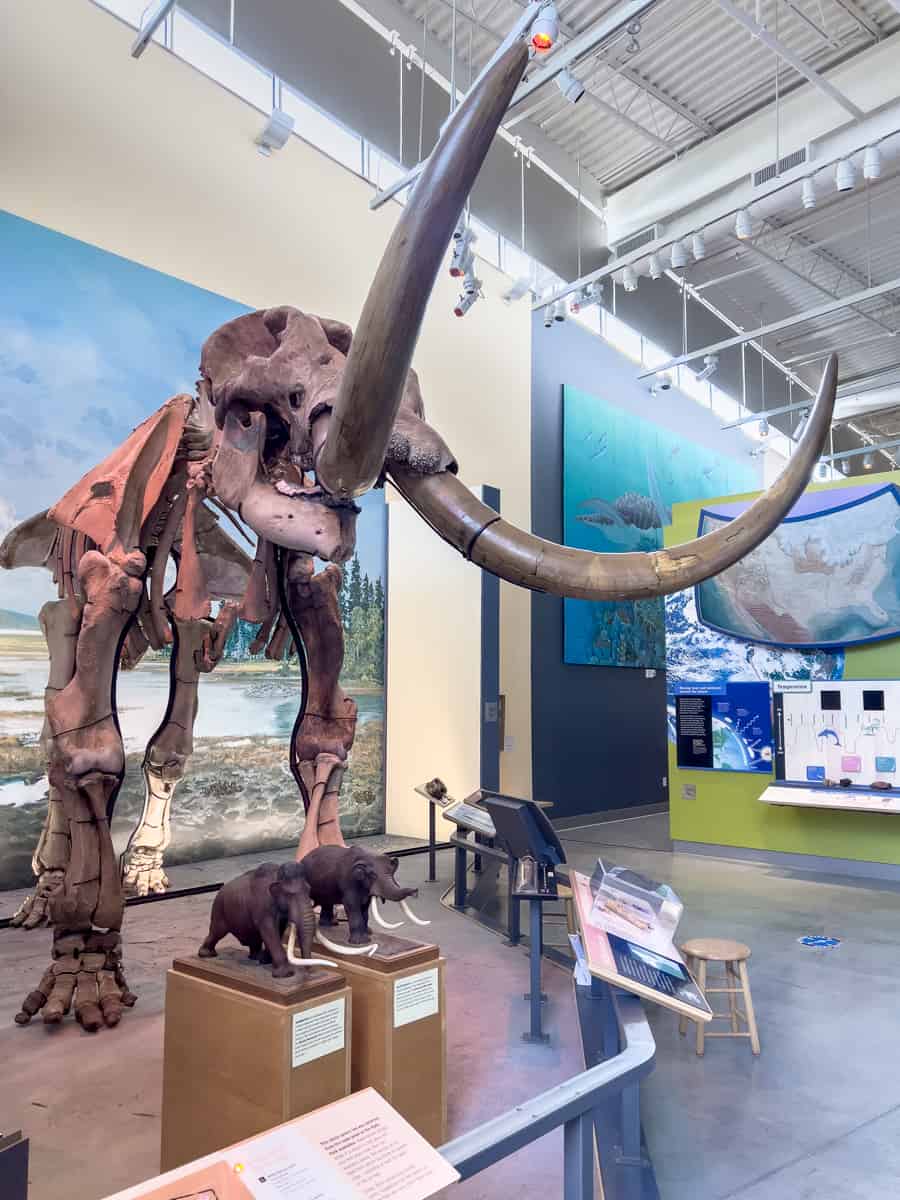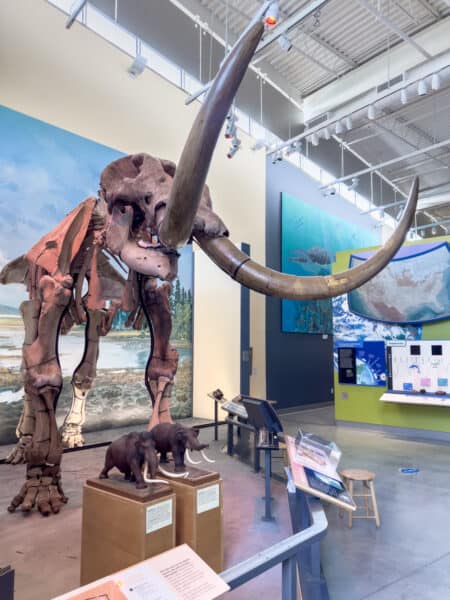 The Museum of the Earth is a fantastic natural history museum located on the western shores of Cayuga Lake that is run by the Paleontological Research Institution. It gets my pick as one of the best things to do in Ithaca, NY with kids, but is interesting for adults as well.
The most notable feature here is the Journey Through History, which guides visitors through four billion years of the earth's history through great displays, fossils, videos, and more. Visitors can also see the fossilized Hyde Park Mastodon, which is one of the most complete mastodon fossils ever found.
The modern North Atlantic right whale skeleton hanging above the museum is also another incredible focal point.
Newfield Covered Bridge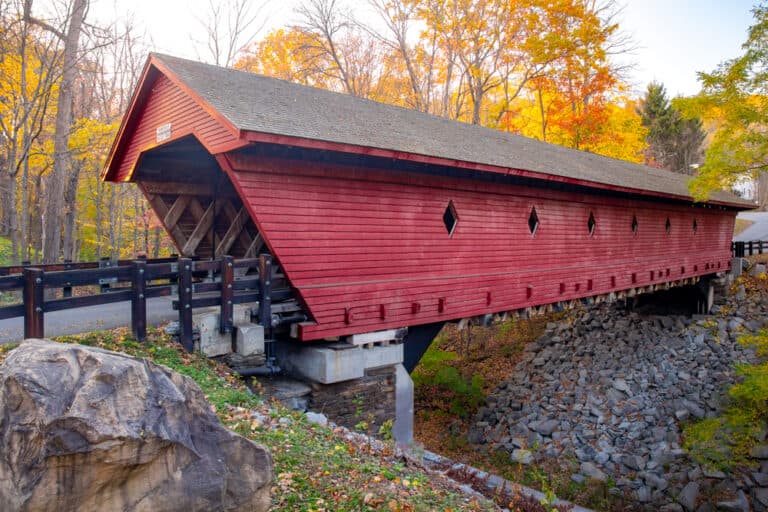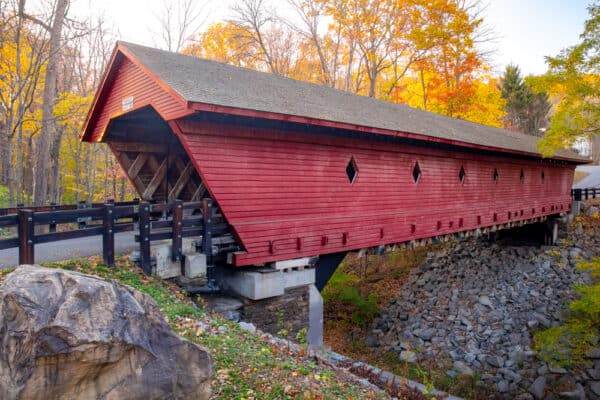 Visit the Finger Lakes' last historic covered bridge, Newfield Covered Bridge, which can be found only a few miles south of Ithaca.
This covered bridge was built in 1853 and is the oldest covered bridge in New York that you can still drive across. It crosses over a deep gorge in a forested area on the edge of Newfield, New York, which gives it quite a dramatic setting.
Parking is available next to the bridge for those that want to get out and have a closer look.
Cascadilla Gorge
While Cascadilla Gorge would be a huge attraction in a lot of communities, it's a hidden gem of Ithaca. Still, the trail through this gorge, which connects the Cornell campus to downtown Ithaca is worth checking out if you love waterfalls as it features eight waterfalls as the stream drops 300 feet along the half-mile trail.
Even better, for those who struggle with uneven terrain, much of the trail here is paved, making it an easy walk to see these beautiful waterfalls.
Ithaca Farmers Market
Held every Saturday and Sunday from April through November, the Ithaca Farmers Market is one of the best markets I've ever visited.
Located in the Ithaca Pavillion on the shores of Cayuga Lake, the market features as many as 130 different vendors from around the area selling their wares produced in the area. And, while a lot of it is typical fruits and vegetables grown on local farms, there are also many potential souvenirs to take home with you if you're traveling further including wines, honey, art, and much more.
Buttermilk Falls State Park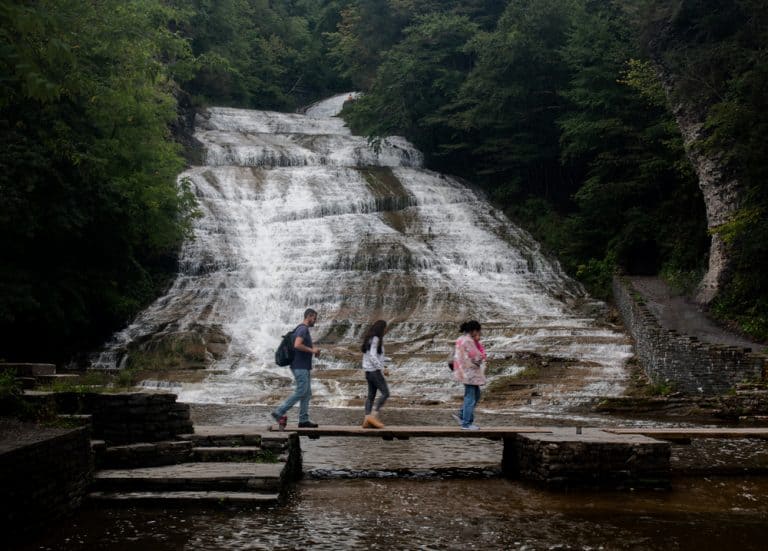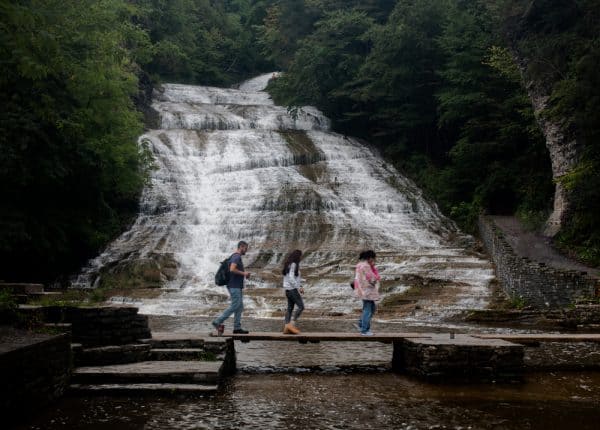 Located a short distance south of the city, Buttermilk Falls State Park is home to a large waterfall, an incredible gorge trail, and a swimming area at the base of the main waterfall.
The main waterfall in the park, Buttermilk Falls, drops 165 feet, making it one of the region's tallest waterfalls. This waterfall is visible from the parking area, so you technically don't even have to get out of your car to see this beautiful spot.
However, for those looking for a great hike, the Gorge Trail through the park is a fantastic hike that features several more small waterfalls and beautiful pools of water.
Cayuga Nature Center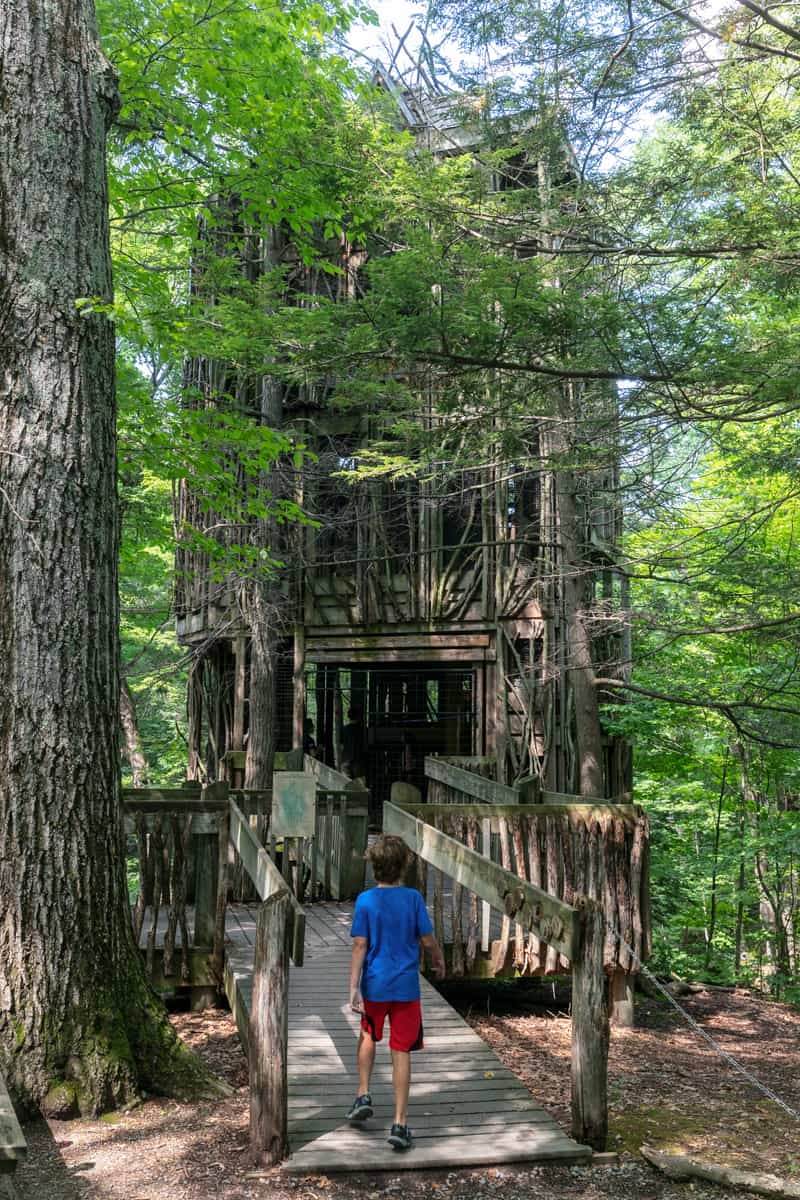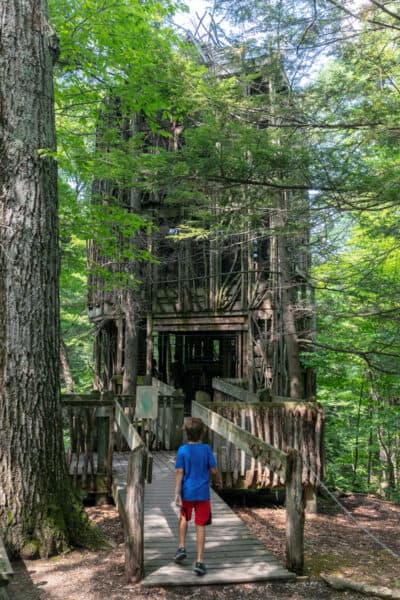 The Cayuga Nature Center is a fun spot to visit near Ithaca that features a fantastic nature center and several of the most unique things to do in Ithaca, New York.
In my opinion, the highlight here is the uniquely designed six-story treehouse set in the woods high above a small waterfall. This treehouse is a ton of fun for both kids and adults to climb and explore.
The nature center is also home to some live animal exhibits, several miles of hiking trails, and a butterfly garden.
Ithaca Beer Company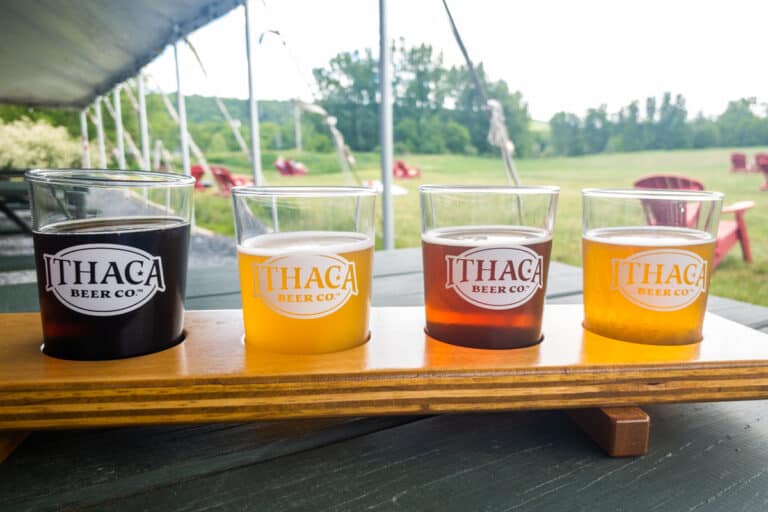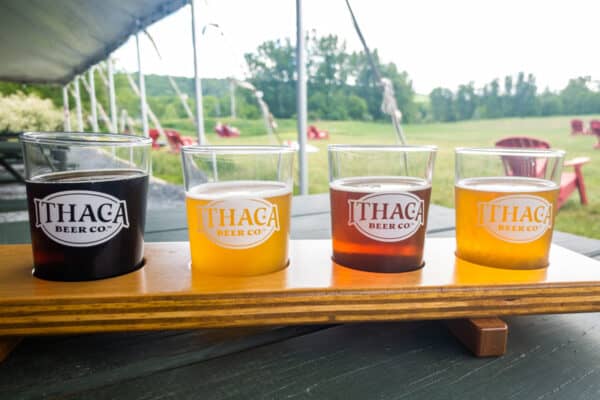 Ithaca Beer Company is one of the oldest breweries in the region, first opening in 1998, and features some of the most popular craft beers in the Finger Lakes.
Their main taproom is located south of the city and features a full restaurant and bar, as well as a fantastic beer garden. In addition to the chance to try some of their great beers (or craft sodas), their outdoor space is quite expansive, making it a good spot for families to visit as there is room for the kids to run around a bit.
For those looking to stay within Ithaca, Ithaca Beer Co. also features a taproom near the Cornell campus.
Ludlowville Falls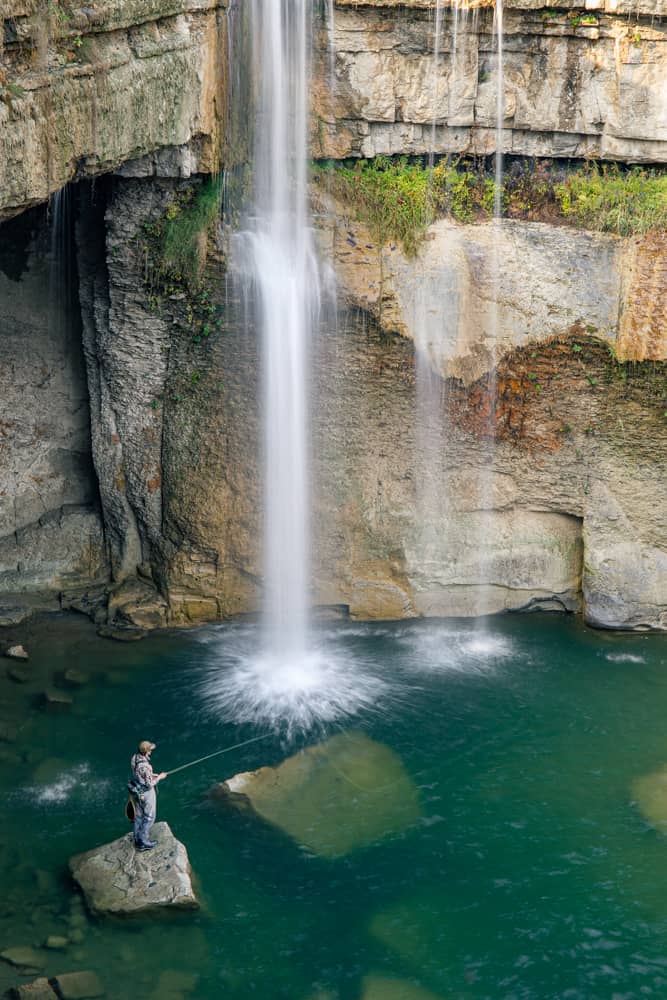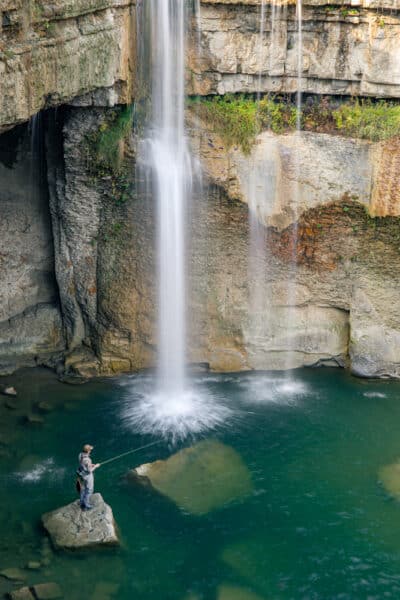 If you are looking for things to do near Ithaca, NY, the short drive to Ludlowville Falls is definitely worthwhile.
Located north of the city on the eastern shores of Cayuga Lake, this waterfall can be found within Ludlowville Park and can be seen both from above and below.
Getting to the area near the base of the waterfall requires hiking down a short but quite steep trail, but is worth it to get a closer look at this beautiful spot.
Sciencenter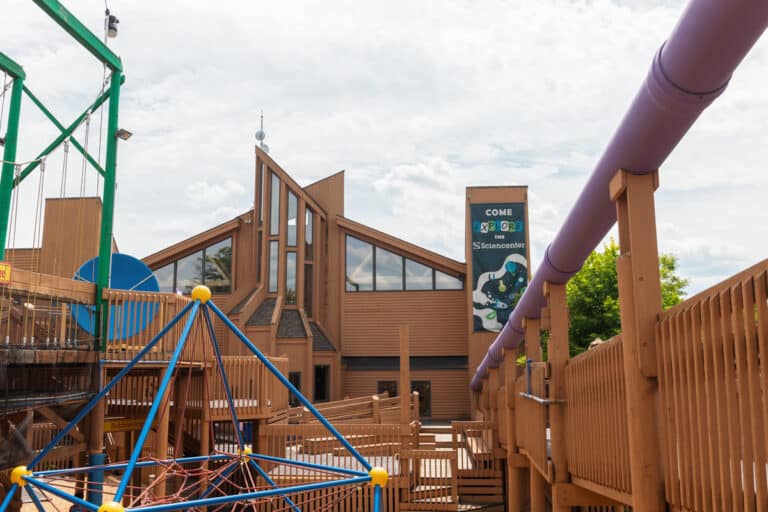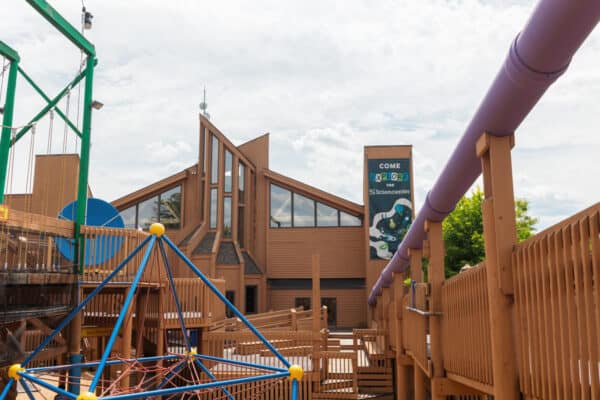 The Sciencenter is definitely among my kid's favorite things to do in Ithaca because it's an entire space devoted to fun.
This space is part children's museum and part hands-on science museum, meaning that there are a lot of opportunities for kids to learn while having fun on the museum's two floors of displays. There are even some live animals here that offer a great look into the local fauna.
The outside play area is also a major attraction at this spot and one that my kids spent a very long time exploring.
Treman State Park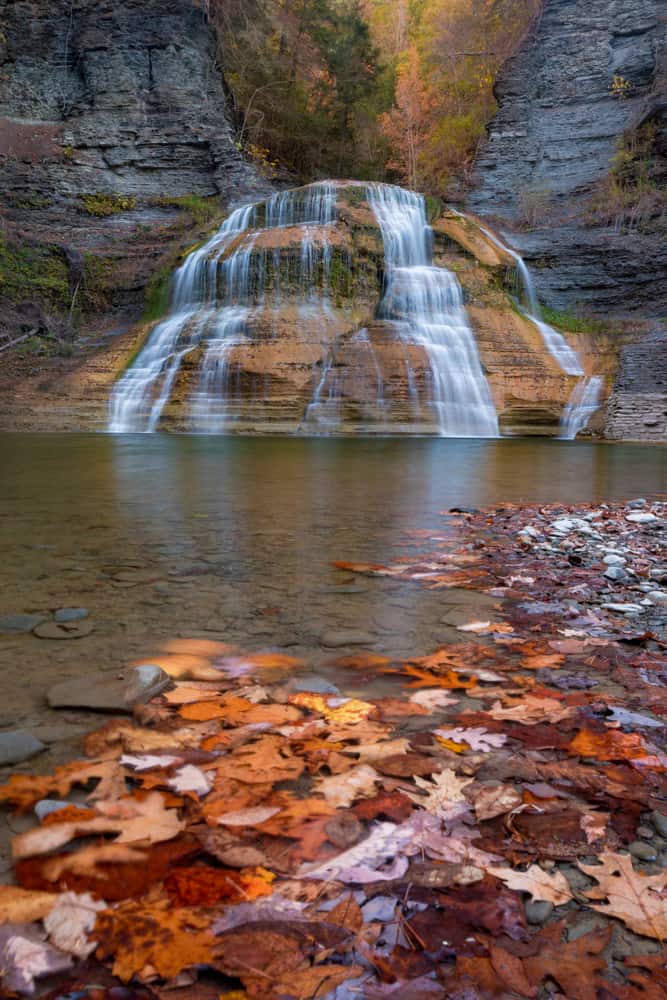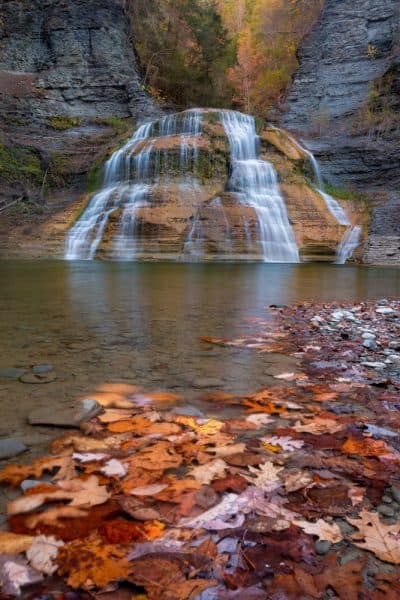 Robert H. Treman State Park is another fantastic outdoor attraction in Tompkins County and features two more fantastic waterfalls.
These two waterfalls are interconnected via a trail through the gorge, or you can simply visit both ends of the gorge separately to see Enfield Falls and Lucifer Falls on two short hikes.
During the summer months, the area below Enfield Falls is open for swimming, which creates one of the most unique and beautiful swimming areas that you'll find anywhere in New York.
History Center in Tompkins County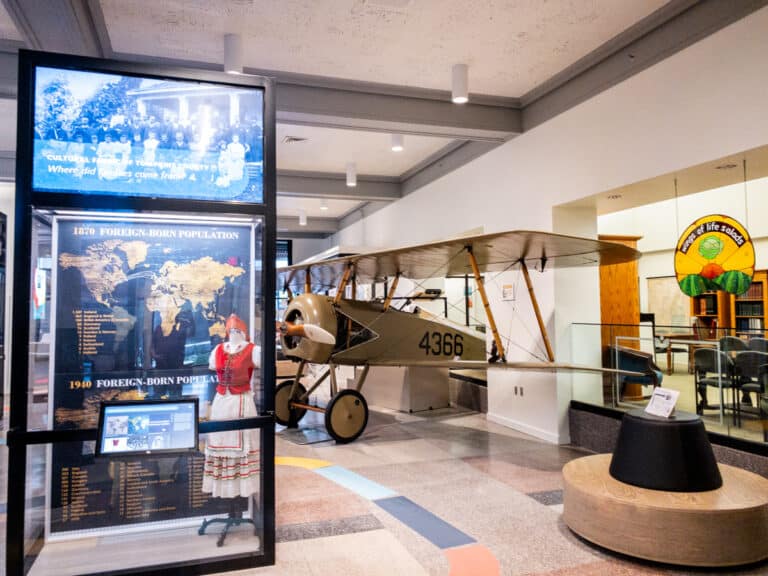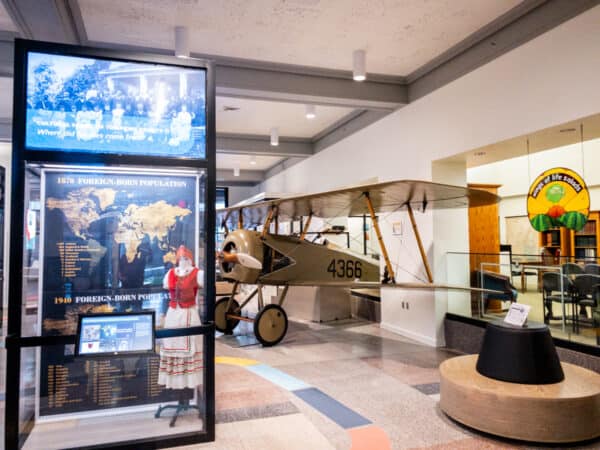 If you want to learn more about the history of the Ithaca area, The History Center in Tompkins County is a neat spot to check out.
Located in the heart of the city near the Ithaca Commons, this museum features modern displays that tell about the history and culture of the region. And, since the museum is located in an old bank, many of these displays are located within the historic vaults, which adds some neat interest to this space.
Without a doubt, this is definitely one of the best free things to do in Ithaca.
Fuertes Observatory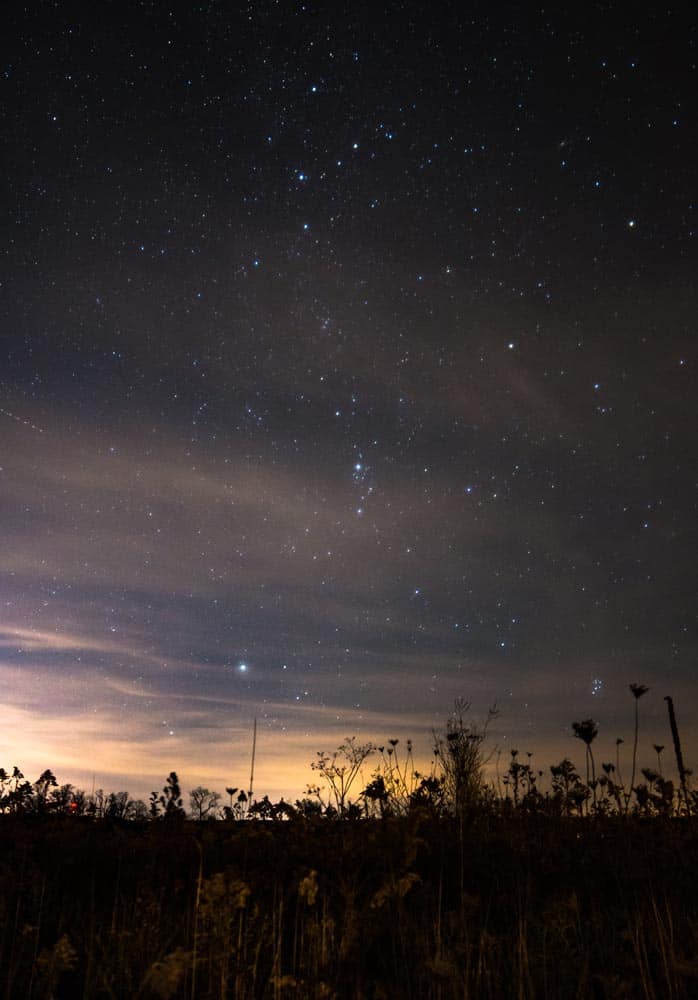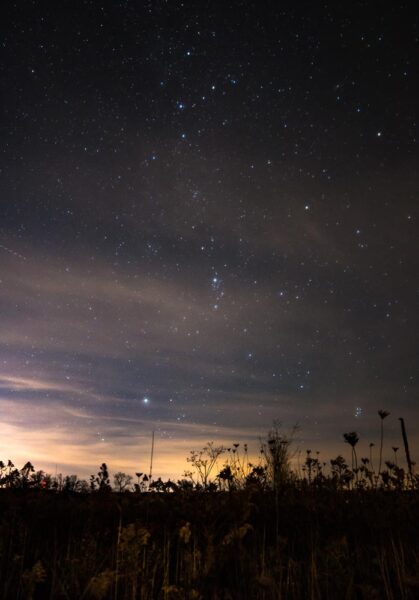 Believe it or not, the skies of Ithaca are dark enough that Cornell University has its own observatory, and my family and I were surprised by the many celestial bodies that we could see here during our visit.
The Fuertes Observatory is open to the public every Friday night during the school year no matter the weather. During the evening open houses, tours of the historic observatory are given and, if the skies are clear, telescopes are set up to allow visitors to look into the cosmos.
There is also a small museum in the observatory that offers a great look into the history of astronomy.
Ithaca Children's Garden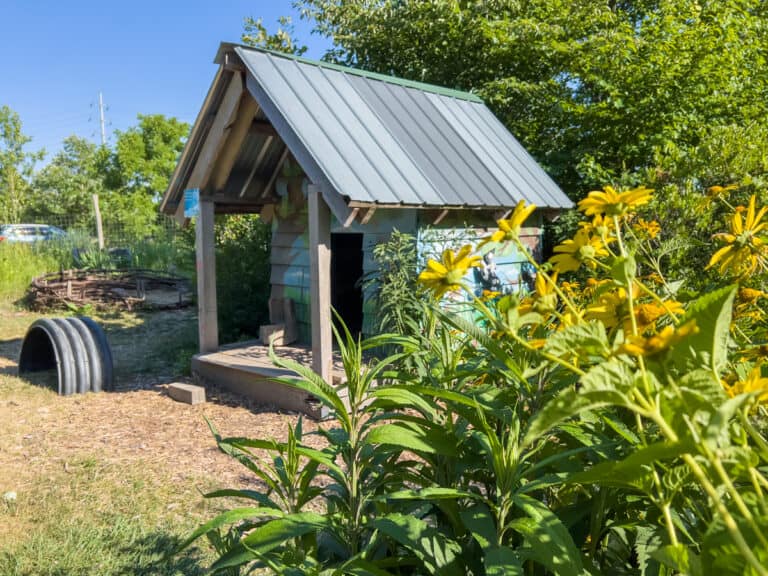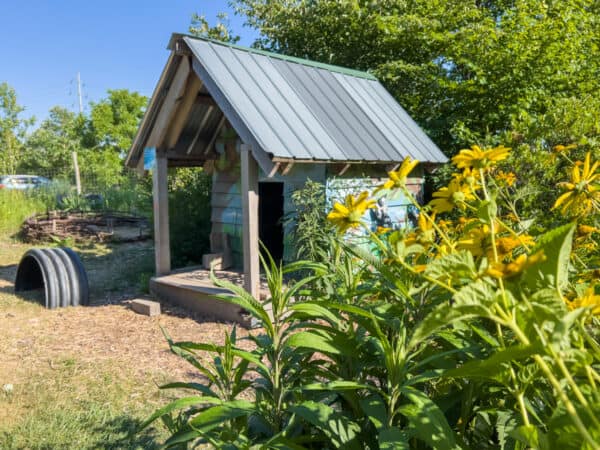 The Ithaca Children's Garden might be one of the most unique places in all of the Finger Lakes region because of its innovative play options for children.
This three-acre space is designed to let kids have an opportunity for innovative and hands-on play with a variety of unique play areas, though without typical play structures like swings and slides. Instead, kids can play in a sound garden, in miniature houses, walk through gardens, or climb the giant turtle.
There is also a unique "Anarchy Zone" that features a variety of items that can be moved around for kids to create their own playing habitats and features, according to the sign "No Rules".
Cornell Botanic Gardens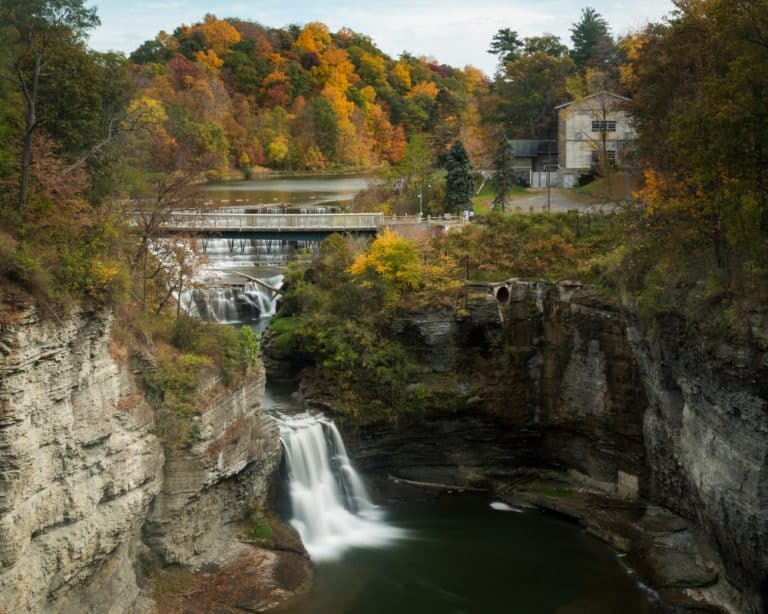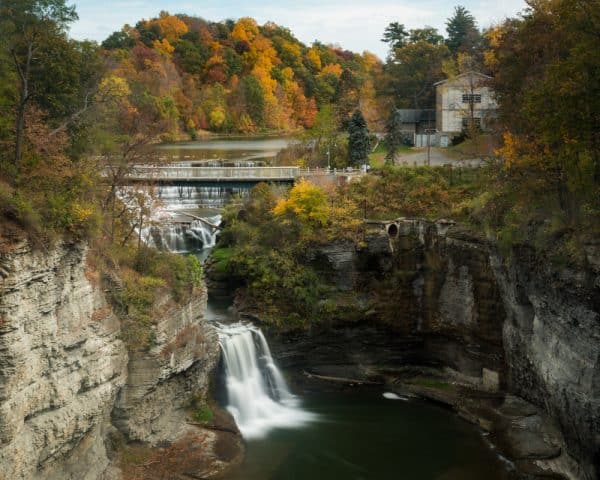 The Cornell Botanic Gardens comprise approximately 175 acres of land adjacent to the Cornell University campus, as well as more than 4,000 acres of land spread throughout the Ithaca area.
The acres of land connected to the campus are centered around Bebe Lake and a long stretch of Falls Creek upstream of Ithaca Falls. On this stream, you'll find several more waterfalls, as well as some of the region's most beautiful scenery.
The F. R. Newman Arboretum, which is part of the gardens, is especially notable for its many beautiful trees native to the state.
Purity Ice Cream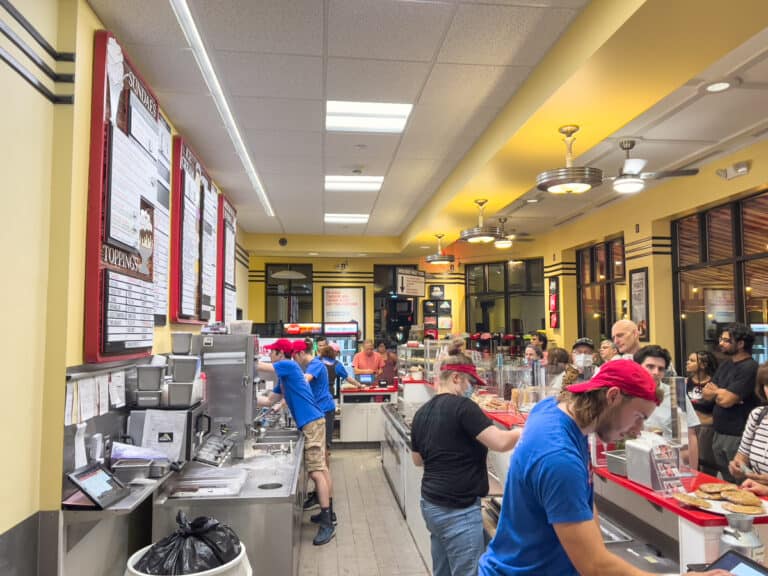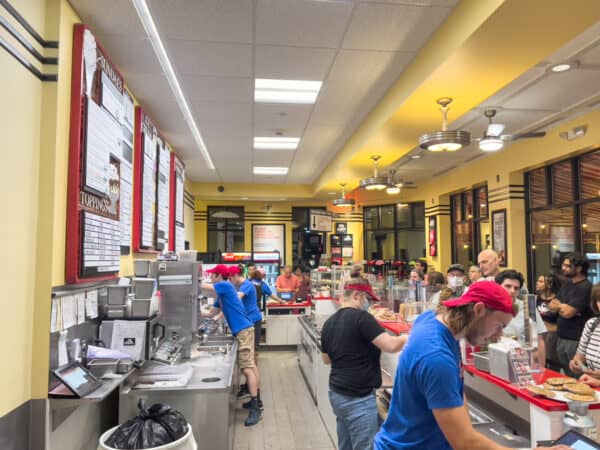 When I travel, I'm a sucker for locally-made ice cream, and there's nowhere better to get this delicious dessert in Ithaca than at Purity Ice Cream.
Located on the northwestern end of town, Purity Ice Cream has been making its delicious treats since 1936. The experience here feels like you are stepping into a classic ice cream parlor, though waits can be long at times.
Nevertheless, their incredible mix of flavors and treats are sure to delight anyone that loves ice cream. This spot, along with Ithaca Falls, are the two spots I absolutely have to stop when visiting Ithaca, even if I'm only passing through.
Wells Falls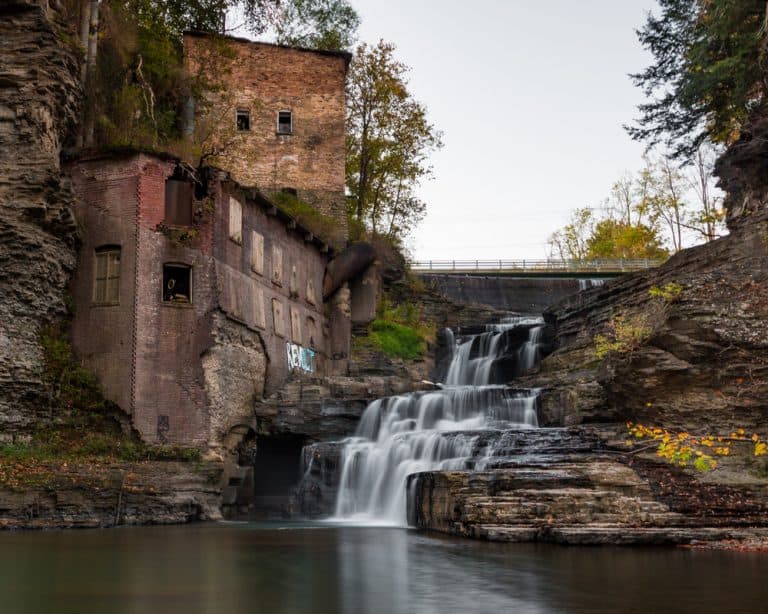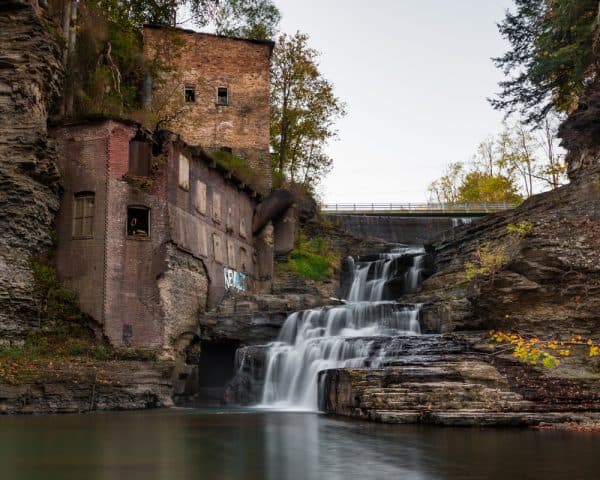 Wells Falls, also known as Businessman Lunch Falls or First Dam Falls, is located only a short drive from the downtown area.
What makes this waterfall so unique is that, directly adjacent to it, there is an abandoned Van Nattas Pumping Station which was built in 1893. This station both pumped water for the city and harnassed electricity in the first half of the 20th century.
Today, this abandoned building next to a waterfall creates one of the most unique waterfalls in the region.
Liquid State Brewing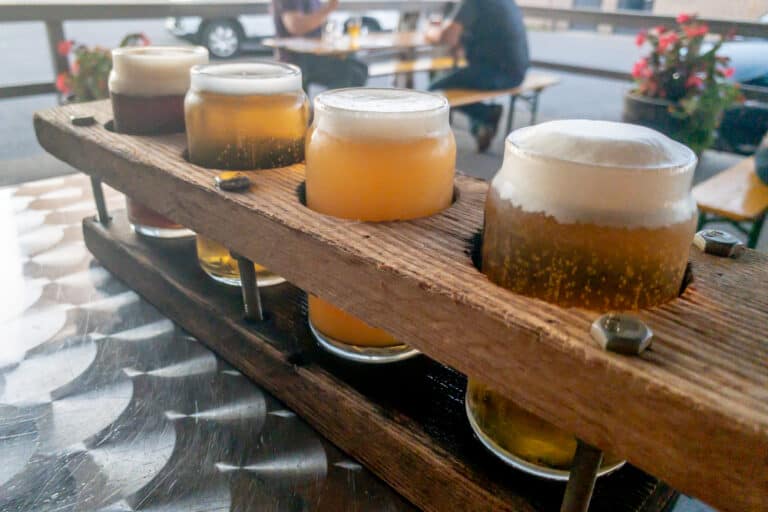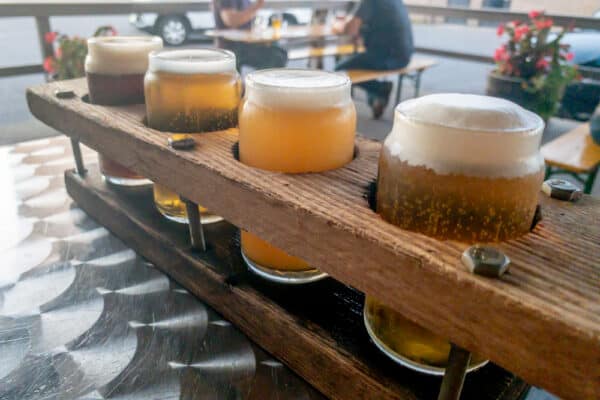 Liquid State Brewing is a fantastic craft brewery located in the heart of downtown Ithaca and opened to the public in late 2017.
They offer their delicious beers in a fantastic taproom that features both a large beer hall-like interior space and a nice outdoor deck area. I especially enjoyed their IPAs and Belgian beers during my visit.
If you are heading out of the Ithaca area, they also feature a second location on the northwestern shores of Cayuga Lake.
Cayuga Lake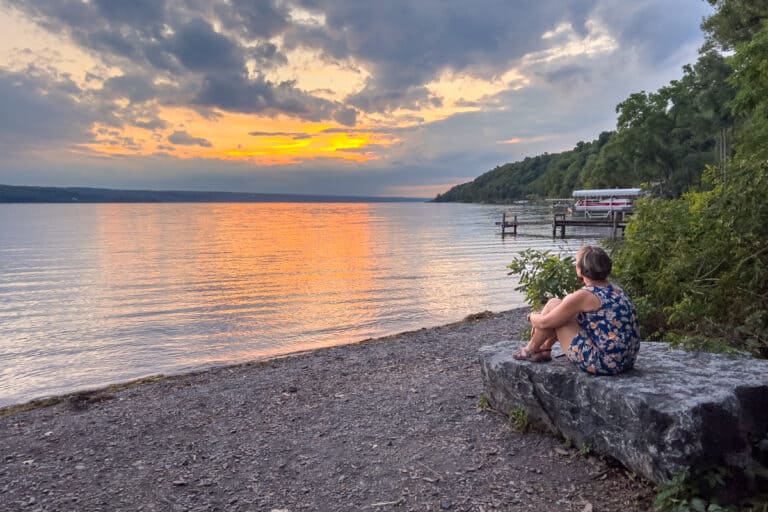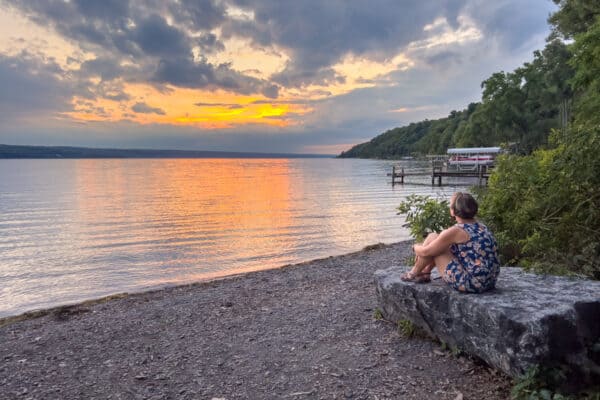 Cayuga Lake is located on the north end of Ithaca and is the second largest of New York's Finger Lakes (after the nearby Seneca Lake).
While there are only infrequent boat tours of the lake, visitors can enjoy the shore in spots like Stewart Park, East Shore Park, and Myers Park.
Those wanting to get out onto the water can launch watercraft in a variety of spots or rent a boat from a variety of outfitters, including at Taughannock Falls State Park.
Other Things to Do Near Ithaca, NY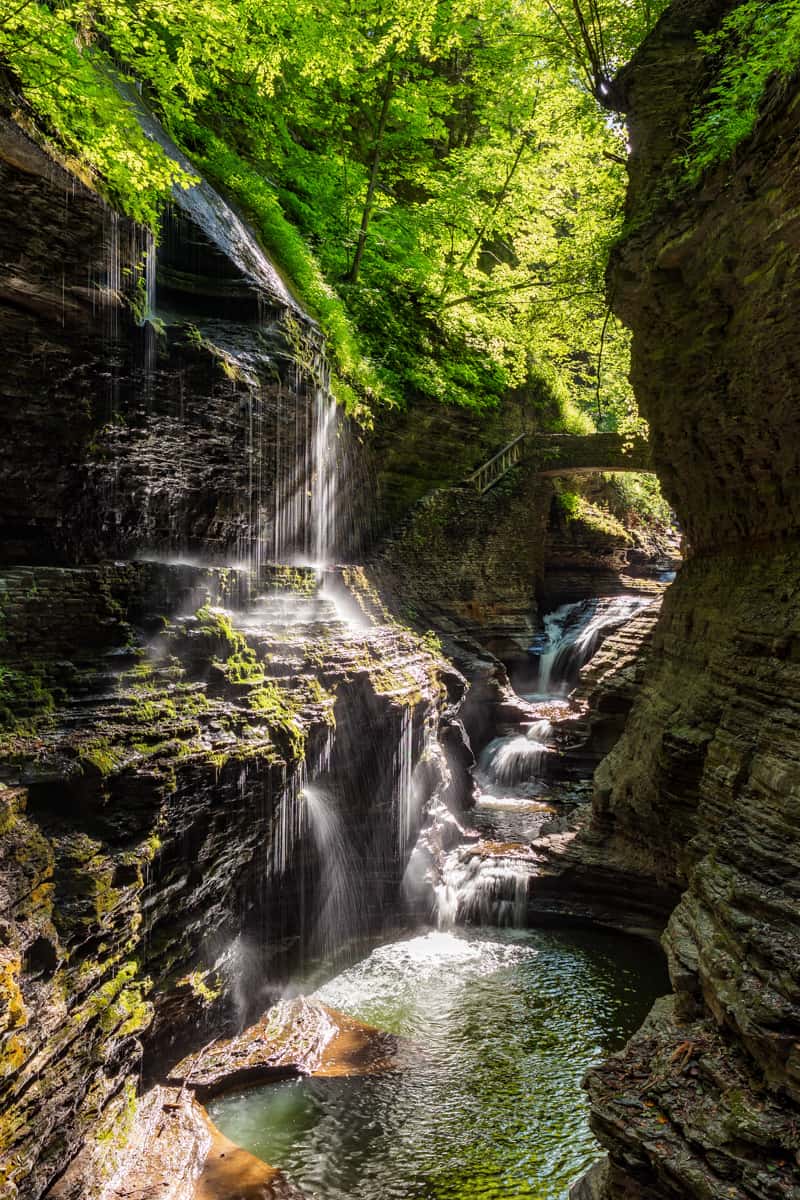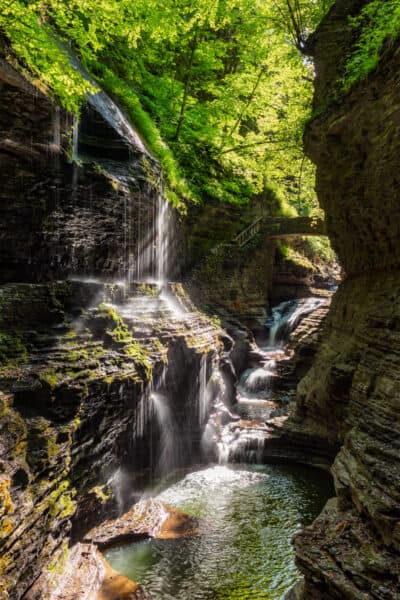 If you want to get out and explore the area around Ithaca, there are many fantastic spots to visit a bit further away from the city.
Watkins Glen is only 45 minutes away and is home to the incredibly popular Watkins Glen State Park and the Watkins Glen International Speedway. You can also get out and explore the area on a Seneca Lake Boat Tour.
At the northern end of Cayuga Lake, you'll find Seneca Falls, home to the Women's Rights National Historical Park and the It's a Wonderful Life Museum.
Other popular destinations within about an hour of Ithaca include the city of Syracuse, the Corning Museum of Glass, and the home of Harriet Tubman in Auburn.