Disclosure: This article may contain affiliate links. We will make a small commission from these links if you order something at no additional cost to you.
During my travels, I've had the chance to visit many destinations for kids in New York. However, I don't know if I've ever visited somewhere so perfect for children (or anyone that loves playing) as the Strong Museum of Play in Rochester, New York.
The Strong Museum of Play is one of the largest museums in New York and really is the type of destination that will interest anyone that loves to play. The museum features an incredibly large and very well done children's play area, a toy museum, video games, and much more.
The Strong Museum got its start in the last 1960s when local resident Margaret Woodbury Strong donated her amazing collection of dolls, toys, advertisements, Japanese crafts, to form a local museum.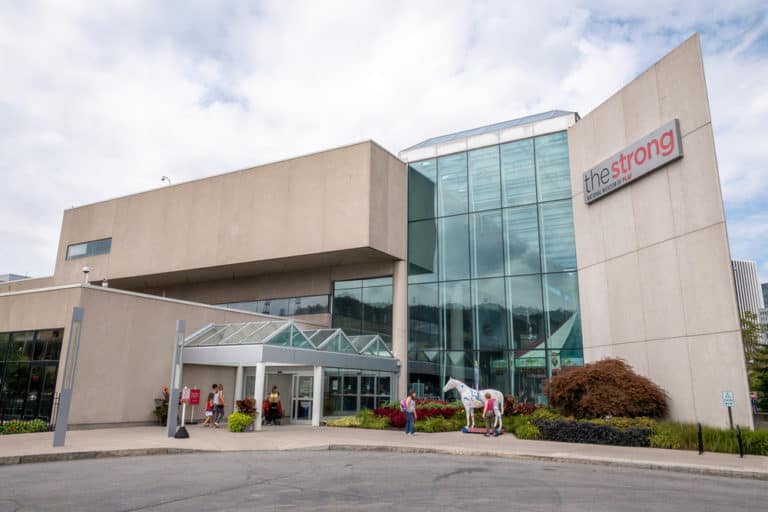 After years of planning, the Strong Museum opened to the public in 1983. However, for its first decade, the museum focused on the life and culture of everyday Americans between 1830 and 1940. After rebranding in the mid-1990s, the museum began to increase its family-friendly activities and has turned into what it is today.
To be perfectly honest, there's so much to do at the Strong Museum of Play in Rochester that you'll want to save a good chunk of the day to explore the space, especially if you have young children that will want to play in the downstairs areas.
The first floor of the museum is primarily occupied by a children's museum. In fact, during my visit, I described it to my wife as a "children's museum on steroids." That's because, compared to other children's museums I've visited in New York and further afield, it is absolutely huge and incredibly well done.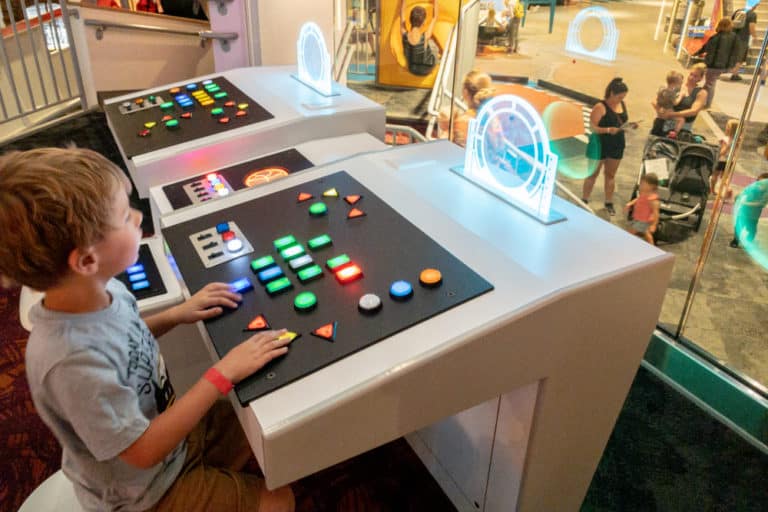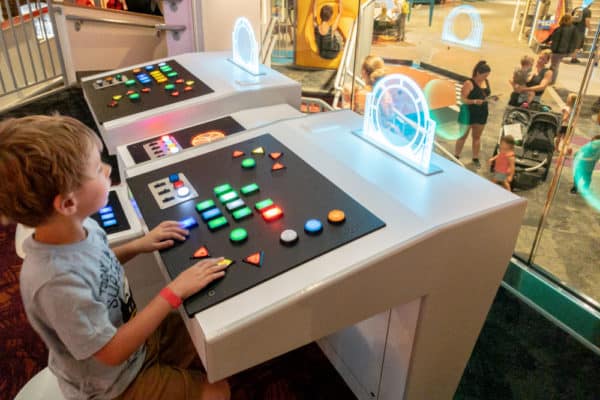 While most of the play areas on this first floor are designed for younger kids, there are still some that should appeal to older children and even their parents.
What I especially loved was the variety of play areas here. There were areas for kids to enjoy learning about science, to pretend play, and to explore fantastically done imaginary worlds.
The Strong Museum of Play features two themed areas based around well-known children's programs: Sesame Street and The Berenstain Bears.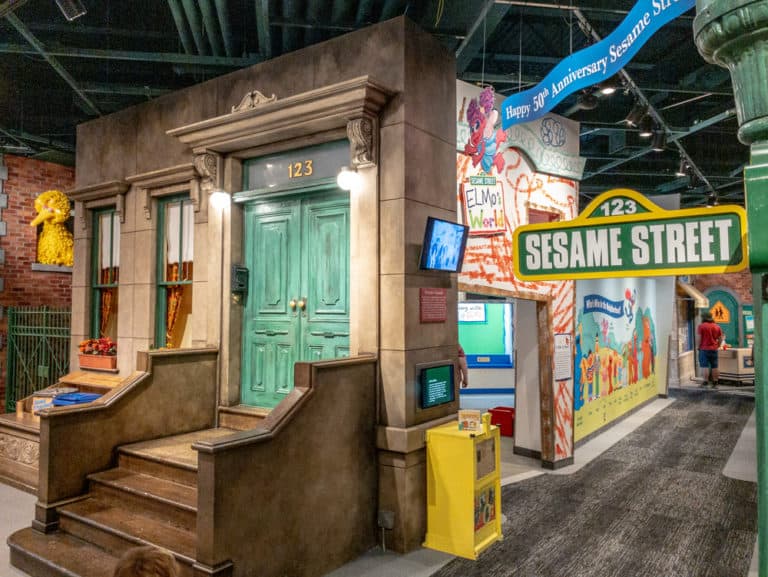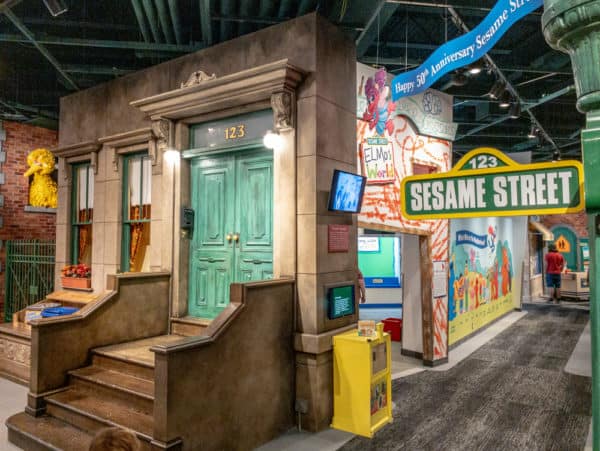 The Sesame Street area is incredibly well done and recreates a portion of the iconic streetscape from this popular show. There are even a few of the show's famous characters that can be seen popping out from windows.
Through this area, kids can play in a variety of settings including doing a greenscreen show and seeing some of their favorite characters appearing next to them on the video.
In the Berenstain Bears' section, kids can play in areas that are pulled directly from these popular books. However, even if kids aren't familiar with these stories, it's still a fun and imaginative section to play in.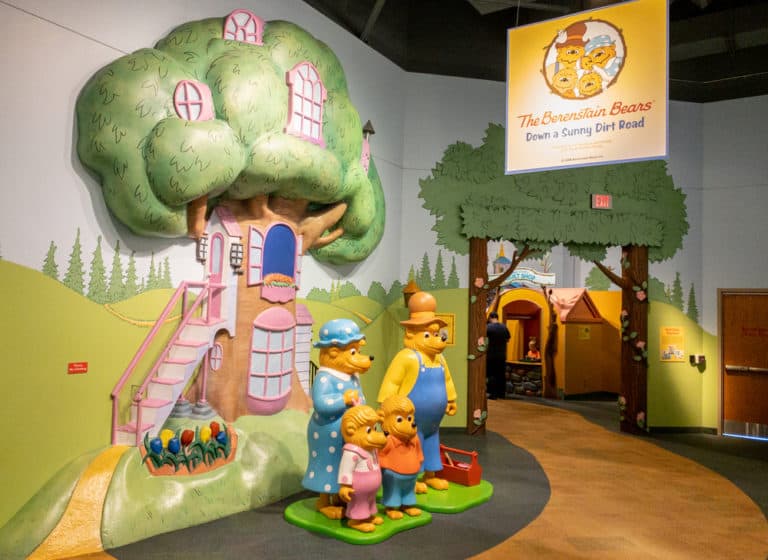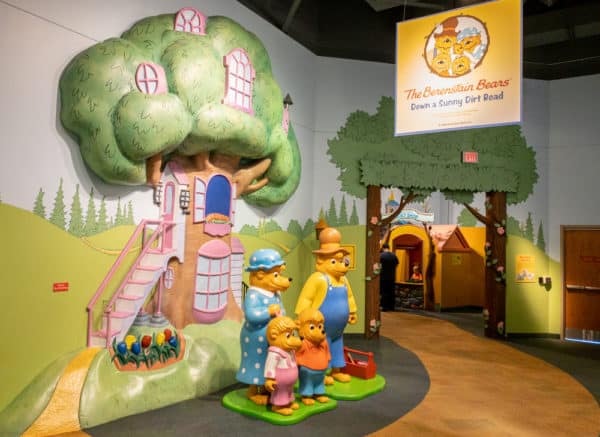 Another great play area within the museum is the replica Wegman's store. They have done a great job recreating this popular New York grocery store chain on a miniature level. Kids can go shopping through the store for a variety of pretend foods, use a cash register, and much more.
My family also really liked the Reading Adventureland which featured a ton of different play areas for kids to play in. These ranged from a pirate ship to a castle and an upside-down house. Each of these areas included props that worked with the theme and books that kids could read.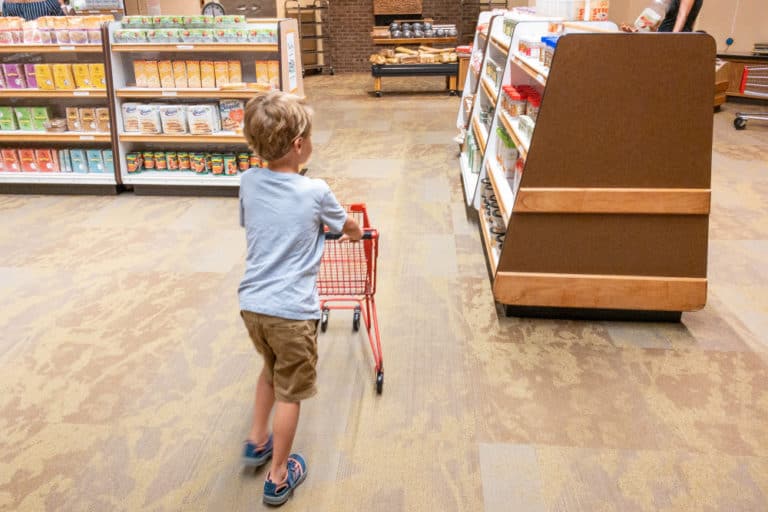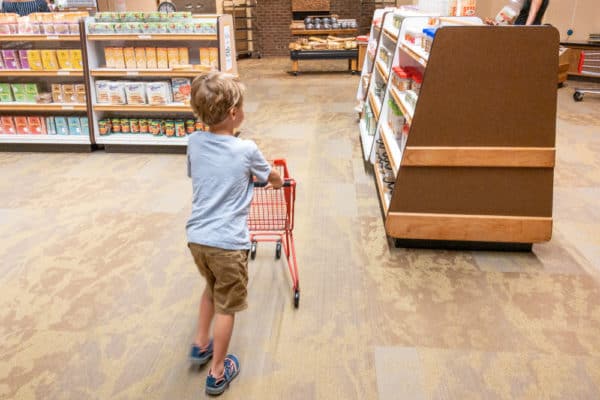 While you could probably spend all day exploring the areas of the Strong Museum of Play that are designed for younger kids, there are also some interesting spots for older kids and adults (though many young children will also enjoy these other areas).
Many of these exhibits are located upstairs, though a few displays are scattered throughout the downstairs area as well. While it might be tempting to spend all your time downstairs if you have young kids, there is a ton of stuff upstairs for the whole family to enjoy, so don't miss the chance to check out these areas as well.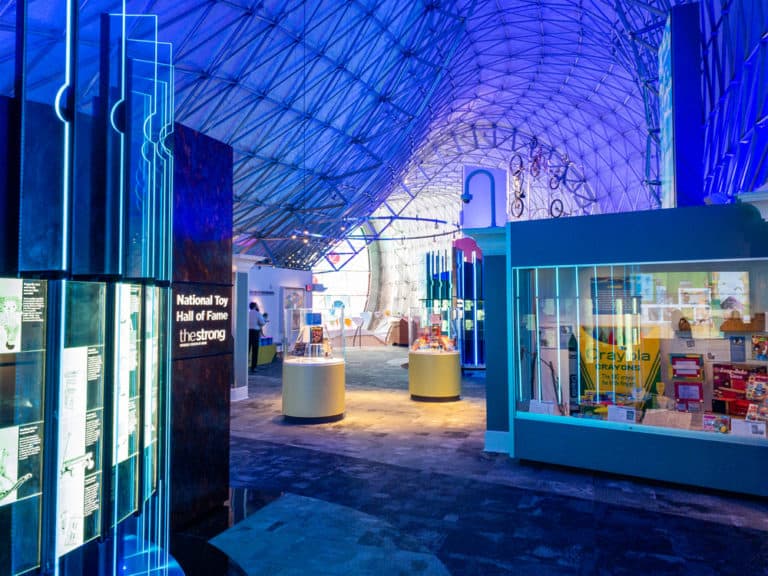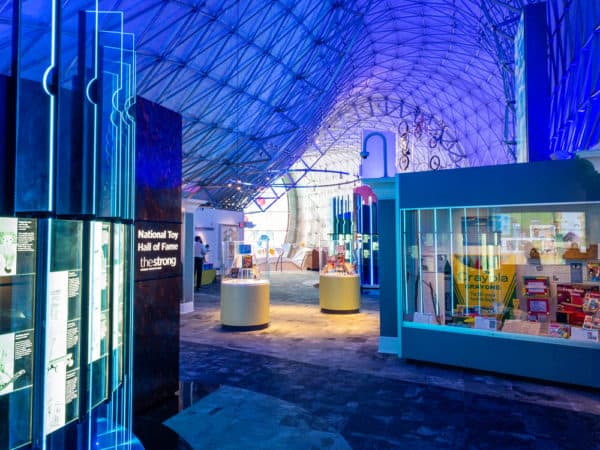 Probably my favorite galleries upstairs were the eSports Revolution and Game Time. These rooms featured a variety of video games, board games, and even giant games that kids and adults could play.
Scattered throughout these galleries and in adjacent areas are many great displays that offer detailed information about the history of how we play and how it has changed over the years.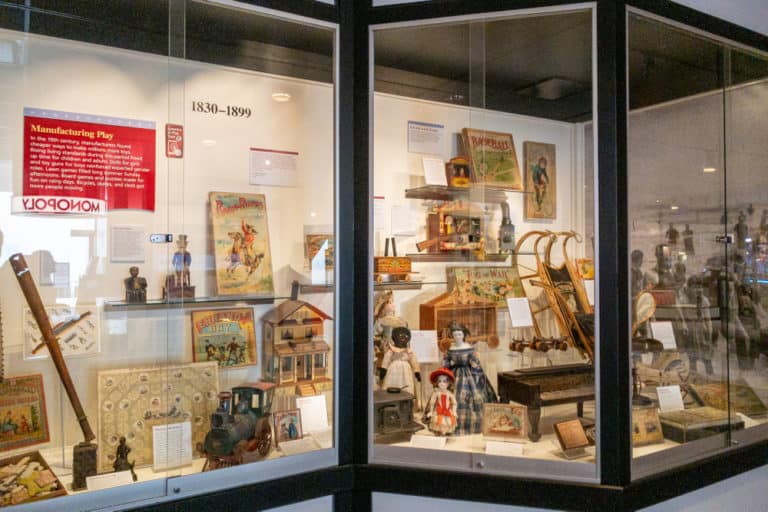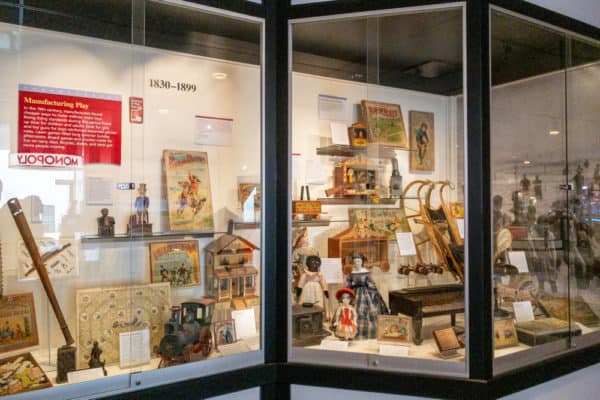 Nowhere is this more evident than in the America at Play exhibit which is a museum within the museum that showcases a variety of toys and the history of play over the course of American history. It's really interesting to see how toys have changed, and you might even see some toys you remember from your childhood on display.
While it might seem like I've talked about a ton of spots to visit within the Strong Musem of Play in Rochester, I'm honestly just scratching the surface. There's so much to do here that you'll definitely want to plan at least a half-day at this spot, though a full day would be even better if you want to explore all of the exhibits, especially if you have younger kids.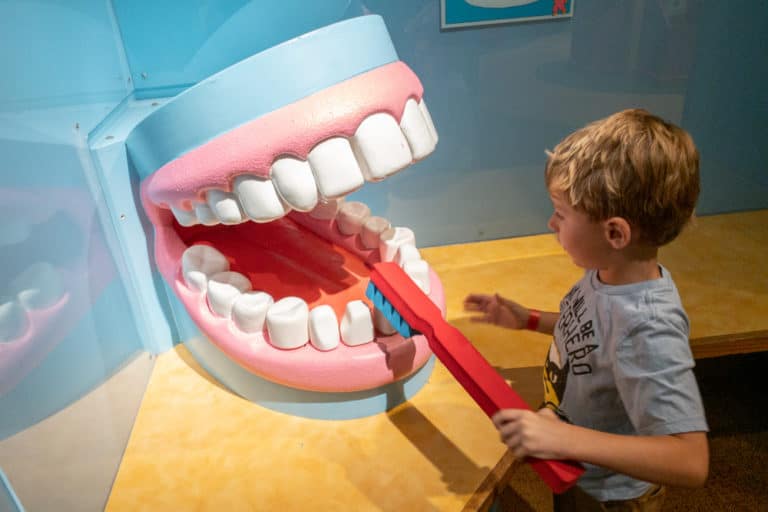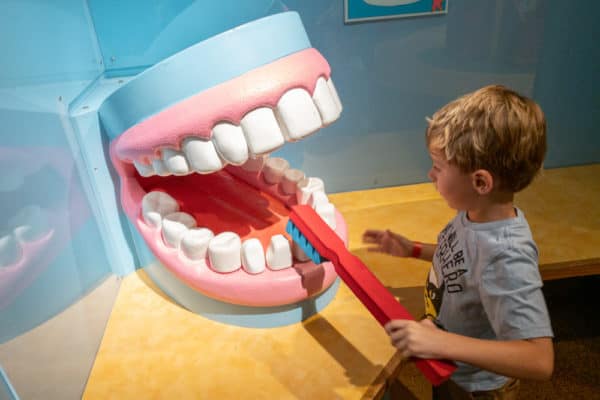 And while it might sound like this is a glowing review, I really had very little bad to say about my visit here. In fact, the only quibble that I had is that a few of the attractions (the butterfly garden, pinball machines, and carousel among others) had an additional cost. For the price, it would have been nice for them to be included.
Otherwise, however, I was nothing but blown away with the Strong Museum of Play in Rochester, NY. If you are visiting the Finger Lakes with children or looking for the best things to do in Rochester, this should absolutely be on your list of places to visit.
Note: My visit to the Strong Museum of Play was hosted by the site. However, the opinions expressed are my own.
Looking for more places to check out in the area? Don't miss Seabreeze Amusement Park, the Seneca Park Zoo, High Falls, the Rochester Museum and Science Center.
---
The Strong Museum of Play
Hours: Saturday-Thursday: 10am-5pm
Friday: 10am-8pm

Cost: $19

Website: MuseumOfPlay.org

Address: 1 Manhattan Square
Rochester, NY 14607
---