Disclosure: This article may contain affiliate links. We will make a small commission from these links if you order something at no additional cost to you.
If you're reading this article, you've almost certainly heard of Uncle Sam, the personification of the United States of America. However, did you know that he's based on a real man who lived in Troy, New York?
Samuel Wilson was born in Massachusetts in September 1766. He served in the Continental Army starting in 1781 at the age of 14. In 1789, Wilson and his older brother Ebeneezer moved to Troy, New York, which is located across the Hudson River from Albany, and had great access to the markets of New York City.
The Wilson Brothers started several successful businesses in the area, eventually settling on a meatpacking business known as E & S Wilson.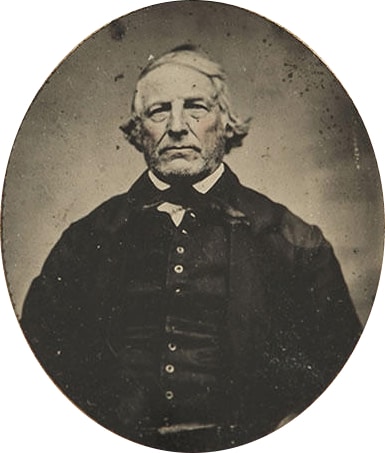 Samuel was noted for his fervent patriotism and was known around the city by his nickname, Uncle Sam, though exactly why he was called that seems to be lost to history.
During the War of 1812, the Wilson Brothers were subcontracted to provide meat products for the United States Army. The barrels that they sent out were marked with an "E.A." (for Elbert Anderson Jr. of New York City, the man they were subcontracted by) and "U.S." (for the United States).
According to the legend, local soldiers from Rensselaer County knew the Wilson Brothers had made the meat, so they started calling it Uncle Sam's because of the U.S. stamp on the barrel.
While the nickname "Uncle Sam" began to grow in usage after the War of 1812, Samuel Wilson continued to live a quiet life in Troy and died on July 31, 1854.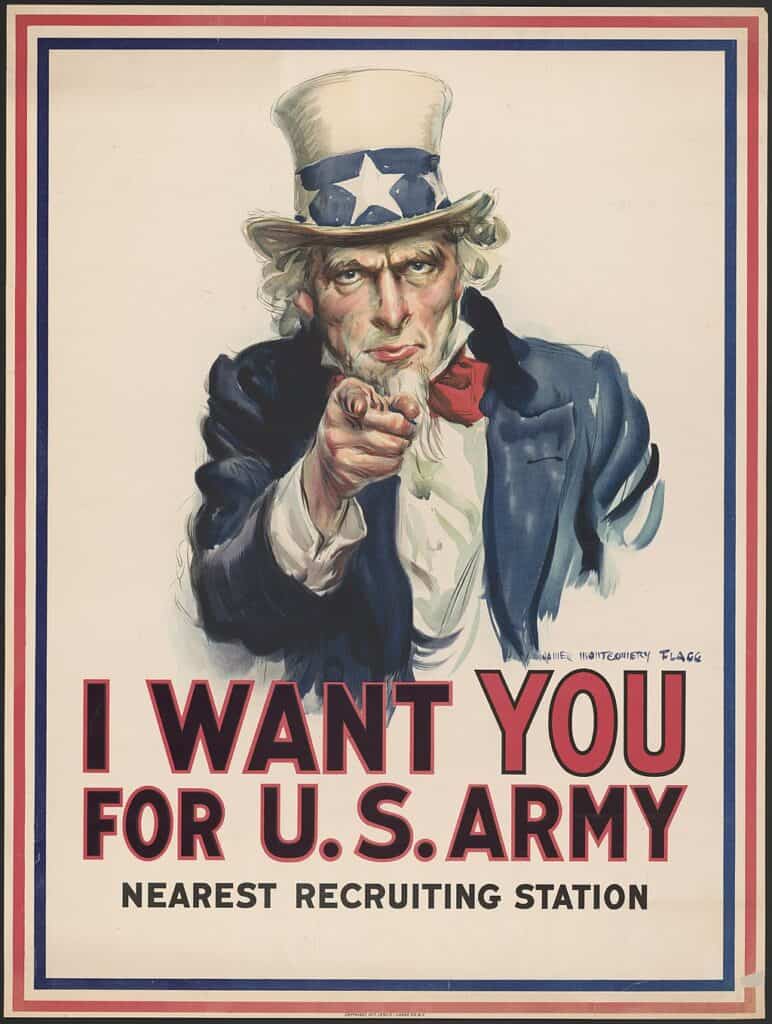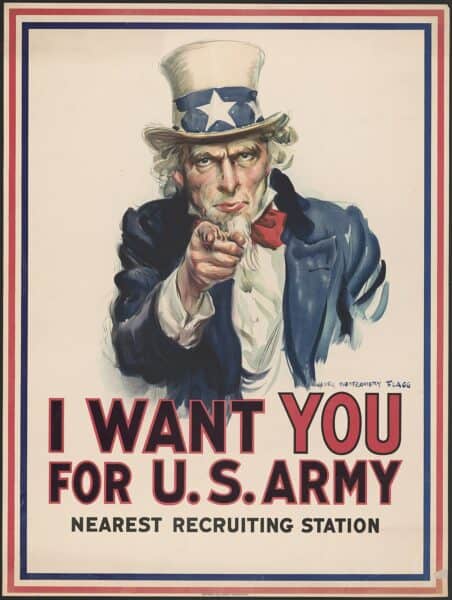 His legacy continued to grow though, with the image of Uncle Sam (one that bares essentially no resemblance to Wilson) becoming exceedingly popular during World War 1.
While it's a bit questionable how much Wilson actually influenced the idea of Uncle Sam (or even if he did at all), Congress decreed in September 1961 that Wilson was the "progenitor of America's National symbol of Uncle Sam", which makes it about as official as it can get no matter the name's actual origins.
Today, if you're visiting Troy, New York, there are a few spots where you can pay homage to the legacy of Samuel Wilson and Uncle Sam.
Uncle Sam Statue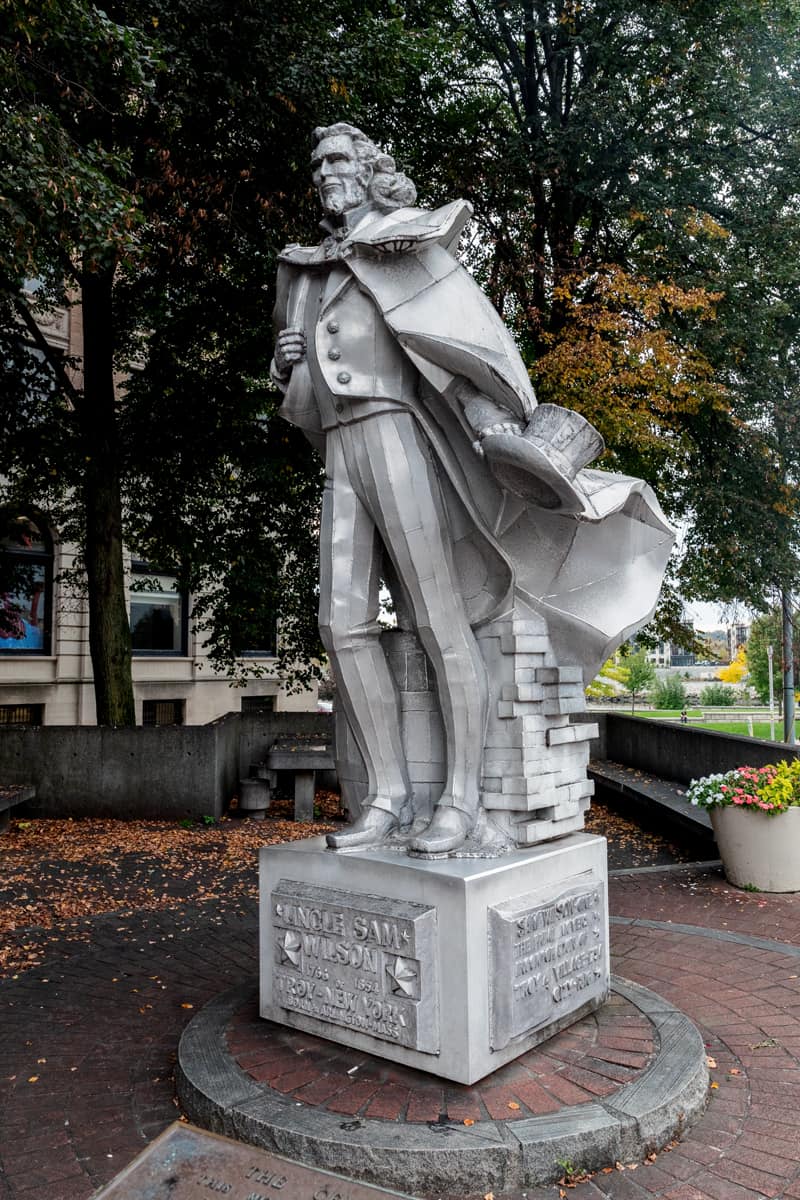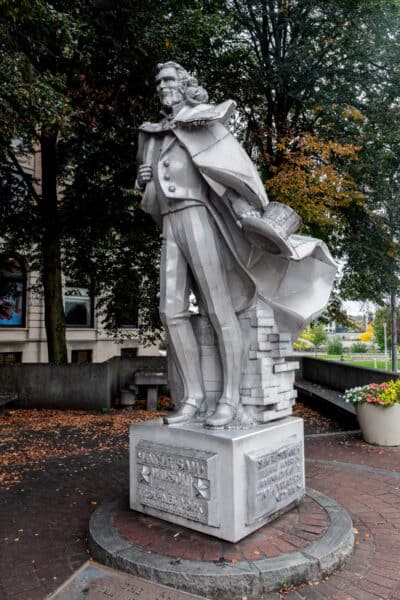 The most prominent of these spots is the Uncle Sam Statue in downtown Troy, NY. It can be found along River Street, near its intersection with Fulton Street and River Street next to the following address: 297 River St, Troy, NY 12180.
This statue was dedicated in October 1980 to commemorate Samuel Wilson's place as Uncle Sam. That being said, the statue resembles the iconic image of Uncle Sam that was created in the early 20th century by artists Thomas Nast and James Montgomery Flagg instead of actually being a statue of Wilson.
This Uncle Sam Statue is made of aluminum and stands 12 feet in height, making it quite a striking image.
Uncle Sam's Grave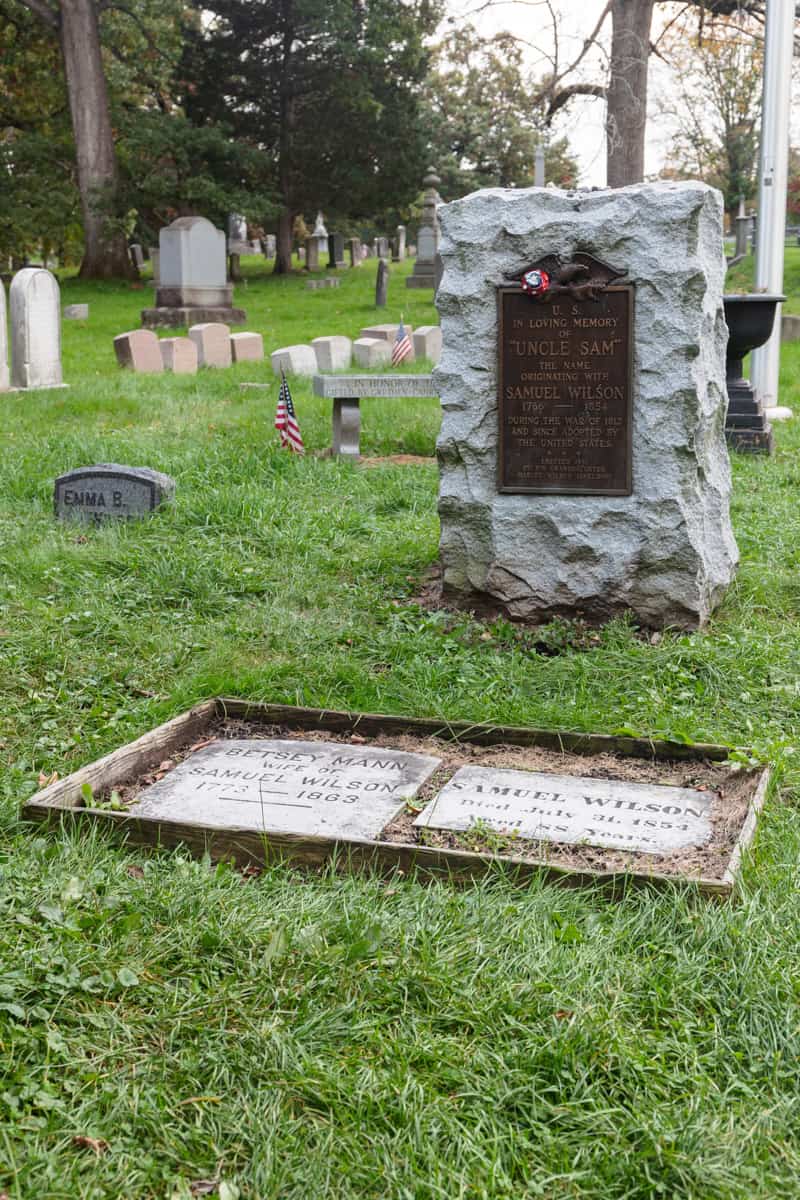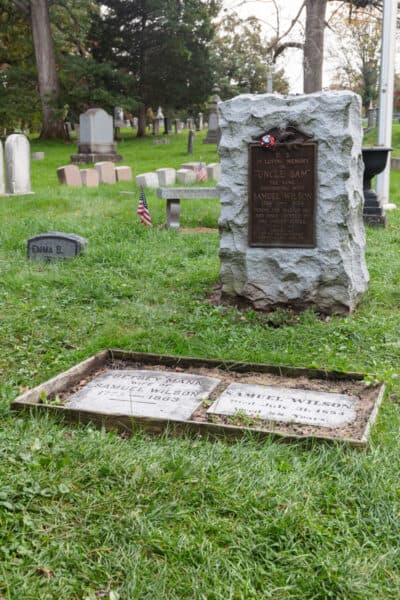 The grave of Samuel Wilson, better known now as Uncle Sam's Grave, is located north of downtown Troy in Oakwood Cemetery.
Oakwood Cemetery is an incredibly scenic spot on a bluff over the Hudson River. It has been in use since 1850 and is the final resting spot of many prominent residents of the Capital Region.
Samuel Wilson's Grave can be found in the middle of the cemetery with signs pointing the way to his grave from the entrance on Oakwood Avenue. However, if you want to use your GPS to get right there, these are the coordinates to use: 42.762481,-73.668111.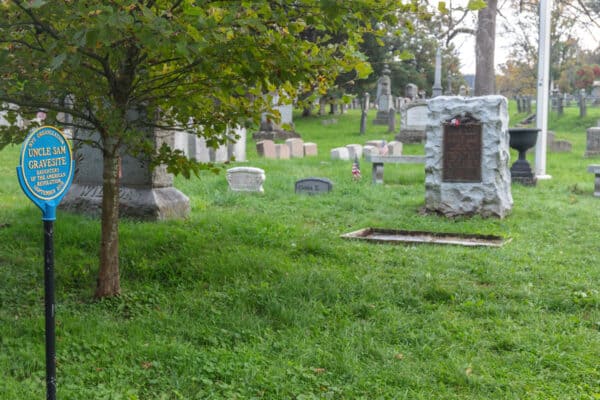 Wilson's grave actually shows how his prominence increased over time, with the marker over this final resting spot being relatively plain. However, right behind his grave, a larger marker has been set up noting Wilson's place in history.
Interestingly, Wilson was originally buried in Mount Ida Cemetery but was moved to this location in the years after his death. I would presume that this was so he could be buried next to his wife, Betsy, but I couldn't find confirmation of the specific reason.
Uncle Sam's Fake Grave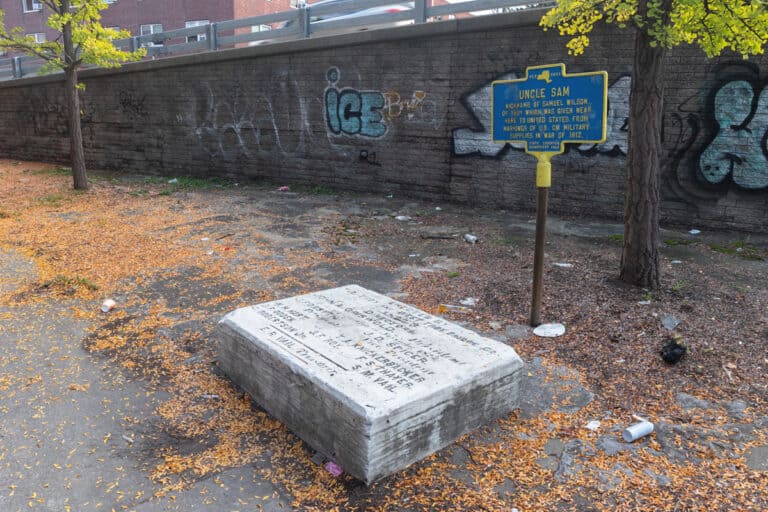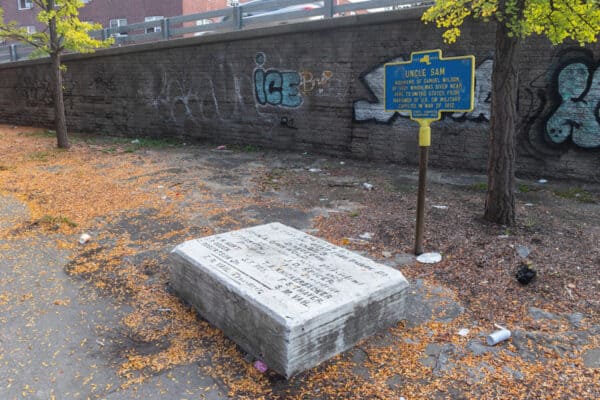 Adding more to the mystery, there is a "fake" grave for Uncle Sam located in the heart of a residential area in downtown Troy. Some believe that this is Wilson's actual burial site, but obviously, it's not.
While its location must have been more scenic and accessible when it was first commemorated with a sign, this fake grave is located today between several high-rise apartment buildings and an overpass for Route 2.
In this courtyard, which was filled with trash and graffiti during my visit, you'll see what appears to be a granite gravestone marker on the ground. However, upon closer inspection, it appears to be a marker commemorating the nearby bridge.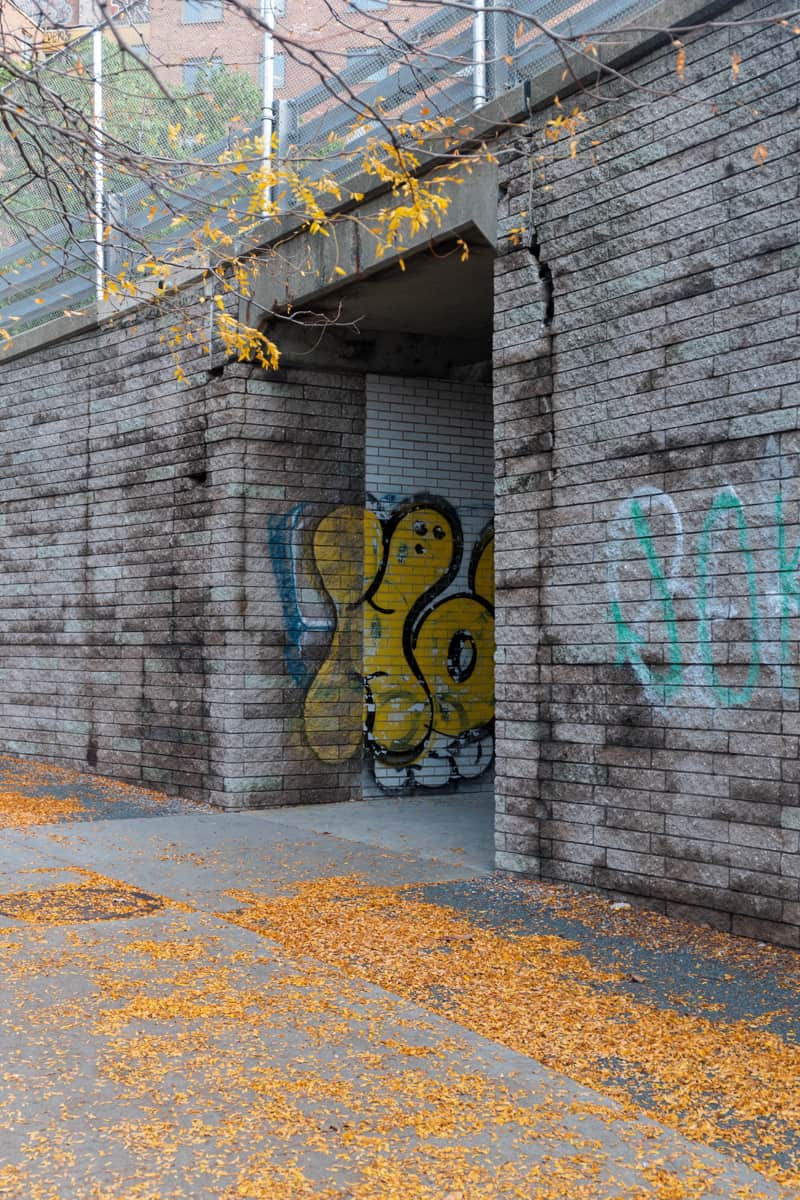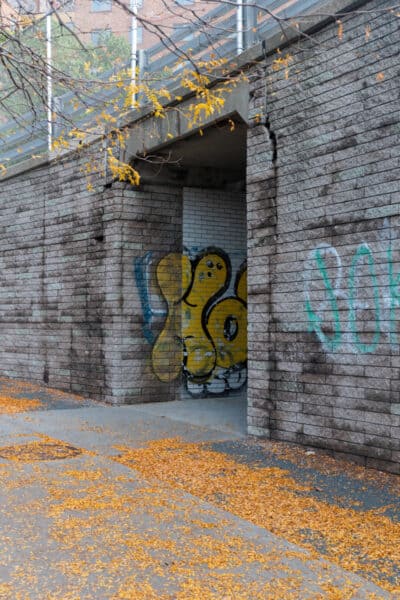 What leads to the confusion here, though, is that, for some reason, a blue and yellow marker from the State Department of Education that commemorates Samuel Wilson and Uncle Sam is located directly next to this granite slab.
Finding this very weird spot is a little tricky. To get there, park here (125 River St, Troy, NY 12180) and walk through an underpass below Route 2. That will spit you out in this very strange little courtyard (at these coordinates: 42.728268, -73.694919)
Uncle Sam Mural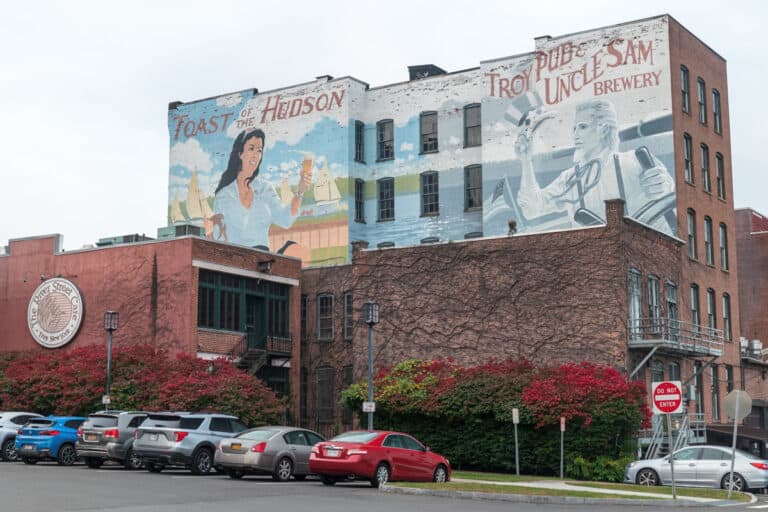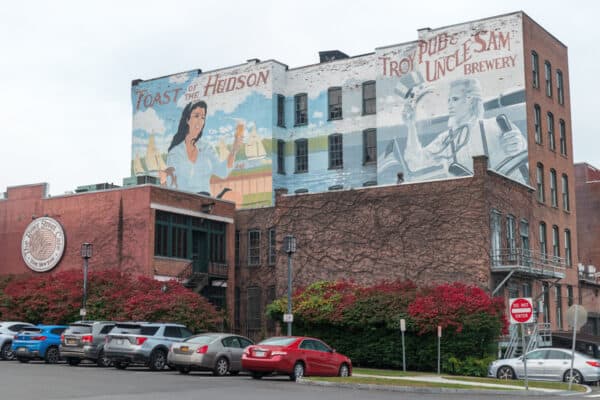 Given the city's connection to Uncle Sam, it likely comes as no surprise that there is an Uncle Sam mural. However, what is rather interesting is that this mural is located high atop a building and is for "Uncle Sam Brewing".
This mural is said to have been painted in the 1990s for a brewery in the building (which is now known as Brown's Brewing Company). But, if you want to see the mural, you just need to go to the parking lot next to the brewery and look at the very top of this five-story building.
The Uncle Sam Mural is about three stories tall and shows Uncle Sam at the helm of a riverboat of some kind. If I had to guess, he's shipping his meat to New York City, but there isn't really any information to say either way.
Regardless, while this is a bit of a strange mural, and you'd think there would be another one in the city to commemorate Wilson, this is still an interesting spot to visit if you are trying to see all things Uncle Sam in Troy, NY.
Uncle Sam's House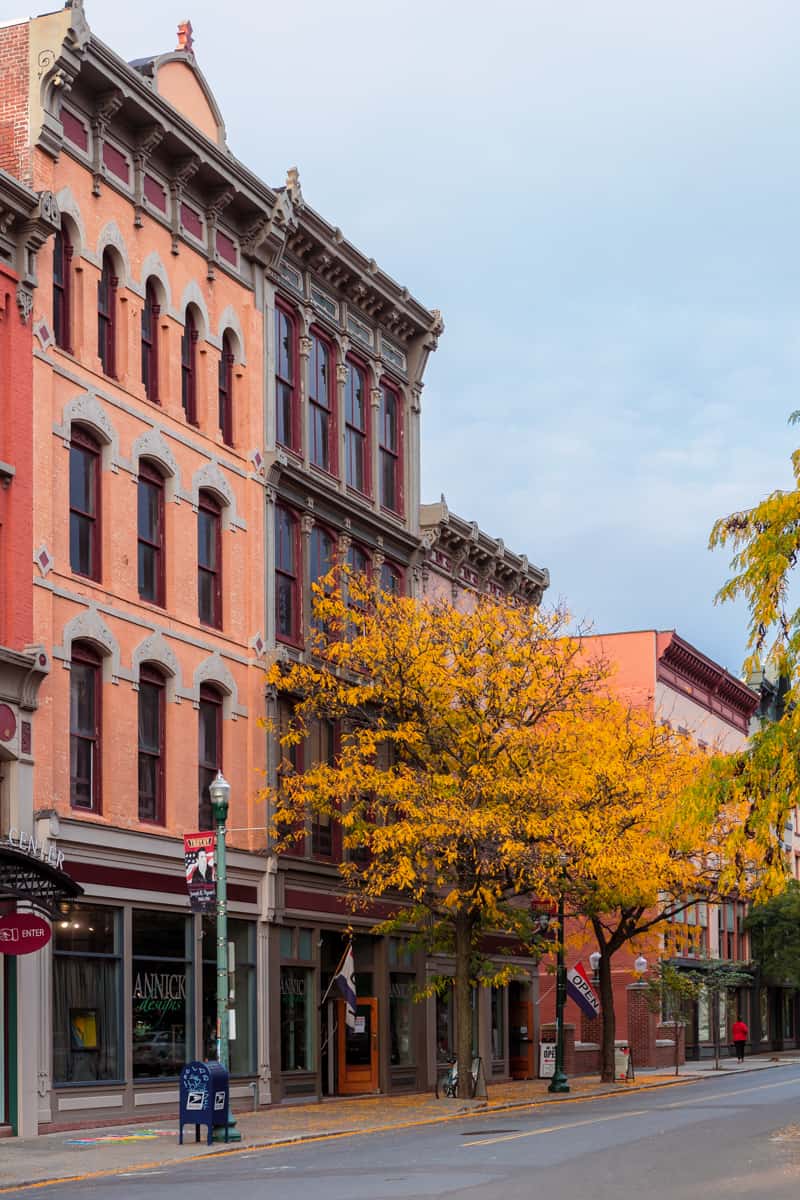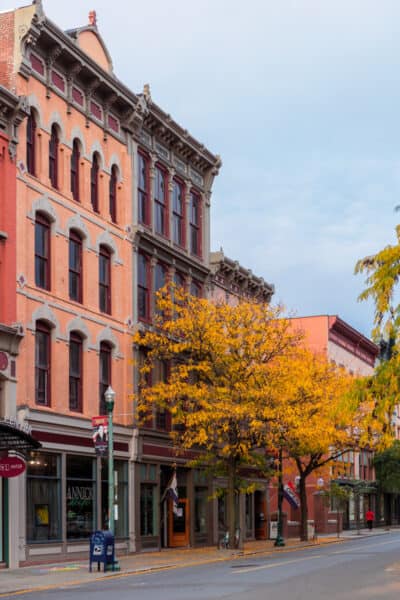 Samuel Wilson lived in Troy, New York for most of his life, and there is a marker where his house once stood at 144 Ferry Street in Troy.
Sadly, the home was torn down in 1971 and today, there is just an empty field where it once stood. Nevertheless, on the sign, you can see a photo of the home along with a description, so you can at least imagine what it would have looked like.
It's a shame that it wasn't saved and turned into a museum, especially since it was torn down so close to the Bicentennial when many similar projects were getting completed around the country.
Looking for more things to do in the area? Check out the grave of President Chester Arthur, the New York State Museum, and Barberville Falls.
[Click here for information on how to use the coordinates in this article to find your destination.]