Disclosure: This article may contain affiliate links. We will make a small commission from these links if you order something at no additional cost to you.
When I'm traveling, I always love finding great craft breweries to visit after a day of exploring. One such spot I stumbled across is Wood Boat Brewery.
Wood Boat Brewery is located in Clayton, a picturesque town in Jefferson County, New York. I happened upon this neat spot because it is located almost directly across the street from the Antique Boat Museum (another great spot that I recommend).
Wood Boat opened to the public in 2014, making it one of the oldest breweries in the Thousand Island region of New York. They typically have about 10 different beers on draft including a mixture of flagship beers and seasonal offerings.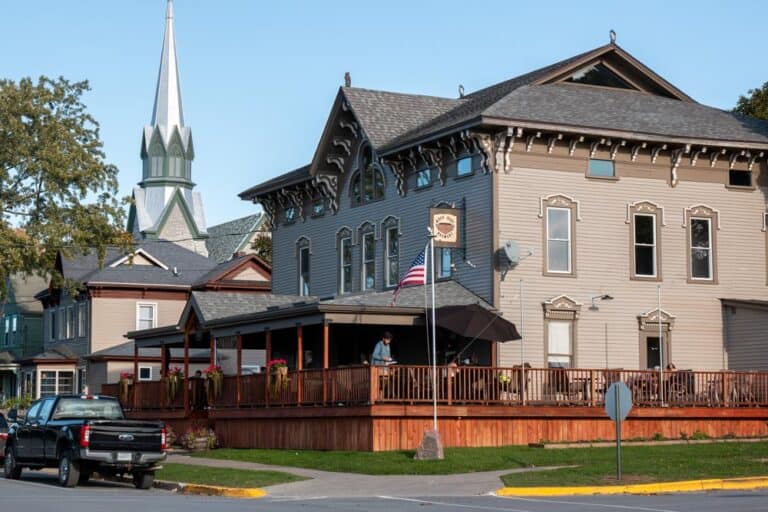 I had the chance to visit the brewery on a beautiful October afternoon which was perfect for enjoying their large outdoor deck. Of course, for those that prefer, Wood Boat Brewery does feature a lot of indoor space, including a large mahogany bar.
During my visit, I had a chance to try four of Wood Boat's beers in a flight. These beers were the Channel Marker IPA, Hook, Line, and Sinker Double IPA, White Cap Milk Stout, and the Bourbon Barrel Aged Brown Ale.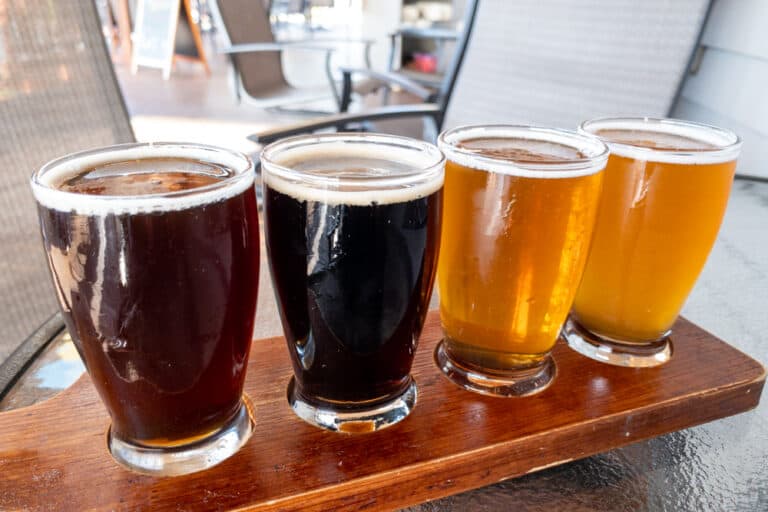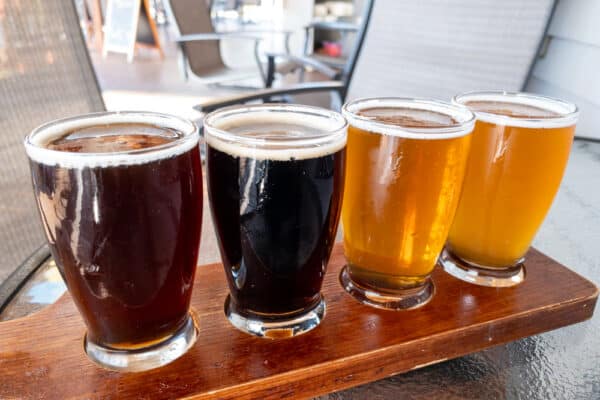 As you can see, Wood Boat Brewery doesn't just take its name from the region's great maritime tradition but also names many of its beers within this theme.
Of the four beers that I had a chance to try, the Channel Marker IPA and the Bourbon Barrel Aged Brown Ale were my two favorites.
The Channel Marker IPA is the brewery's flagship IPA and was very well balanced. It was definitely a nice drinking IPA.
The Bourbon Barrel Aged Brown Ale had a big flavor and the bourbon taste really came through, which I quite enjoyed.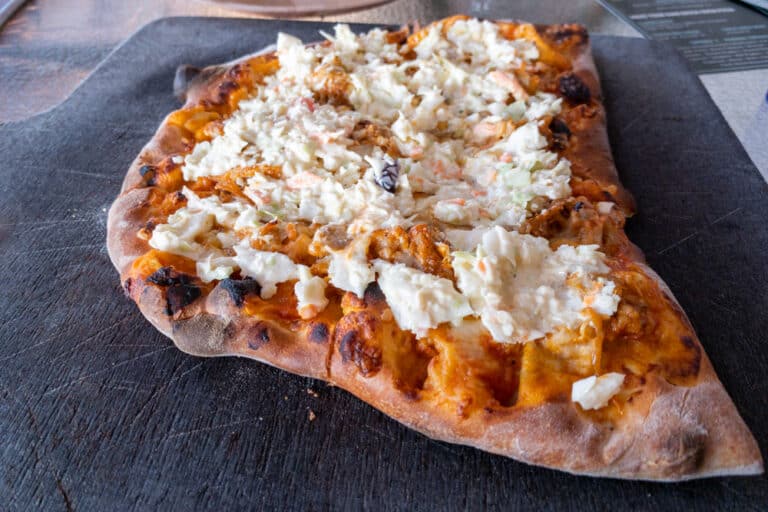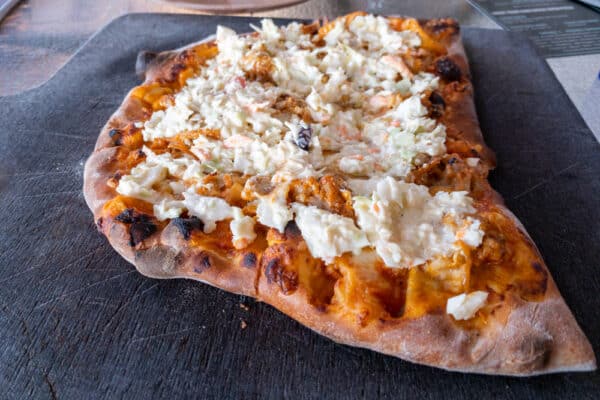 In addition to beer, Wood Boat Brewery has a full menu, though they are best known for their brick oven pizzas.
Never one to turn down a delicious pizza, I ordered their Pulled Pork Pizza, which came with an oatmeal stout barbeque sauce, cheddar cheese, and coleslaw.
Wood Boat Brewery offers their pizza in two sizes (regular and personal). The personal size was perfect for one hungry person, but two people could probably split it with an appetizer. They also offer all of their pizzas with gluten-free crust or cauliflower crust, in addition to the standard crust, which is a great option for those that want or need something different.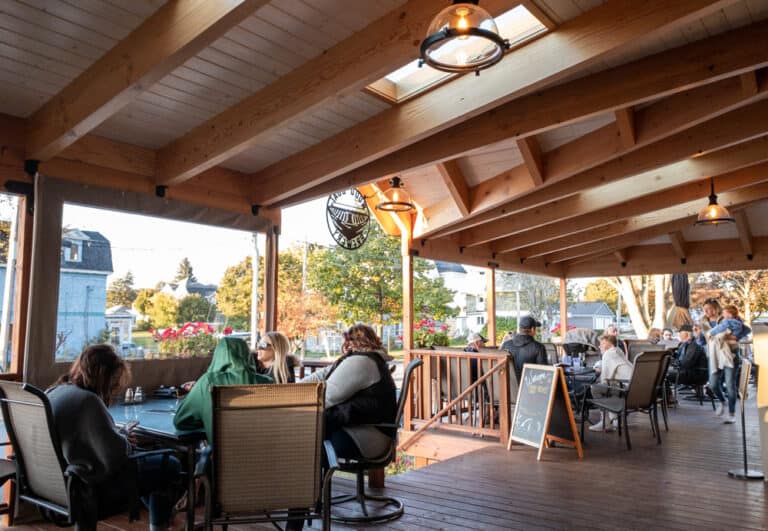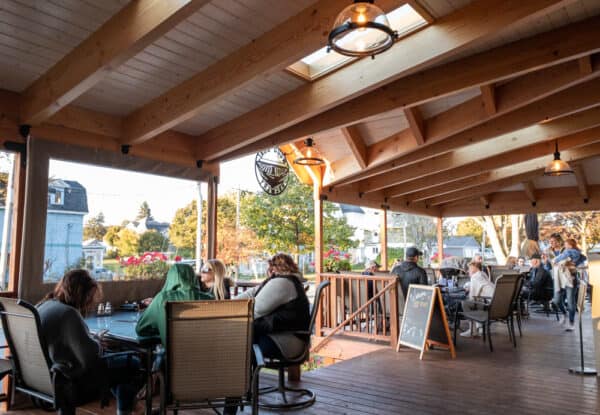 While the pizza took a while to come out on a busy Sunday afternoon, it was quite delicious and was definitely worth the wait. I wouldn't hesitate to order it again the next time I'm in the area.
Ultimately, Wood Boat Brewery is a great spot to check out if you're exploring Jefferson County. While I wouldn't necessarily rank it among my favorite breweries in New York, it definitely offers some tasty beer and food and is a great way to cap off a fun day of exploration.
Wood Boat Brewery can be found at 625 Mary Street in Clayton, New York.
Looking for even more great spots to visit nearby? Check out Zoo New York, Boldt Castle, Clayton Island Boat Tours, and the Burrville Cider Mill.