Disclosure: This article may contain affiliate links. We will make a small commission from these links if you order something at no additional cost to you.
One of my favorite things about the Adirondacks is how many hidden gems can be found just off of the road if you know where to look, and Death Brook Falls in Hamilton County is one of these spots.
Death Brook Falls (also called Hidden Falls and Secret Falls) can be found in the Blue Ridge Wilderness just south of the South Bay of Raquette Lake. And while it's easy to overlook, it's a beautiful spot that sits only a short and easy hike from Route 28.
Here's everything you need to know to find this scenic gem.
Parking for Death Brook Falls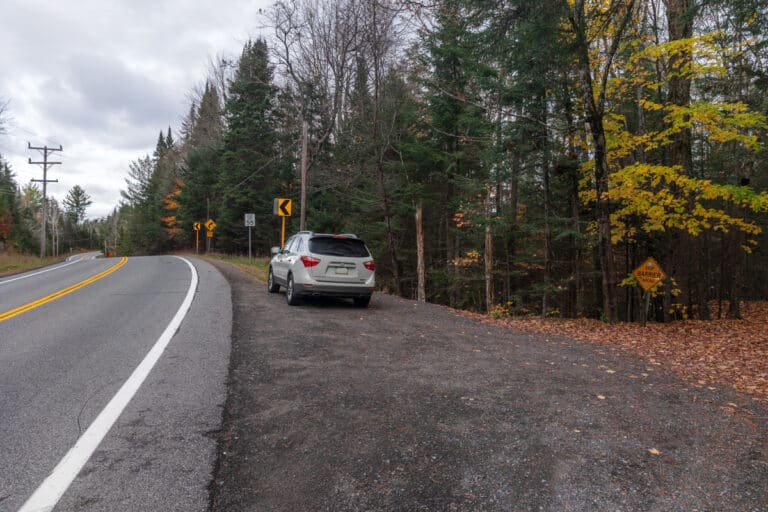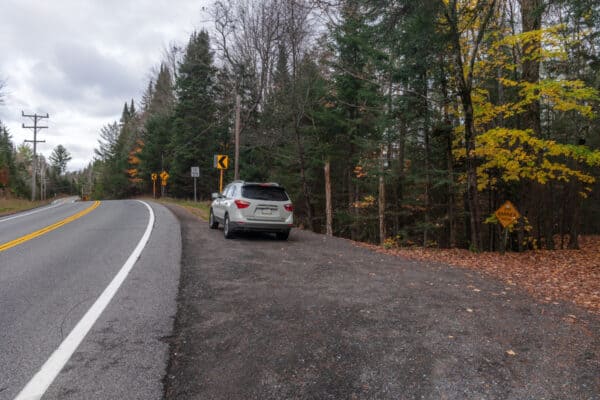 Parking for Death Brook Falls can be found right along Route 28 near Raquette Lake and the Golden Beach Campground.
There is no parking lot here, but there is a rather large pull-off on both sides of the road. This pull-off is marked on both sides with road signs that point the way to Death Brook Falls trailhead.
This pull-off can be found at the following coordinates: 43.812698, -74.596226.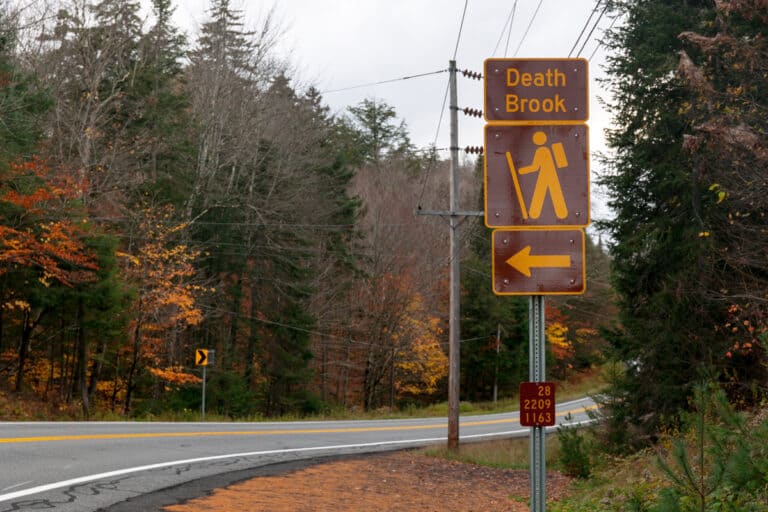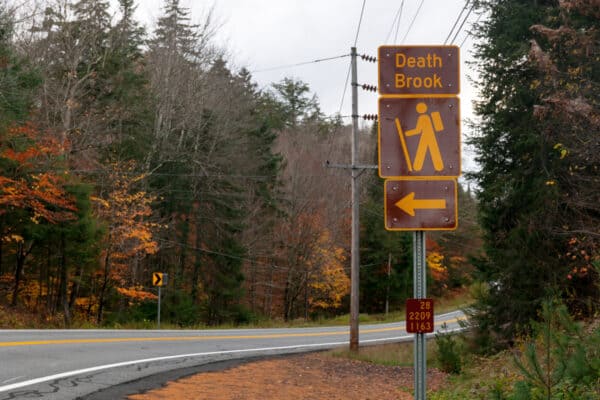 When parking, make sure to not block the gated road. You'll also want to exercise caution pulling into and out of this area as cars drive quite fast along this road.
I definitely recommend parking on the southern side of the road (the side with the yellow gate) so that you don't have to cross Route 28.
[Click here for information on how to use the coordinates in this article to find your destination.]
Hiking to Death Brook Falls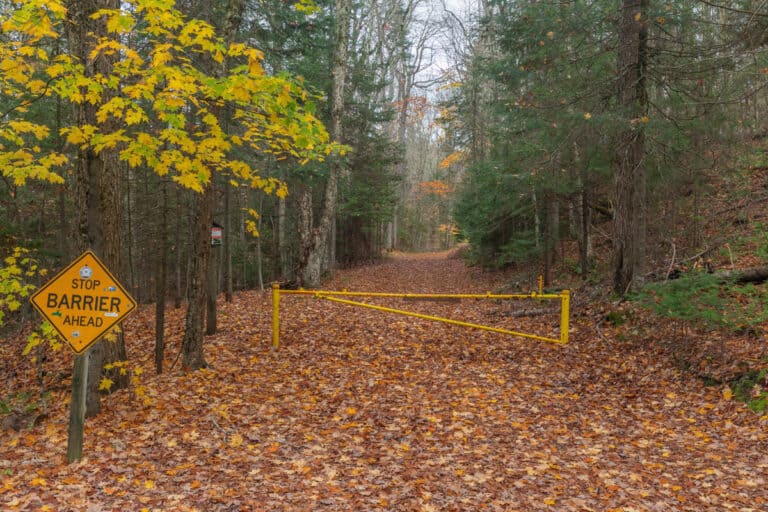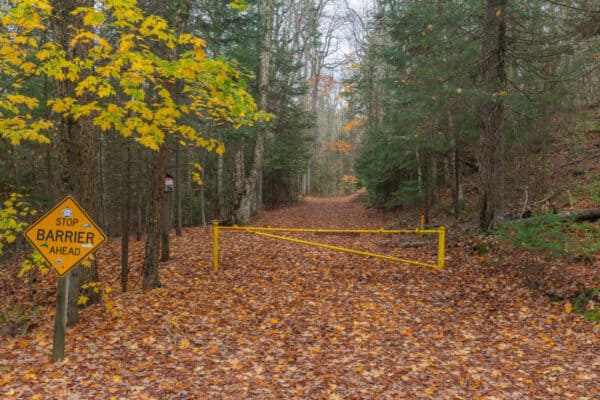 From the parking area, it's approximately three-tenths of a mile one way to Death Brook Falls. This hike is relatively flat and a great way to stretch your legs while traveling through the region.
Start the hike by going around the yellow gate and walking up the old forest road. You'll follow this for about 400 feet until you reach a circular clearing in the woods.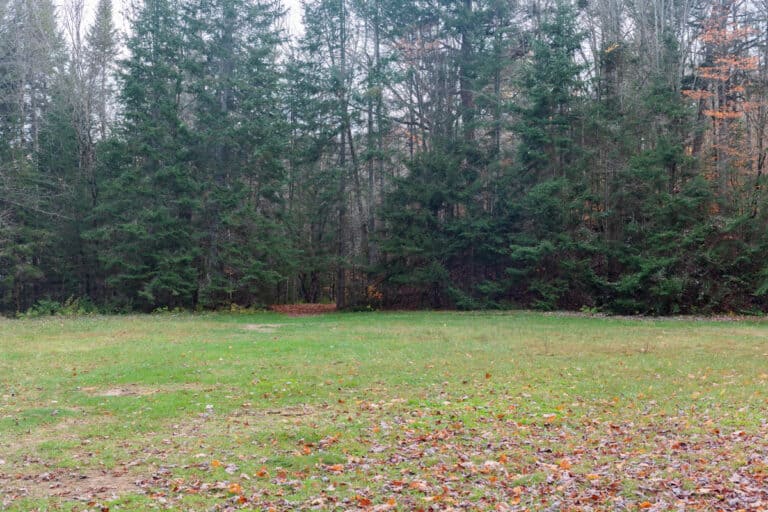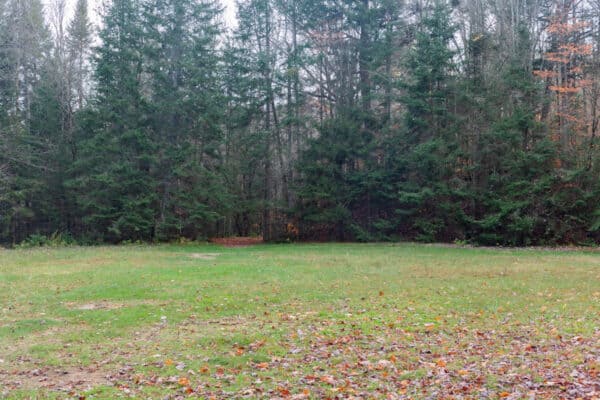 Walk through this clearing and pick up the trail again on the far side of the field. This portion of the trail is easy to follow as it begins to narrow as you get closer to the waterfall.
Soon, you'll reach a muddy area that is crossed by a series of wooden planks that have been laid out.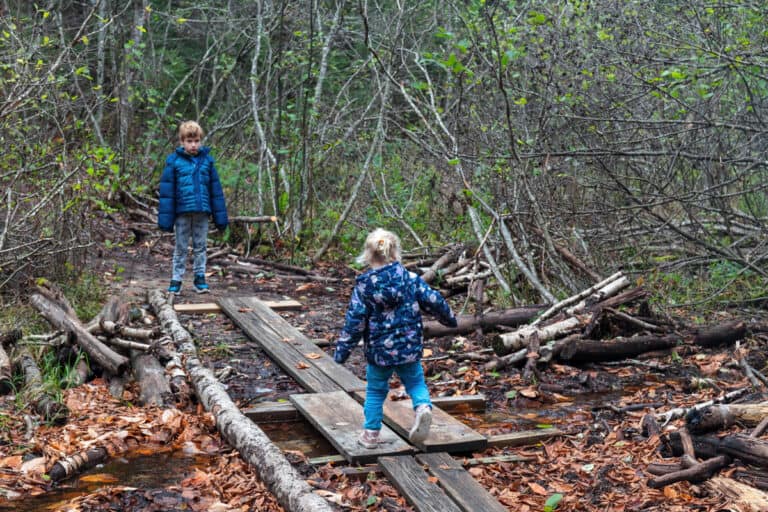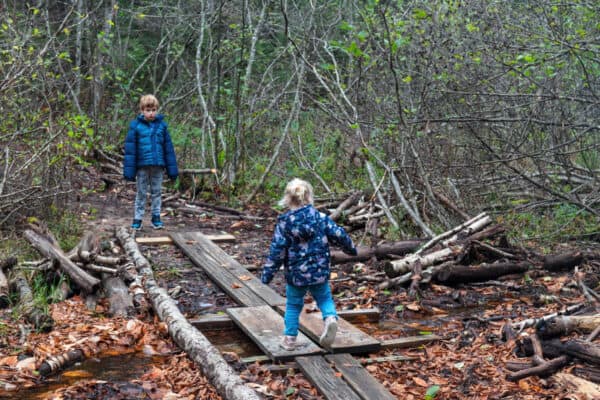 Just beyond this muddy area, you'll come to the only small hill on the hike to Death Brook Falls, which is maybe 15-20 feet in elevation gain. If the waterfall is flowing reasonably well, you'll be able to hear it at this point.
Just beyond the hill, the waterfall will come into view upstream and to your right. For those who use coordinates when hiking, the waterfall can be found here: 43.810097, -74.594213.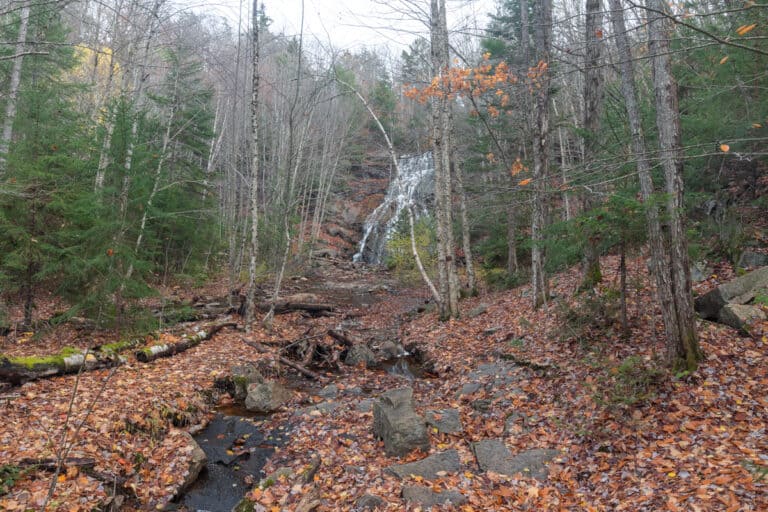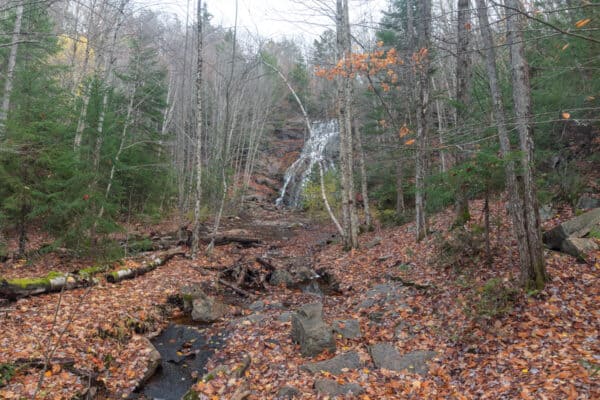 Getting to this viewpoint of the waterfall is quite easy. However, if you want to get a closer look, things can get a bit tricky as the area near the falls is quite muddy and marshy. Truthfully, it's best to just wear shoes that can get wet and dirty if you want to get close to Death Brook Falls.
Interestingly, Death Brook Falls doesn't appear to actually be on Death Brook, which lies a short distance to the north. Instead, the waterfall lies on a seemingly unnamed tributary a short distance before it reaches that stream.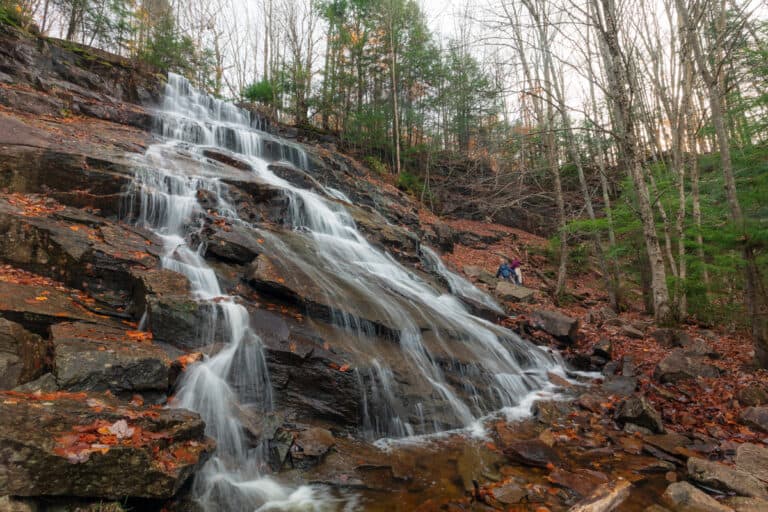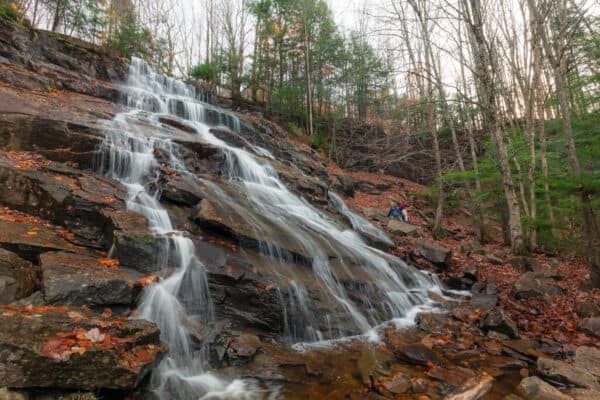 The waterfall itself is approximately 35-40 feet in height. The stream at the top of the falls is fairly narrow, but the water fans out quite beautifully as it cascades down the cliff face to the bottom of the waterfall.
This is definitely a beautiful waterfall despite its ominous name, and I enjoyed taking a few minutes exploring the stream below the waterfall and the area around it.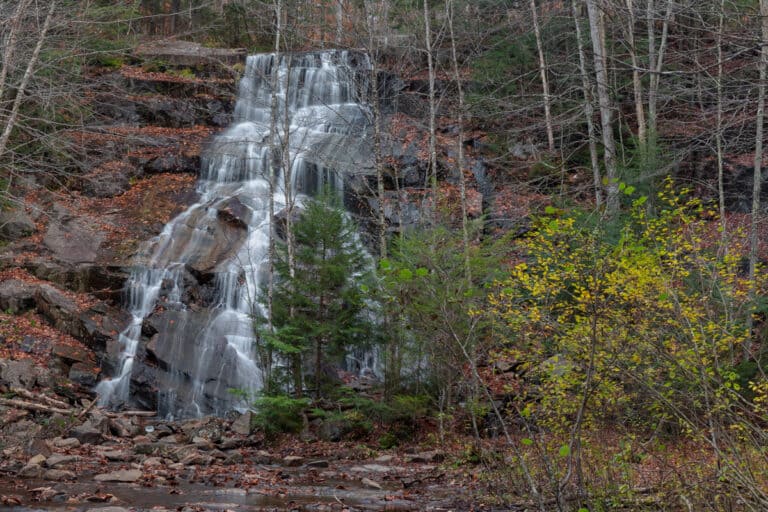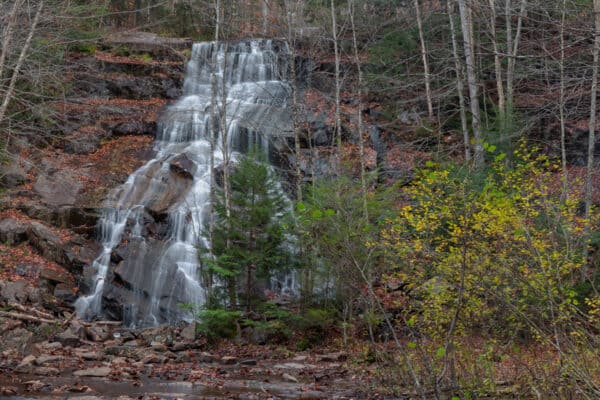 Once you have had your fill of Death Brook Falls, simply retrace your steps for the roughly third-of-a-mile hike back to your car. Along the way, you'll notice a side trail or two. It's likely that these wind their way to the top of the waterfall, but since they are unmarked, I opted not to take them during my visit.
Overall, Death Brook Falls is a really beautiful waterfall and a great spot to visit in northern New York. And, given that it's close to some other great spots, including the Adirondack Experience and the Cathedral Pines Trail, and right off of one of the region's main thoroughfares, it's definitely a spot that's worth checking out.
Looking for even more nearby spots to visit? Check out Auger Falls, Bog River Falls, and Talcottville Falls.