Disclosure: This article may contain affiliate links. We will make a small commission from these links if you order something at no additional cost to you.
I've done many great hikes in New York, but I don't think that I've ever hiked an official trail that was shorter than the Cathedral Pines Trail in the Adirondacks.
That's because the Cathedral Pines Trail is only officially a tenth of a mile long (though I think the route here is maybe double that)! However, despite its short length, its location directly alongside a popular roadway, and the massive size of the old-growth white pines here make this a great little spot to go for a short hike.
Finding the Cathedral Pines Trail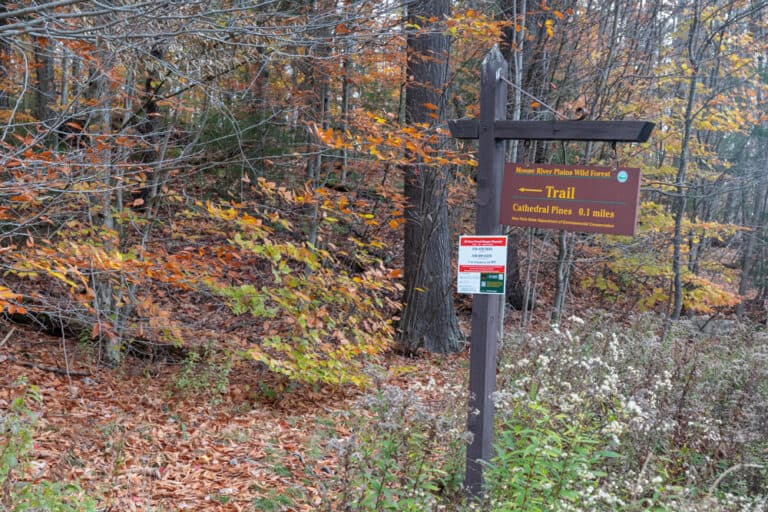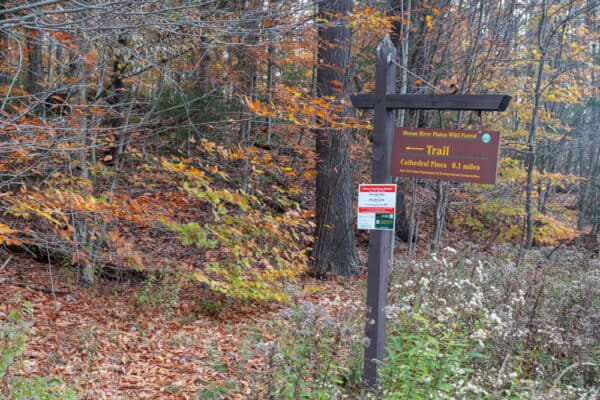 The Cathedral Pines Trail is located directly along Route 28 in Hamilton County, New York in an area known as the Moose River Plains Wild Forest. It's near the shoreline of Seventh Lake and about halfway between the communities of Raquette Lake and Inlet.
The trail is marked by a New York DEC sign that can be quite easy to miss as there aren't any larger signs or even parking lots for this trail. However, if you put the following coordinates into your GPS, you can find it without issue: 43.755654, -74.713510.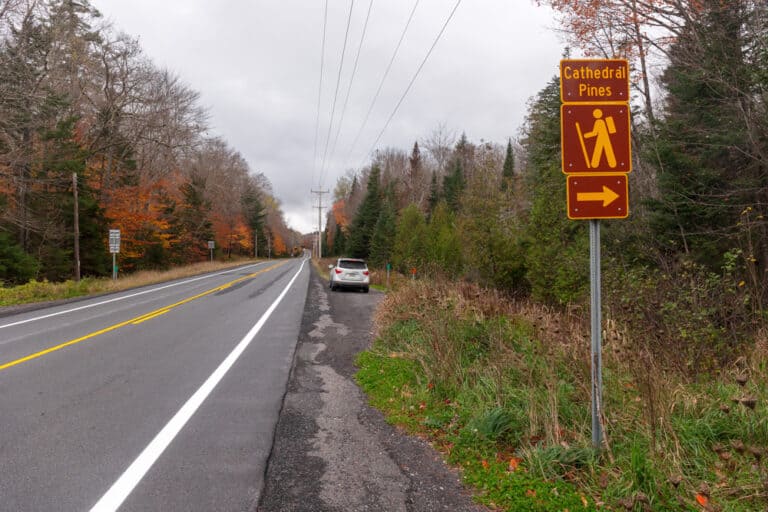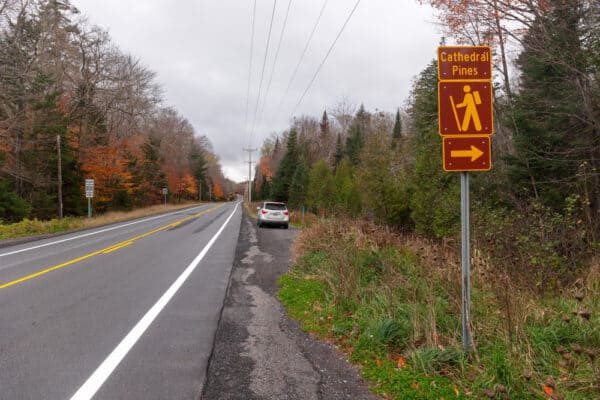 Parking for the trailhead is along a small pull-off just southwest of the sign and trailhead on the northwestern side of the road (On the right if coming from Raquette Lake and on the left if coming from Inlet and Old Forge).
Make sure to be careful when getting in and out of your car here as cars travel this road at a high rate of speed.
[Click here for information on how to use the coordinates in this article to find your destination.]
Hiking the Cathedral Pines Trail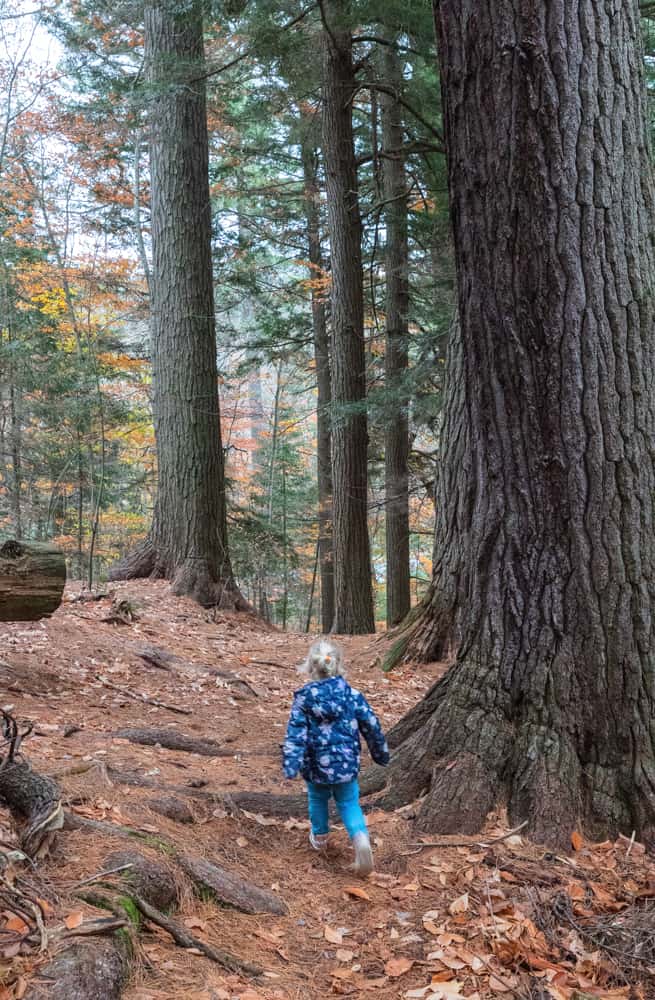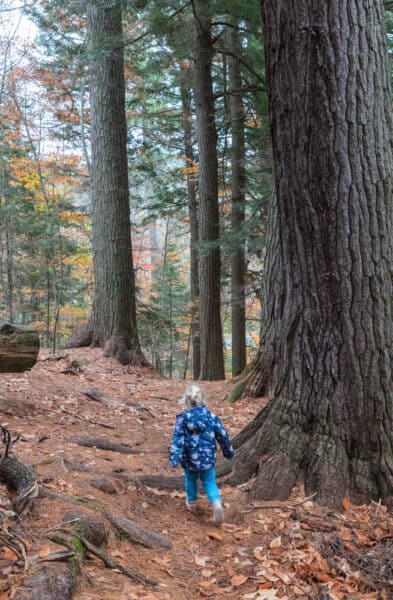 The trailhead for the Cathedral Pines Trail can be found adjacent to the DEC sign. This is a loop hike, so you'll see trails heading off in both directions from the road. I opted to hike this trail in a clockwise direction, which I think is probably the best option.
The first part of the trail is flat and immediately enters the woods. You'll soon notice the towering white pine trees as you make your way through this beautiful woodland.
After a short distance, you'll come to a large stone memorial. My assumption is that the 0.1-mile distance sign at the road is only to and from this marker. A total round trip on the loop is probably closer to two-tenths of a mile.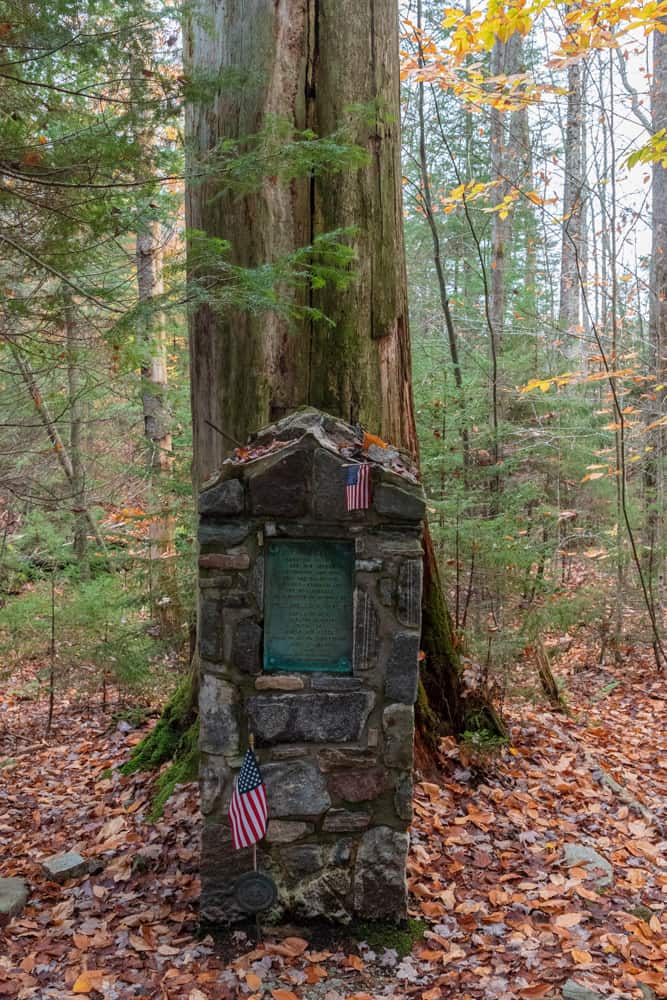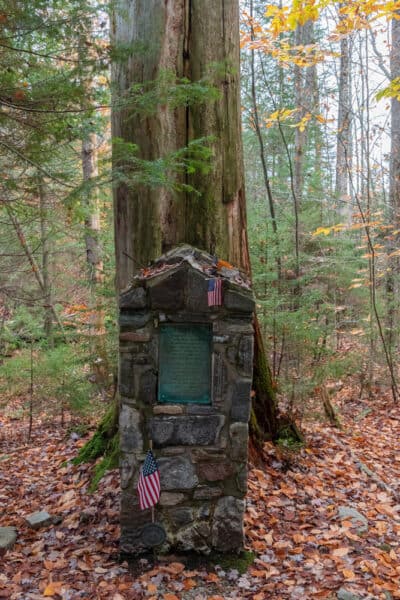 This memorial is dedicated to 2nd Lt. Malcolm L. Blue, who died in France during World War 2.
Unfortunately, the giant white pine tree behind the memorial has been dead for many years. However, the incredibly large stump that is still there testifies to how huge this tree was when the marker was placed.
Fortunately, however, there are still gigantic old-growth white pine trees to be seen, with the largest ones sitting just up the hill from the marker.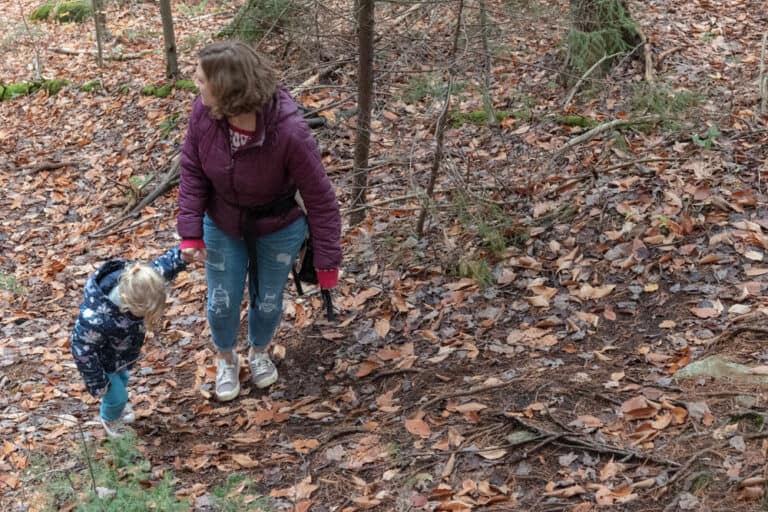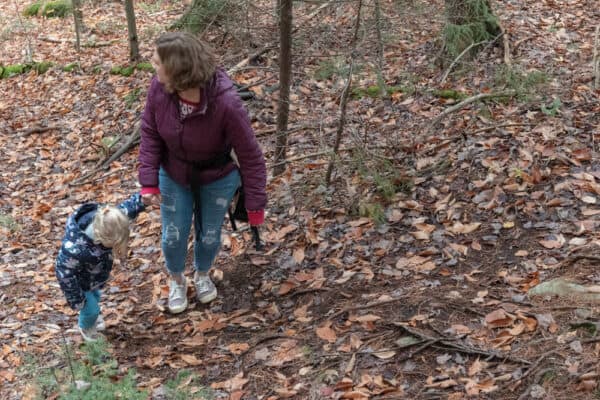 From the marker, continue to follow the trail as it ascends a rather steep embankment. I'm not entirely sure if this is part of the official trail or not, but the path is quite well worn for the rest of the loop, so you'll have no problem following it either way.
This section of the trail is rather steep and while my young kids were able to do it, those who have trouble with hills will likely just want to return to their car from the way that they originally came in. However, if you can climb this short hill, I definitely recommend doing so.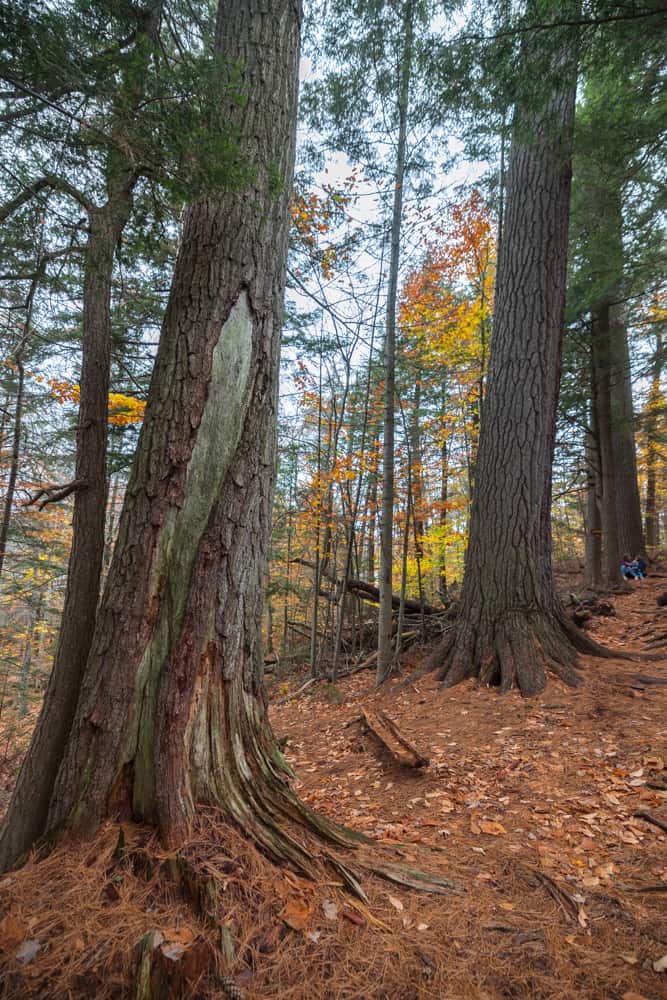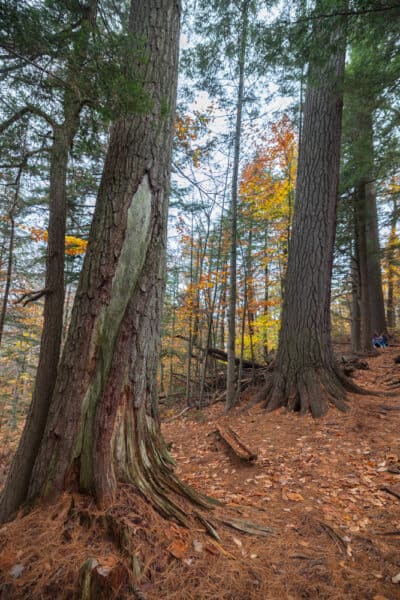 Once at the top of the hill, you'll be standing next to some of the largest trees you'll find in New York, and their massive trunks are truly impressive.
That being said, while looking up into the treetops is stunning, my family and I found the most enjoyment from checking out how large the trucks of the trees were. We couldn't even wrap our arms around some of them when holding hands as a family.
As this is a very short trail, it won't take you long to return to your car from the area with the massive trees. So, once you are done enjoying this spot, simply follow the trail the short distance back to the road.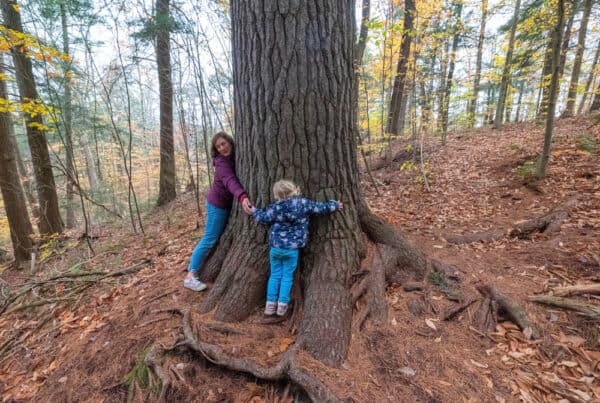 It's worth noting that there is said to be an unofficial trail from this area that leads down to the shores of Seventh Lake, but, not wanting to get lost in the approaching dusk, I didn't try to find it. However, for those looking for a bit more of a hike here, this is an optional addition. Just be careful to not get lost.
Overall, the Cathedral Pines Trail is really excellent given how short it is. While I wouldn't go far out of your way to visit it, if you are looking to see some massive trees or simply want to stretch your legs while driving through this corner of Hamilton County, definitely add this hike to your list.
Looking for even more things to do nearby? Check out Death Brook Falls, the Adirondack Experience, Whiskey Brook Falls, and the best places to see fall foliage in the Adirondacks.