Disclosure: This article may contain affiliate links. We will make a small commission from these links if you order something at no additional cost to you.
Lake George, New York is one of the most popular vacation destinations in the Adirondacks, and so not surprisingly, there are many great places to stay in and around the town. One of these great spots is the Fort William Henry Hotel.
The Fort William Henry Hotel is located steps from the southern shores of the lake and within walking distance of many of the town's great attractions. This includes being right next to the historic Fort William Henry after which it is named.
During a recent trip to Warren County, I was invited to stay at this hotel for a few nights, and I thought I'd share some of my thoughts and experiences with you in case you are looking for somewhere to stay in Lake George.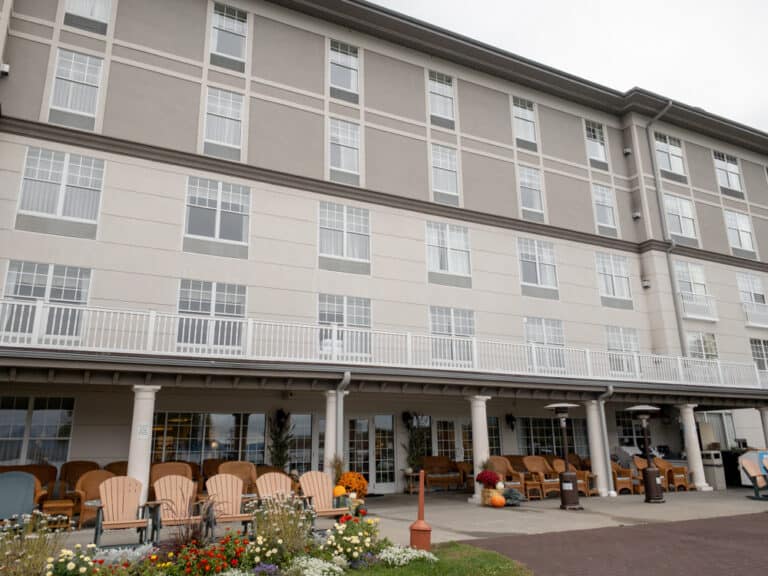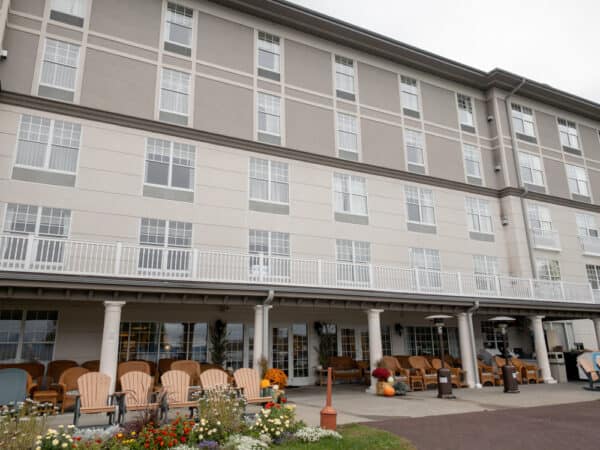 The Fort William Henry Hotel's history begins in 1855 when a three-story hotel was built on the southern end of the lake. After burning down in 1909, the hotel was rebuilt in 1912.
Unfortunately, as tourism trends changed, this historic hotel was mostly torn down in 1969. The main hotel that you see today dates to 2004. However, you wouldn't know it wasn't historic when walking through it as they did a great job adding historic touches to the property.
Today, the rebuilt Fort William Henry Hotel features three different sections. The Grand Hotel, where I stayed and where this review will be focused on, is the high-end section and was the part rebuilt in 2004.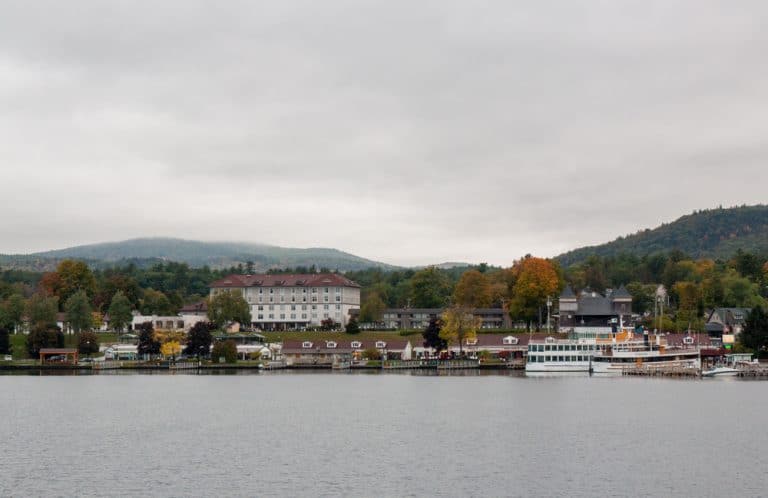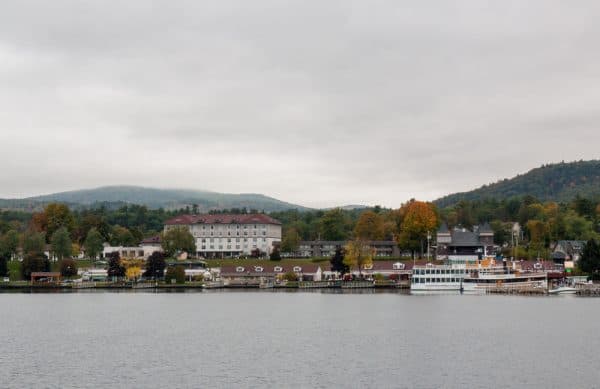 Adjacent to the Grand Hotel, you'll find the Premium East, which contains some suites and mid-range rooms, and the budget-conscious Standard West Motel. However, while the rooms in the two other buildings might not be quite as nice, they have access to all of the property's amenities.
The Grand Hotel is an all-suites property, meaning the rooms are quite spacious and come with a lot of nice amenities.
When you walk into the lobby of the Fort William Henry Hotel, you are greeted with great views out toward the lake and mountains. There is also a small gift shop and a restaurant here for those not wanting to leave the property to get food, a drink, or some souvenirs.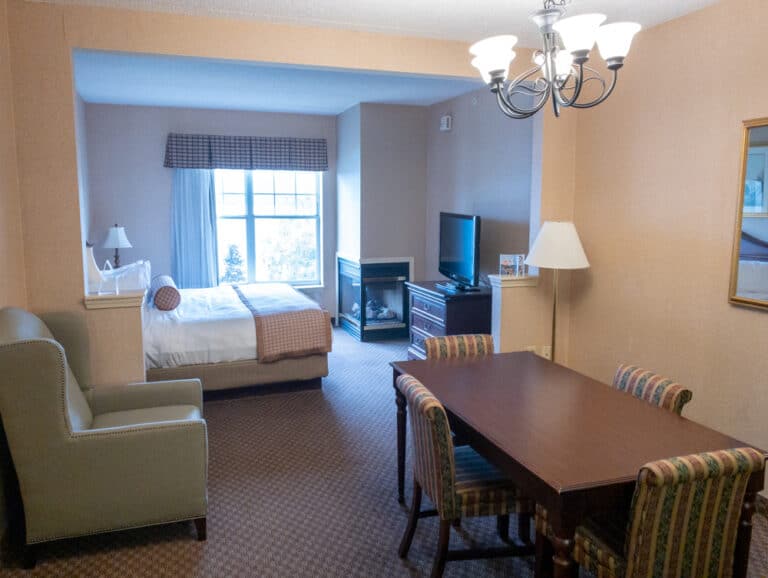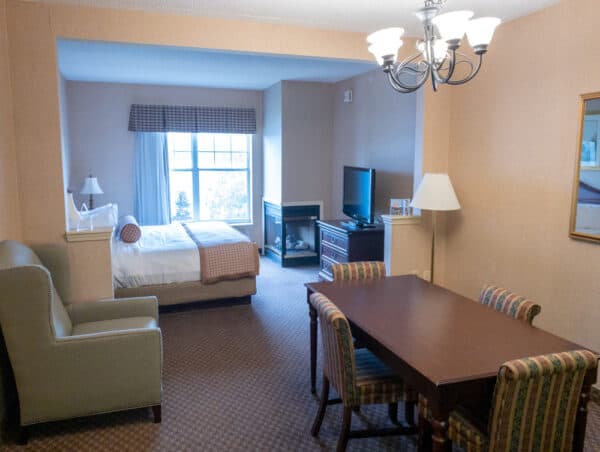 I was fortunate to stay in a Grand King Fireplace room with gorgeous lake views. My large room included a working fireplace, a comfortable chair, a table, and a small kitchenette, as well as the usual amenities.
If you have the opportunity, I definitely recommend paying for a lake view room as the views of Lake George and the Adirondack Mountains are quite stunning from the hotel.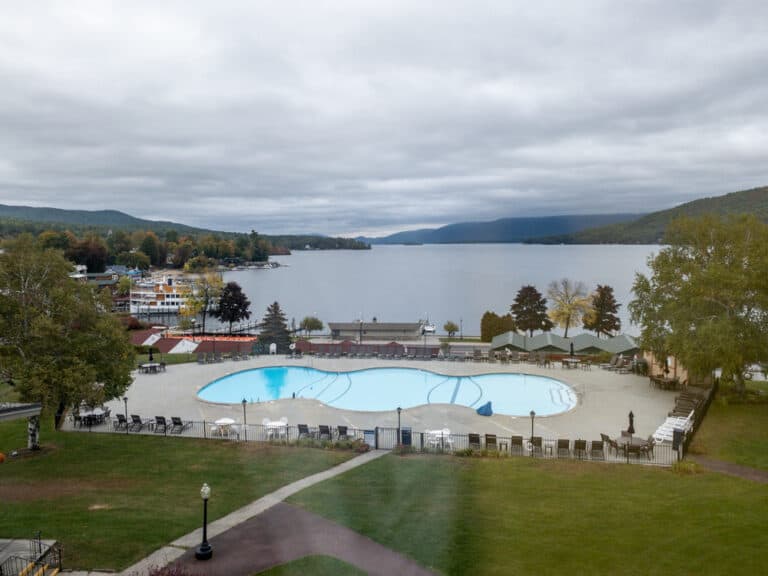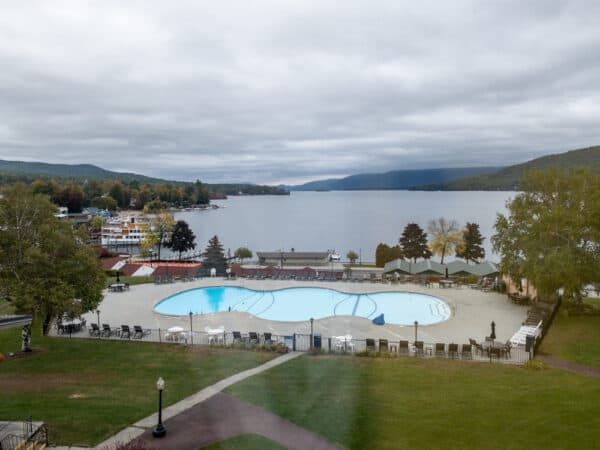 The room itself was nicely furnished, comfortable, and clean, but it wasn't overly fancy. Still, with so much to do in and around Lake George, I wasn't in my room much.
Outside the rooms, the hotel is home to a beautiful outdoor pool with stunning views. There is also an indoor pool for the cooler months of the year.
As I alluded to above, one of the best aspects of staying at Fort William Henry Hotel is its location. While there are parking charges throughout Lake George, you can easily walk to anywhere in town while leaving your car parked at the hotel (which has free parking, by the way).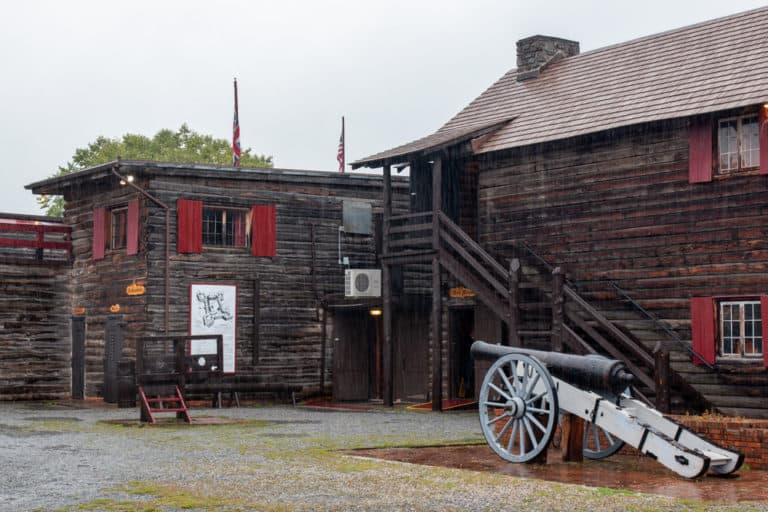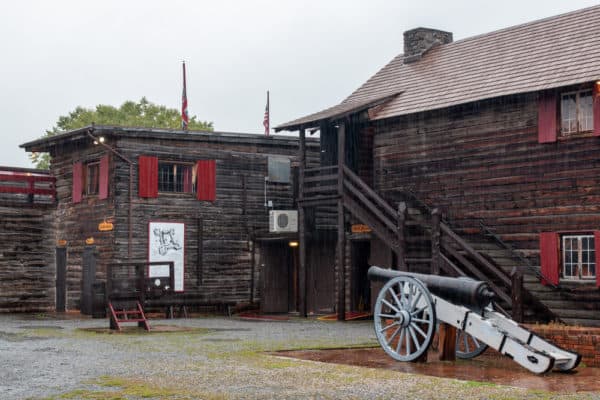 Whether you want to walk to the next-door fort, downtown Lake George, the Minne Ha Ha Steamboat tours of Lake George, or the nearby Million Dollar Beach, there's a lot you can explore without having to move your car.
Overall, the Fort William Henry Hotel is a great spot to stay when visiting Lake George, especially if you want to be near all of the action. While it might be a modern hotel, it has a lot of historic and luxurious touches that make it a perfect place to stay when visiting the area.
You can check current pricing here and check out reviews on TripAdvisor.
You can also find other nearby places to stay on Booking.com and Airbnb.
Looking for more places to visit in the Adirondacks? Check out Northway Brewing Company, the Natural Stone Bridge and Caves, and the Adirondack Experience.
Note: My stay at the Fort William Henry Hotel was hosted by the hotel. However, the opinions expressed are my own.