Disclosure: This article may contain affiliate links. We will make a small commission from these links if you order something at no additional cost to you.
Lake George is one of the most popular destinations in the Adirondacks, and there are many great spots to visit both in town and in the general area. One of these spots is Northway Brewing Company.
Northway Brewing Company is located in Queensbury, New York, about six miles south of Lake George. It is very close to Six Flags Great Escape, a popular amusement park in the region.
Northway Brewing Company opened to the public in March 2018. The building that now is home to Northway has been a popular destination for beer lovers for many years, having previously been known as the Lake George Beer Hub.
While this brewery is only a few years old, the owners of Northway have actually been brewing for many years previously and own both Davidson Brothers Brewing Co. in Glen Falls and Cooperstown Brewing Co. in Otsego County.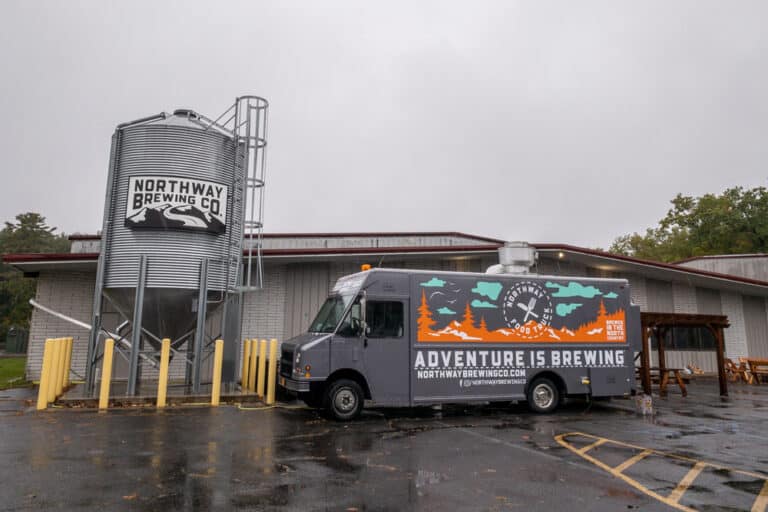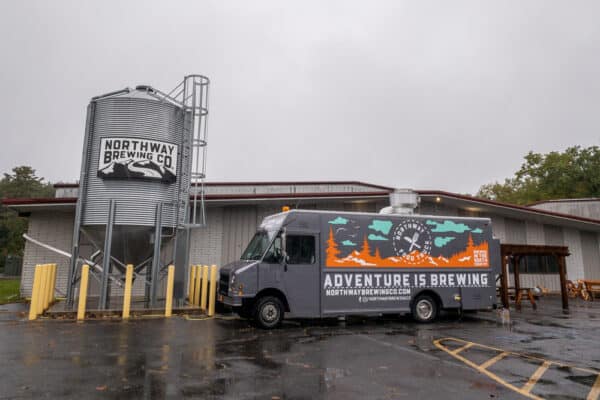 Because of the building's size, they actually brew some of the beers for these other brands on-site at Northway Brewing Company, and, at the time of my visit, you could get several Cooperstown beers on draft in the taproom.
Speaking of the taproom, it's a large space that is a great spot to enjoy a few beers. It definitely has an industrial feel, but they've done a great job to also make it feel like a cozy and inviting space.
There is a nice bar on one side of the room with some bar seating. The rest of the space is filled with tables throughout the room, as well as an indoor cornhole set and other games.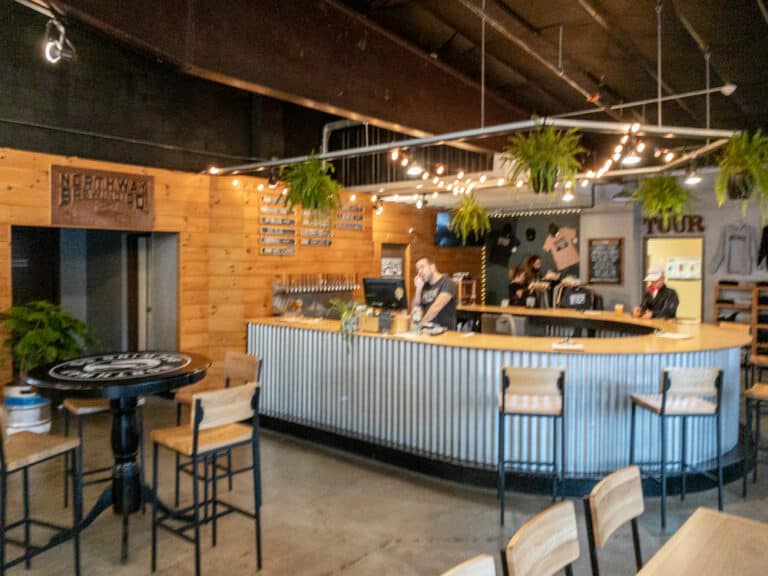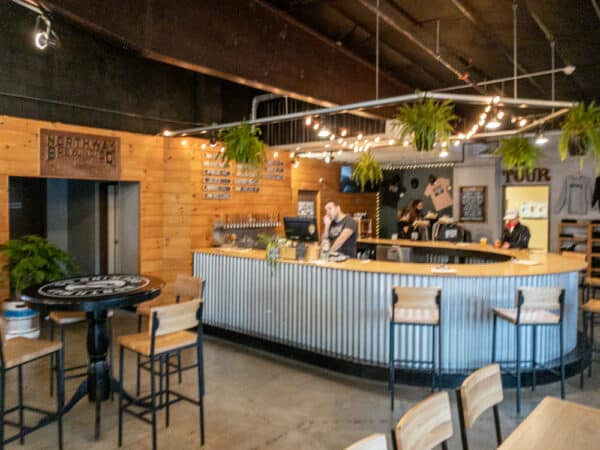 Along the one wall, there is a beautiful mural showcasing a forest scene that's very fitting for a brewery in the Adirondacks.
Outside, there are several tables you can enjoy during nice weather.
During my visit, there were 14 different beers on draft. The majority of which were Northway Brewing Company beers, with a few from their sister brands thrown in for good measure.
I had a chance to try two of their beers: Apple Pie Ale and Avenue of the Pines New England IPA.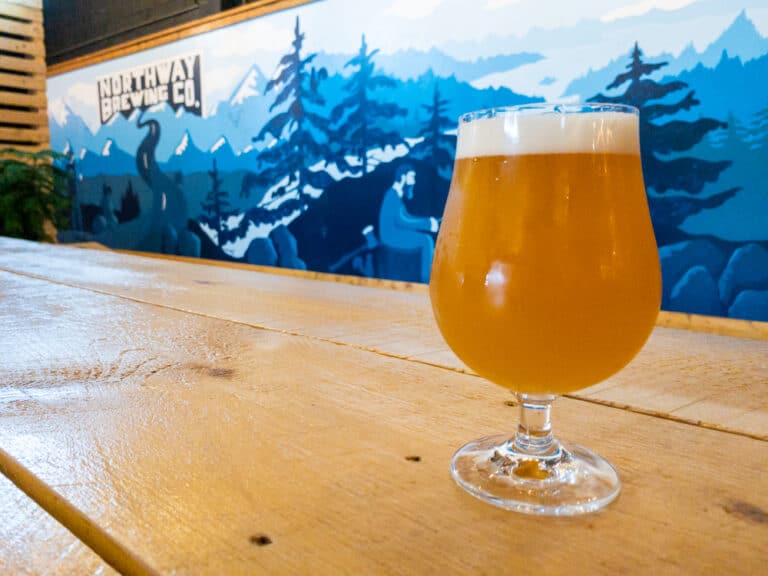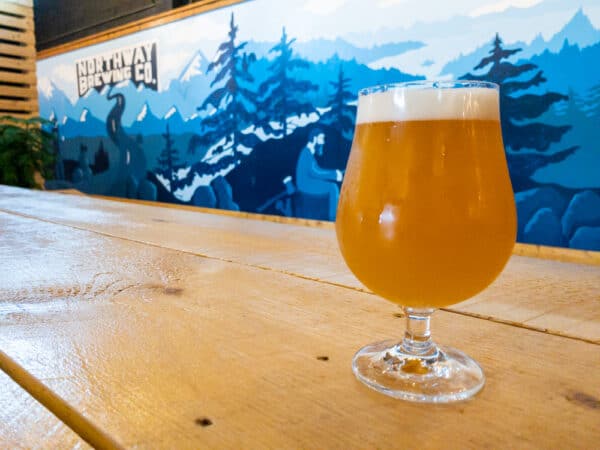 The Apple Pie Ale contained a mixture of spices and other ingredients that definitely gave the beer an apple pie flavor. While I don't tend to enjoy beers like this one, I was glad I tried it as it was quite tasty.
The Avenue of the Pines New England IPA was also a very good beer. I found it to be very juicy and perfectly balanced with a great flavor profile. I'd definitely get this beer again, and it left me wanting to try more of their beers in the future.
Unfortunately, on the day of my visit, The Barrelhouse, their on-site food truck wasn't open. However, I did have a chance to look over their menu (which regularly rotates), and it looked like they have a delicious variety of food options.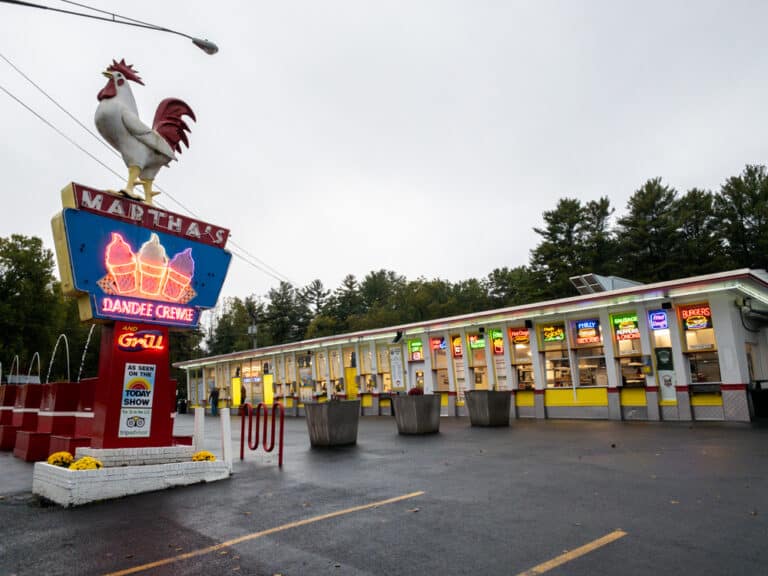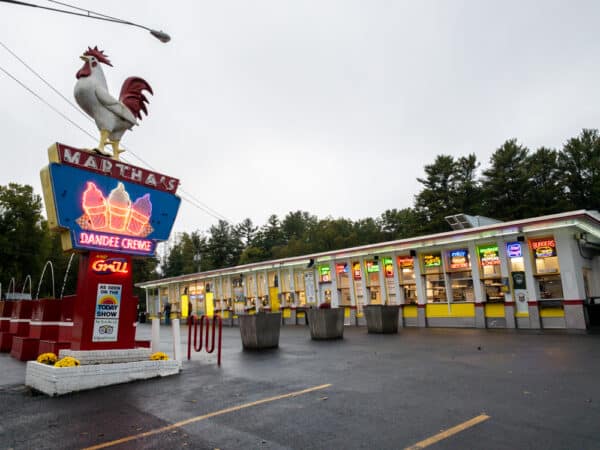 If you, as I did, visit when the food truck is closed, Northway offers some snacks in the taproom. They are also located very near Martha's Dandee Creme, a local institution serving food and ice cream that I can definitely recommend.
Overall, Northway Brewing Company is a great brewery to visit while exploring Warren County, New York. Given that it's only a short drive from both Lake George and Six Flags, as well as being just off of I-87, this is an easy spot to check out when traveling through the area.
Northway Brewing Company is located at 1043 U.S. 9 in Queensbury, New York.
Looking for more places to visit nearby? Check out Fort William Henry, Ausable Chasm, and Lake George boat tours. Also, the nearby Fort William Henry Hotel is a great spot to stay the night.