Disclosure: This article may contain affiliate links. We will make a small commission from these links if you order something at no additional cost to you.
The Thousand Islands region of New York is known for its spectacular natural beauty. However, this is an area that is also filled with amazing history and art. One spot that combines the two of these is the Frederic Remington Art Museum.
The Frederic Remington Art Museum is located in Ogdensburg, a city in St. Lawrence County. While Remington himself never lived in this house, he was born in nearby Canton. A few years after his untimely death in 1909, his widow, Eva, moved to this home along Washington Street and lived her for three years until her death in 1918.
Wanting to preserve Remington's incredible artistic legacy, Eva's estate founded the Frederic Remington Memorial in 1923. Since then, it has grown to house one of the greatest single-artist collections in the United States and is now known as the Frederic Remington Art Museum.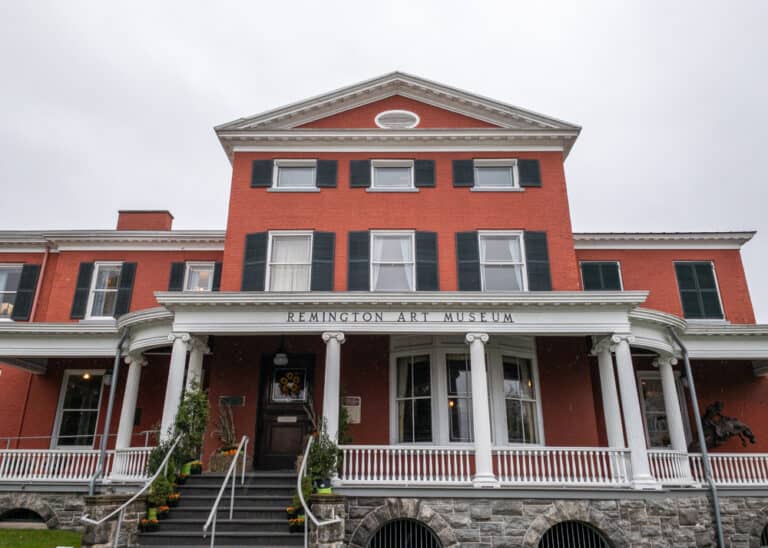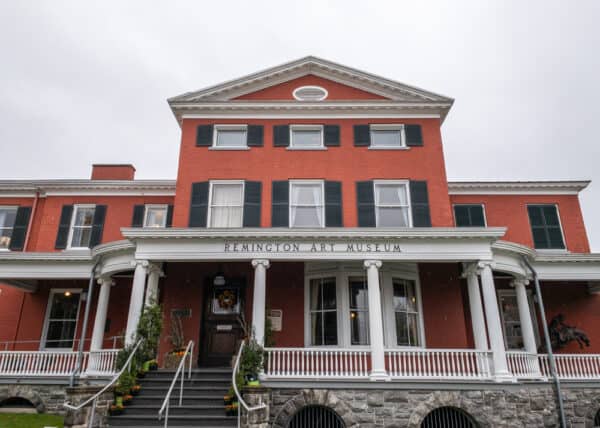 When you arrive at the museum, take a few minutes to appreciate the exterior beauty of this spot. This stately home was built in 1810 by David Parish, an important financier who helped to fund the War of 1812 and the creation of the Second Bank of the United States.
From the front porch of the museum, you can admire the view of the St. Lawrence River and across into Canada on its far shores. There is also a large replica of one of Remington's sculptures sitting outside the museum's entrance.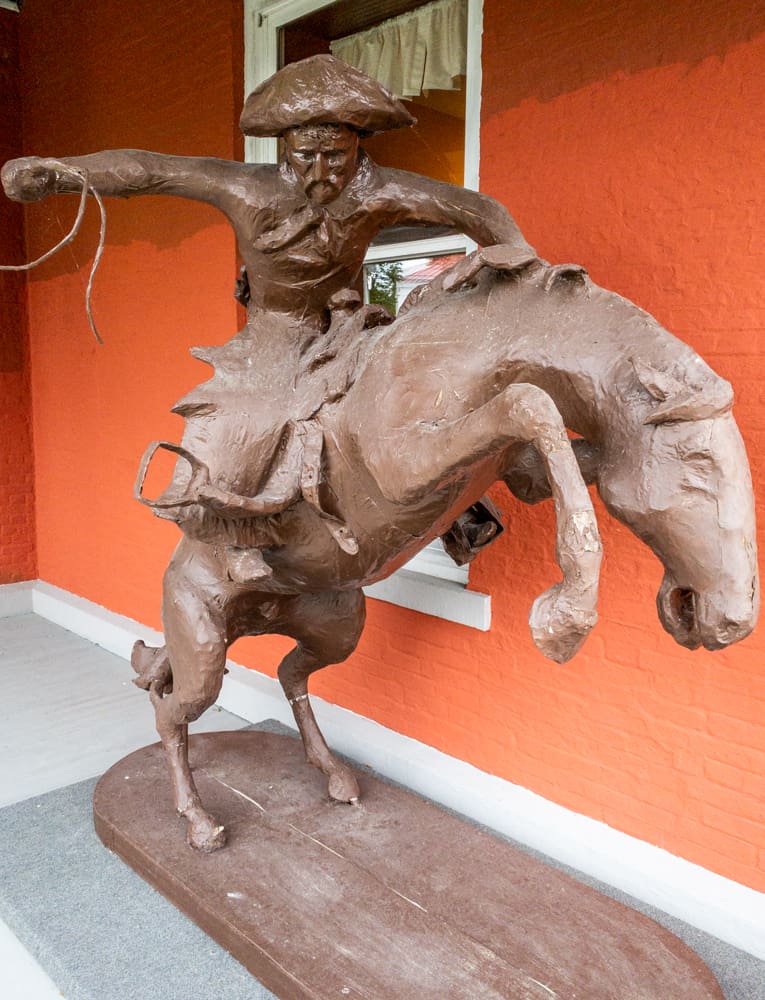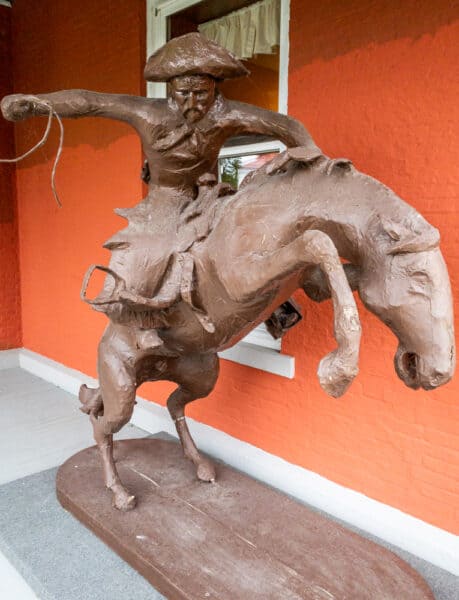 Inside, the museum is just as stately and beautiful as the exterior of the home. The museum has done a great job crafting a high-quality museum space out of this historic property.
The museum features exhibits on both floors and is home to the largest collection of Remington's works in the world. The first floor primarily features information on Remington's career as well as the majority of the art collection while the second floor offers information about the home and more pieces of art.
The first exhibit on the first floor offers a timeline of Remington's life. For those that aren't overly familiar with the artist's life and career, this is a great way to get introduced to him before venturing further into the exhibit space.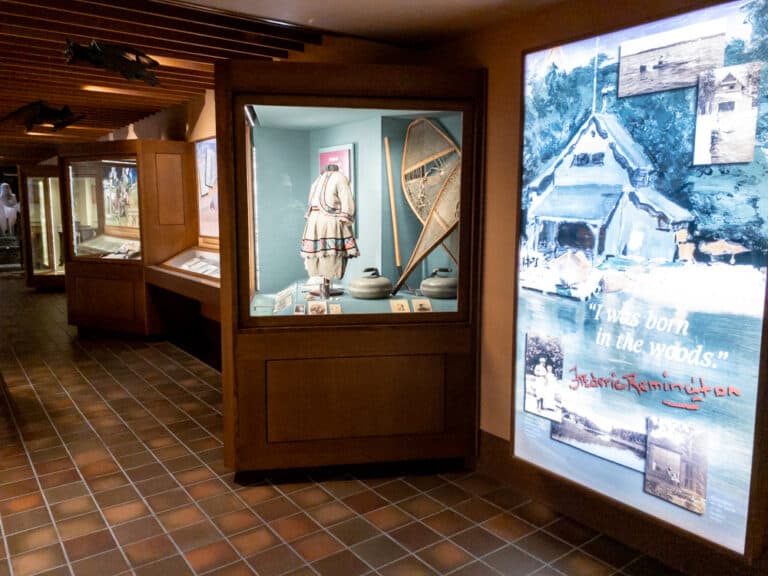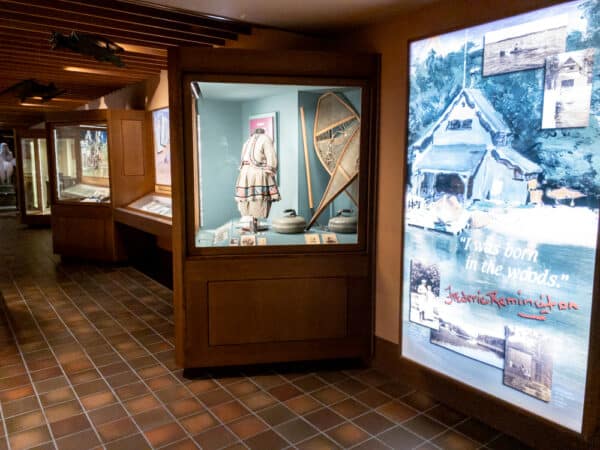 The first large gallery features a selection of displays that tell the story of Remington's life and his career as an artist. These are divided into vignettes organized by theme as opposed to time. And, while not every item is explained through signage, these sections do a great job showcasing his story.
The pieces in this room include many early sketches that Remington completed, as well as a few of his later pieces. It was really interesting to see how he had progressed as art turned from a hobby into a career.
Proceeding further into the museum, there are two large galleries that are filled with works by Remington. Over the course of his life, Remington did thousands of flat works (such as paintings and sketches) and nearly two dozen sculptures.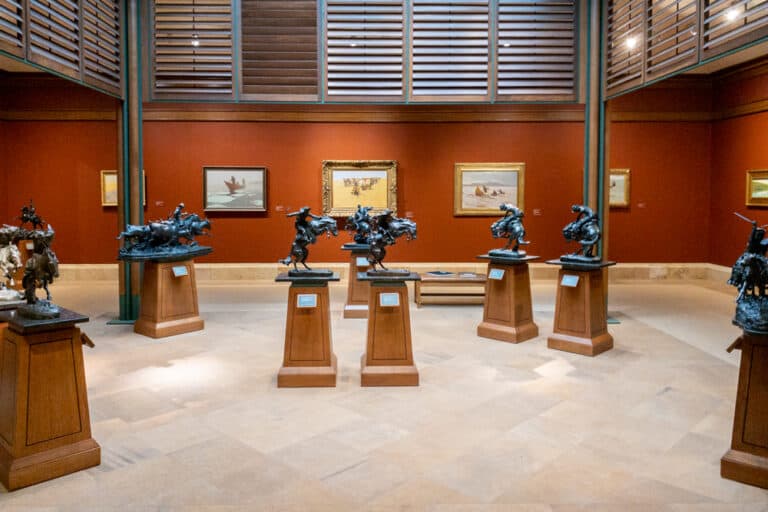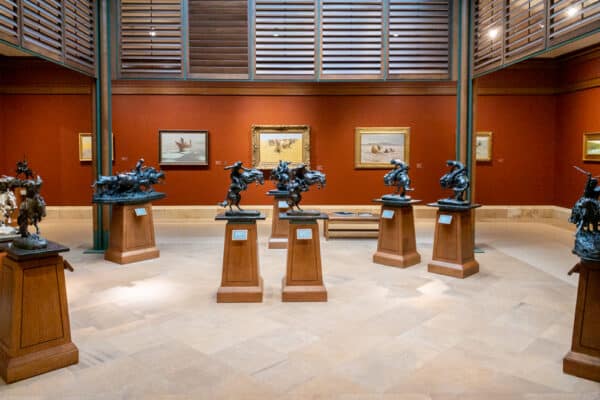 Within the museum, you'll find many pieces of work spanning his entire career and including some of his most famous pieces of art. It was also interesting seeing some of the initial sketches and molds that Remington used to craft his pieces.
While the majority of the pieces in the collection highlight the western motif for which Remington was so well known, there are also pieces that showcase other subjects. I found it really fascinating to see these additional subjects as they provided a different look at his work.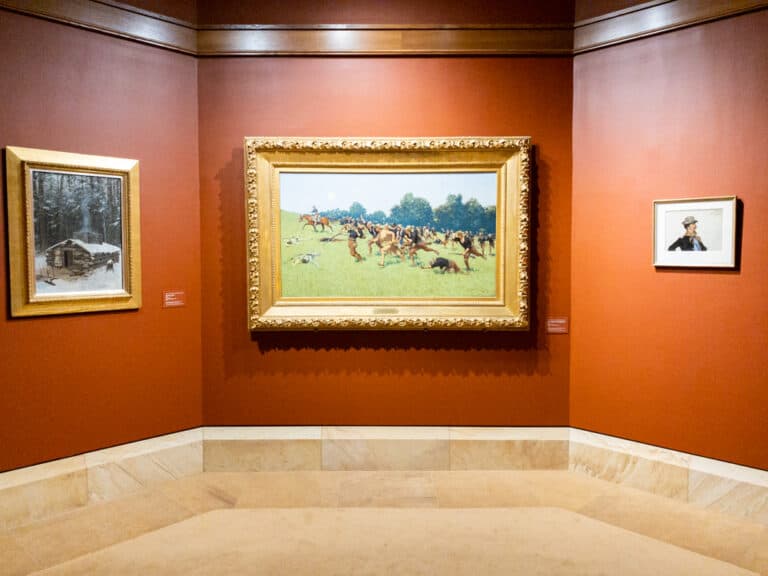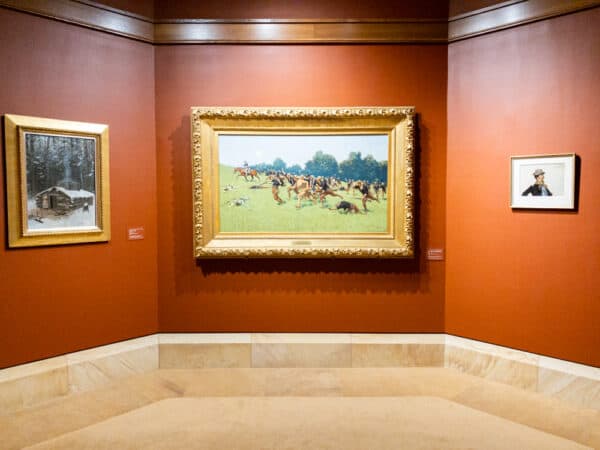 Next to most pieces in the gallery, there is a bit of information about the item. However, if you want more of an explanation, guides in each gallery can offer more background and information about the different pieces on display.
The upstairs portion of the museum features a few more pieces of art by Remington, as well as his personal bookcase with hundreds, if not thousands, of books that he owned at the time of his death.
There is also information about the history of the home and works of art by local artists. Most of the rooms on the second floor are decorated with period pieces, giving it a different feel than the rest of the space.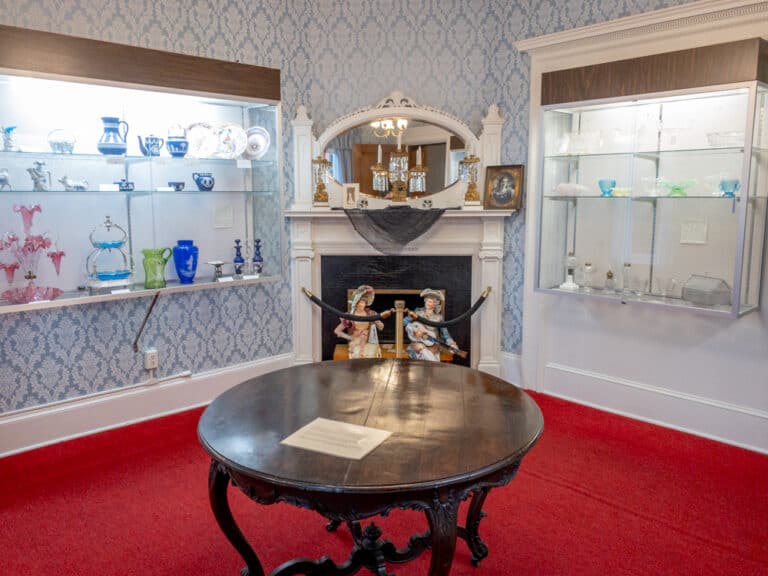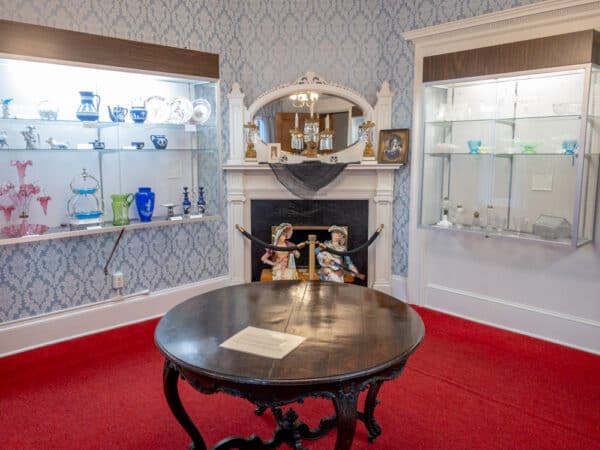 Before leaving, make sure to pop your head into the museum's shop. Here, you can purchase both prints of Remington's art as well as copies of his famous sculptures. There are also many locally-made gifts, making this a great place to stop if you are looking to pick up something from the Thousand Islands region to take home with you.
It's also worth noting, if you're visiting with kids, that the museum also owns the Eva Caten Remington Education Center next door. This space is filled with interactive exhibits for children and is free of charge. Unfortunately, it was closed during my visit, so I was unable to pop my head in and look around.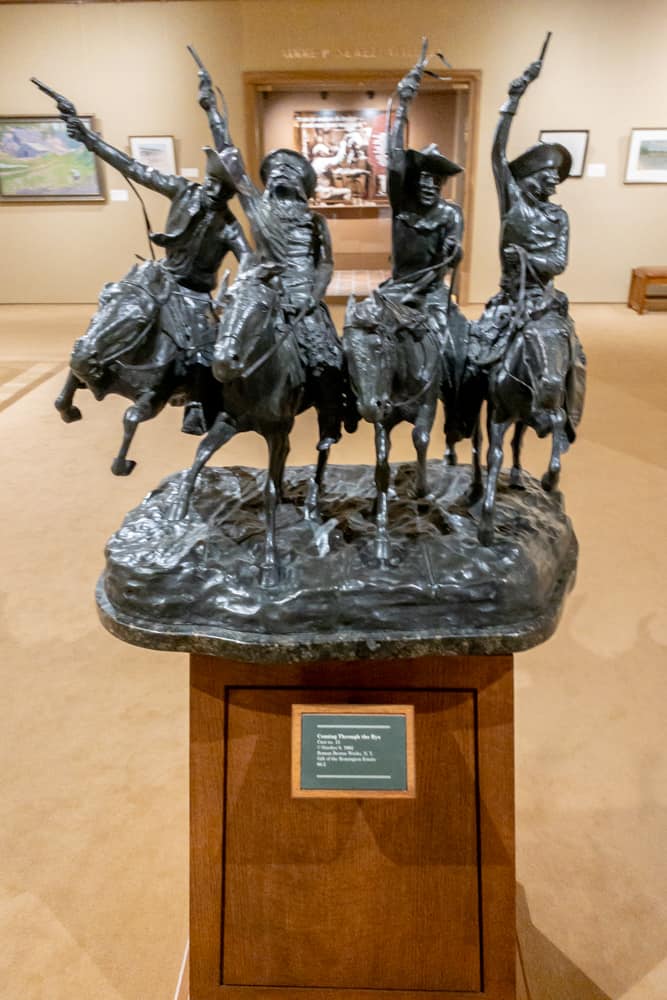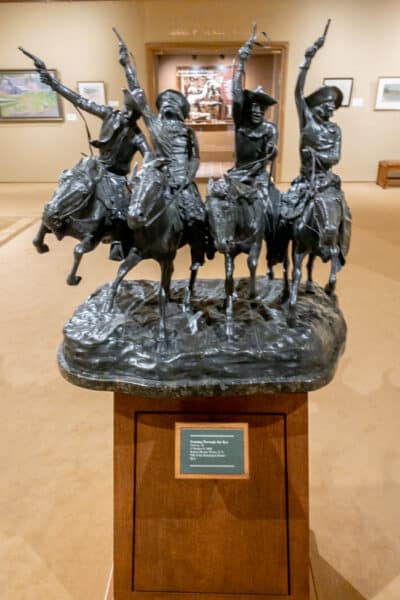 Overall, as someone who was only passingly familiar with the works of Frederic Remington before visiting, I found the Frederic Remington Art Museum in Ogdensburg, New York to be fascinating. My visit undoubtedly helped me to better appreciate his work and his impact on American art and history.
So, whether you are a huge fan of Remington's work, love art, or are simply looking for something different to do in the region, I definitely recommend visiting the Frederic Remington Art Museum in St. Lawrence County.
Looking for more places to visit nearby? Check out Boldt Castle, the Silas Wright House, and the Hawkin's Point Visitor Center.
---
Frederic Remington Art Museum
Hours: Wednesday-Saturday: 11am-5pm
Sundays 1pm-5pm

Cost: Adults: $20, Children: $10

Website: FredericRemington.org

Address: 303 Washington St
Ogdensburg, NY 13669
---