Disclosure: This article may contain affiliate links. We will make a small commission from these links if you order something at no additional cost to you.
Halloween is one of the most popular holidays of the year, but unlike the Christmas season, there aren't often many family-friendly activities that coincide with the holiday. So, when I heard about the Great Jack O'Lantern Blaze, I knew I had to check it out.
The Great Jack O'Lantern Blaze started in 2005 in the Hudson Valley and is held annually at the Van Cortlandt Manor in Croton-on-Hudson, New York. There is now a second Blaze at Old Bethpage Village on Lang Island, but as I haven't visited that one, this article will focus on the event in Westchester County.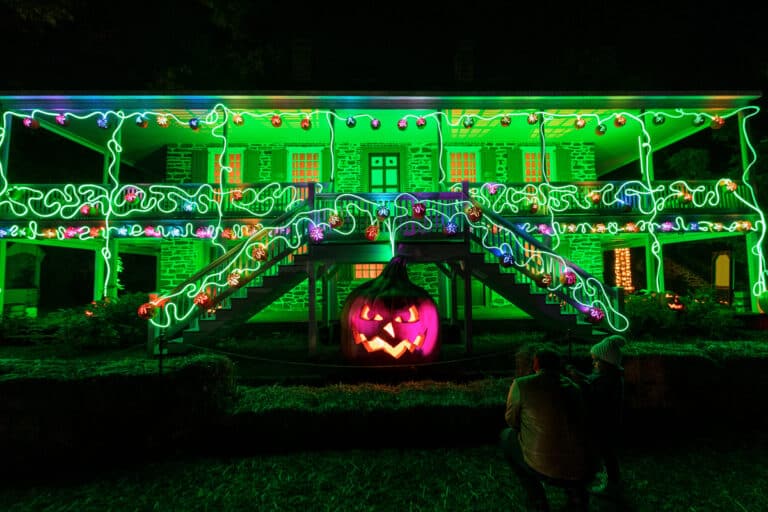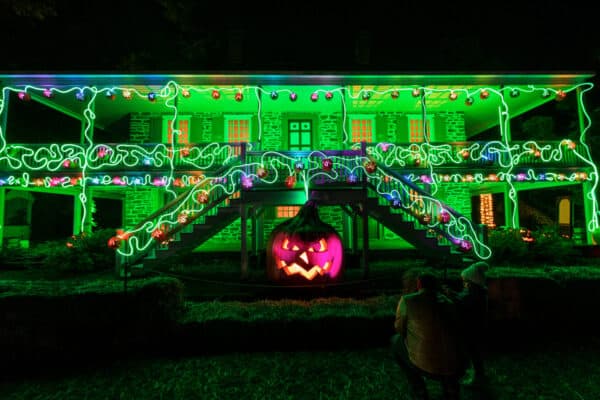 To be honest, I kind of wanted to dislike the Great Jack O'Lantern Blaze. Not only were tickets on the expensive side (as much as $57 for adults and $49 for children in 2023, though they do have evenings as cheap as $42/$34), but I also had to wait in traffic for 30 minutes to get into the site on the Tuesday evening that I visited.
However, as I worked my way through the Great Jack O'Lantern Blaze, which is often simply referred to as "the Pumpkin Blaze" or simply, "The Blaze", it definitely grew on me, but more on my overall thoughts at the end.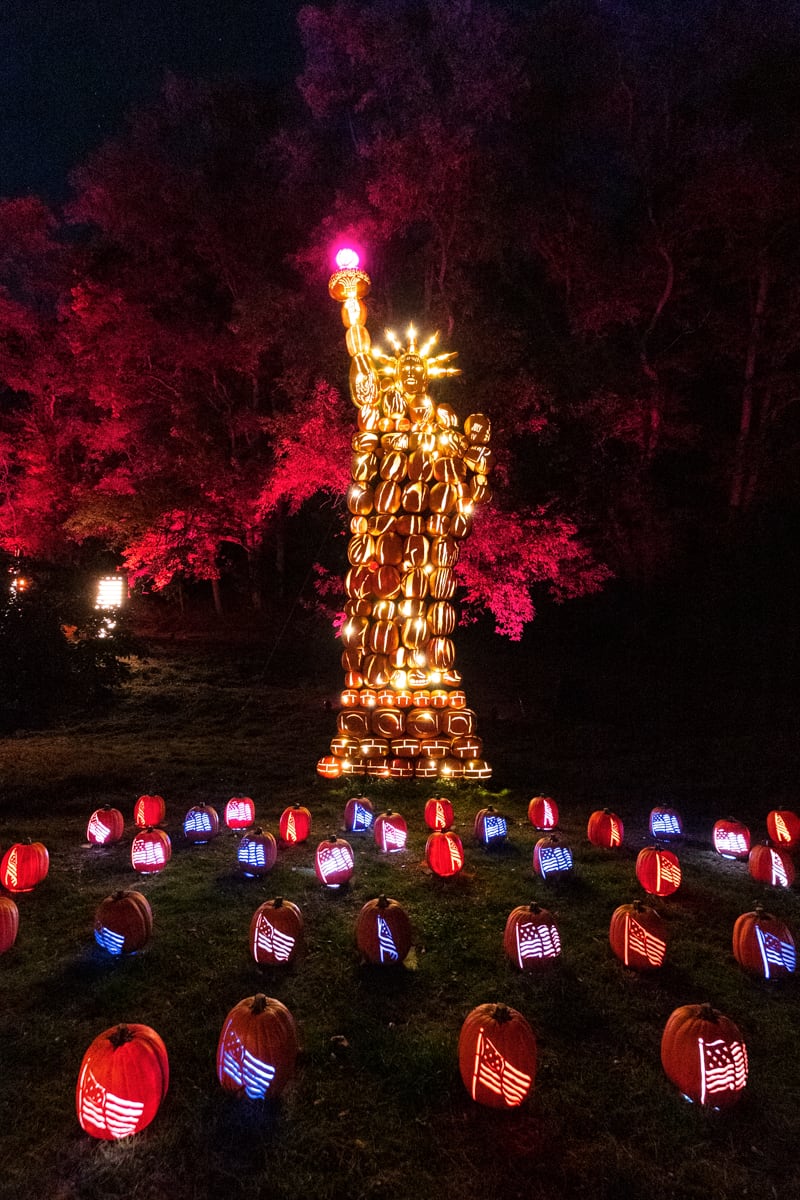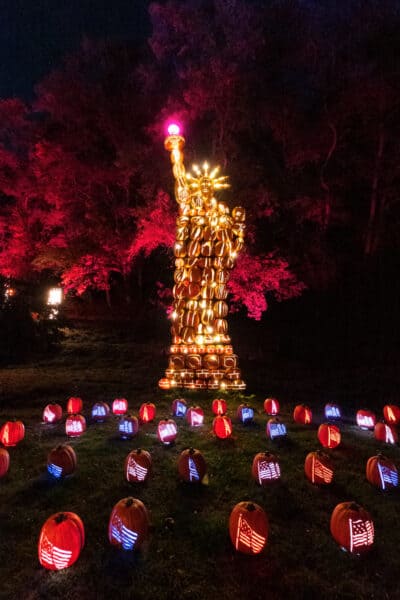 There are said to be more than 7,000 real pumpkins used in the display, as well as "art pumpkins" which aren't real but are hand-carved like the real ones. A single path winds its way through the display, which is about half a mile in total length. (Note that while the trail is relatively flat, there didn't appear to be anywhere to sit along the route.)
What impressed me most was the incredible creativity of the carved pumpkins here. There were, of course, plenty of standard Jack O'Lanterns, but there was also a myriad of other unique designs, such as the fish carved from well over a dozen pumpkins that were put together to create one image.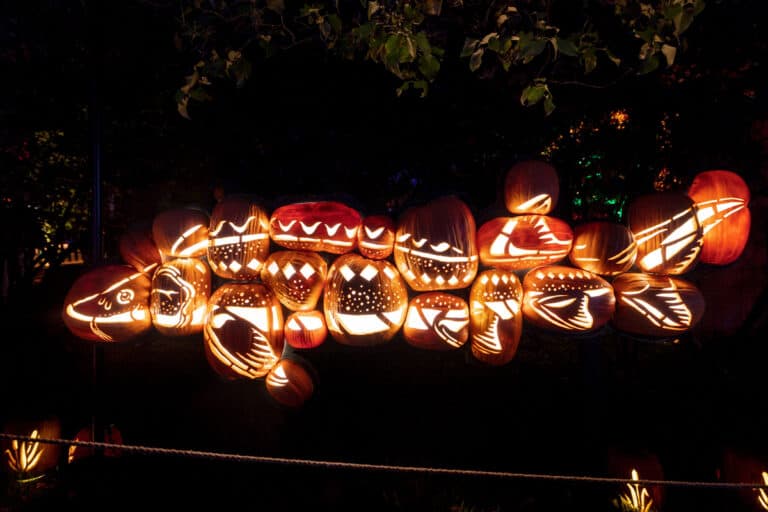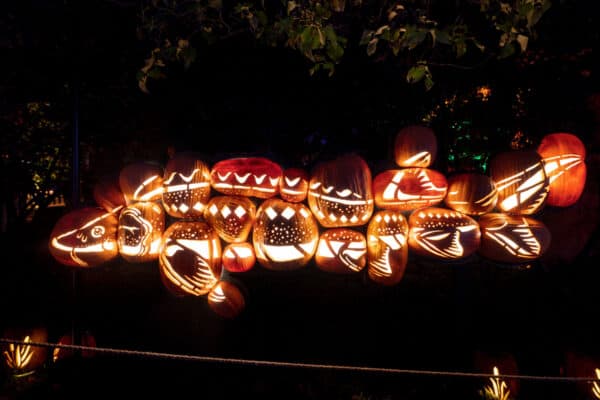 As you walk through the display area, there aren't really any empty spaces, and the sheer number of different themes will leave you looking back and forth as you walk through the show.
One of the highlights for me was the Under the Sea area which featured very unique Jack O'Lantern jellyfish that surrounded the trail. Other either side of the area, you can marvel at the moving pumpkin windmill fronted by tulips carved into pumpkins and cross the Pumpkin-Zee Bridge.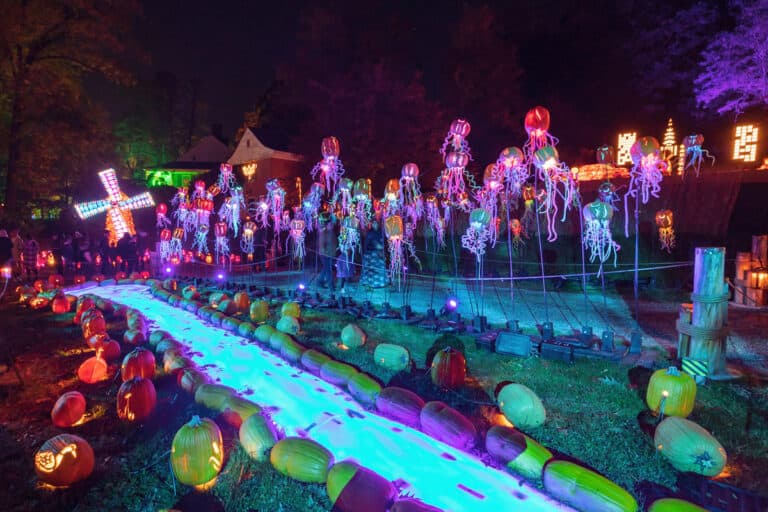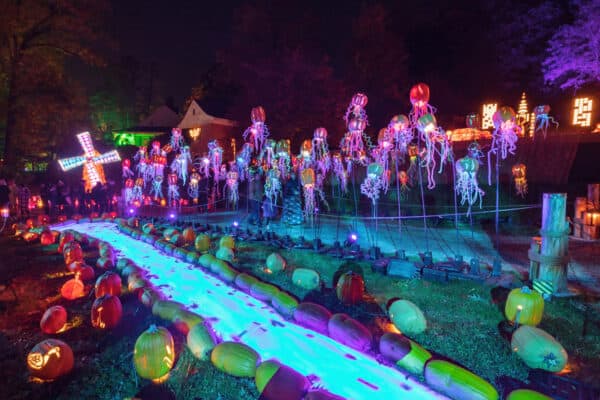 Another really awesome display area was the Museum of Pumpkin Art, which reimagines famous paintings like the Mona Lisa, Starry Night, and Banksy, in pumpkins. While many of these used the art pumpkins to create the unique look, it is amazing to think that each was hand-carved by a local artist.
Honestly, there are too many fun and unique displays to cover at the Great Jack O'Lanter Blaze in the Hudson Valley. But I'd be remiss if I didn't also mention the giant Statue of Liberty, the very cool Headless Horseman of Sleepy Hollow, and the covered bridge.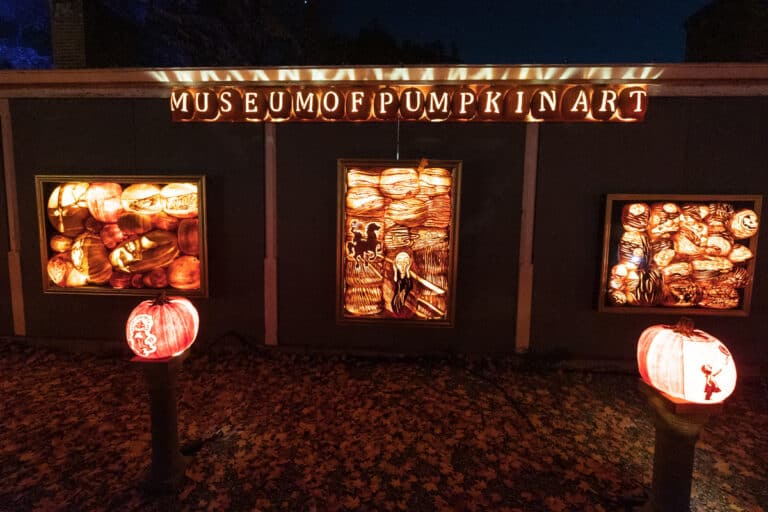 It's also worth noting that the lighting here is really cool, and I really enjoyed the fog and some of the sound effects sprinkled throughout the display area. Some of these things might make the Blaze a bit scary for some younger or more sensitive children, but most kids should find the displays a lot of fun.
All told, it took me about an hour to get through the event, but it might take you a bit more or less time depending on how many photos you take and the size of the crowd.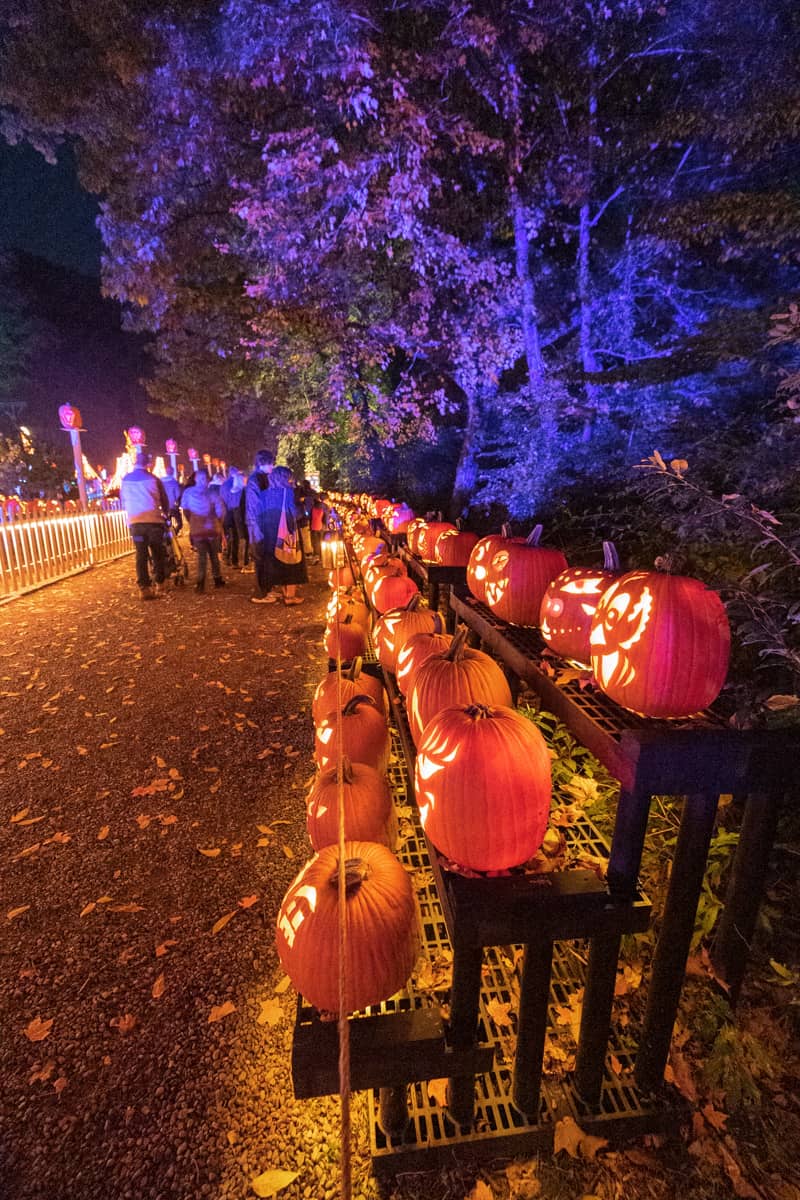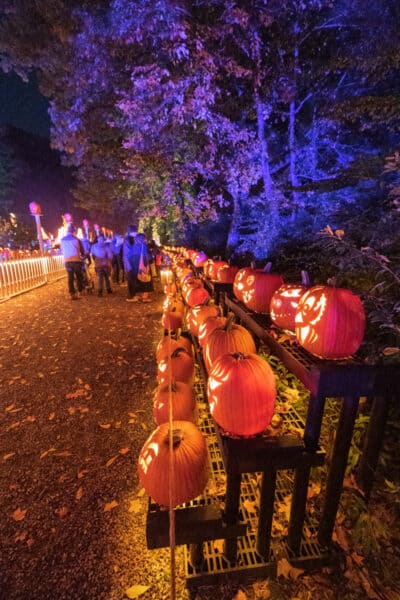 You could also spend a bit more time getting one of their snack and drink options like apple cider donuts, popcorn, apple cider, and beer. However, it should be noted that these can sell out.
In fact, when I looked at the food on the way out, probably half of the food and drink options were gone by 8:30 pm. The prices were also definitely on the high side, so you may want to consider eating before or after your visit.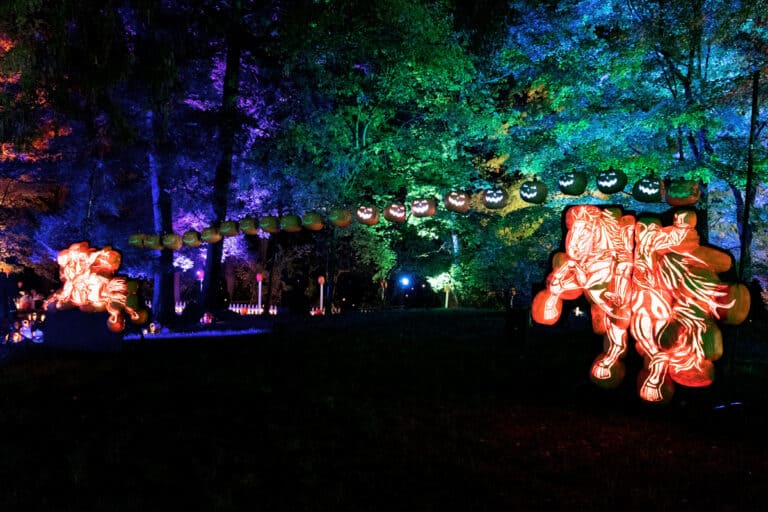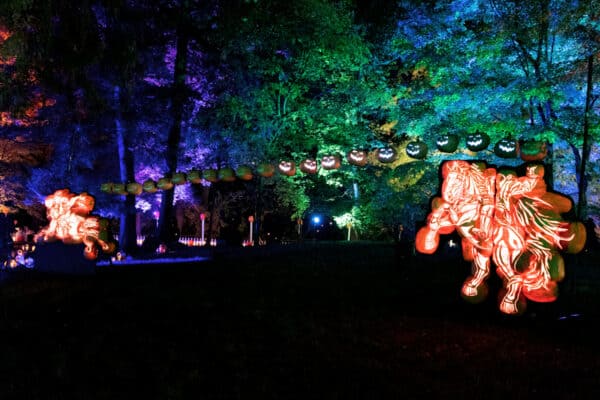 Overall, I'd be lying if I didn't say that I really enjoyed the Great Jack O'Lantern Blaze in Croton-on-Hudson. While the price is very high (a family of four would pay between $152 and $212 just to get in depending on the night you visit), and it can often take a while to even get to the site thanks to traffic backups, if you can afford to attend, this really is a fun Halloween activity in Westchester County (or in Nassau County for the Long Island version).
Notes about Visiting the Great Jack O'Lantern Blaze in the Hudson Valley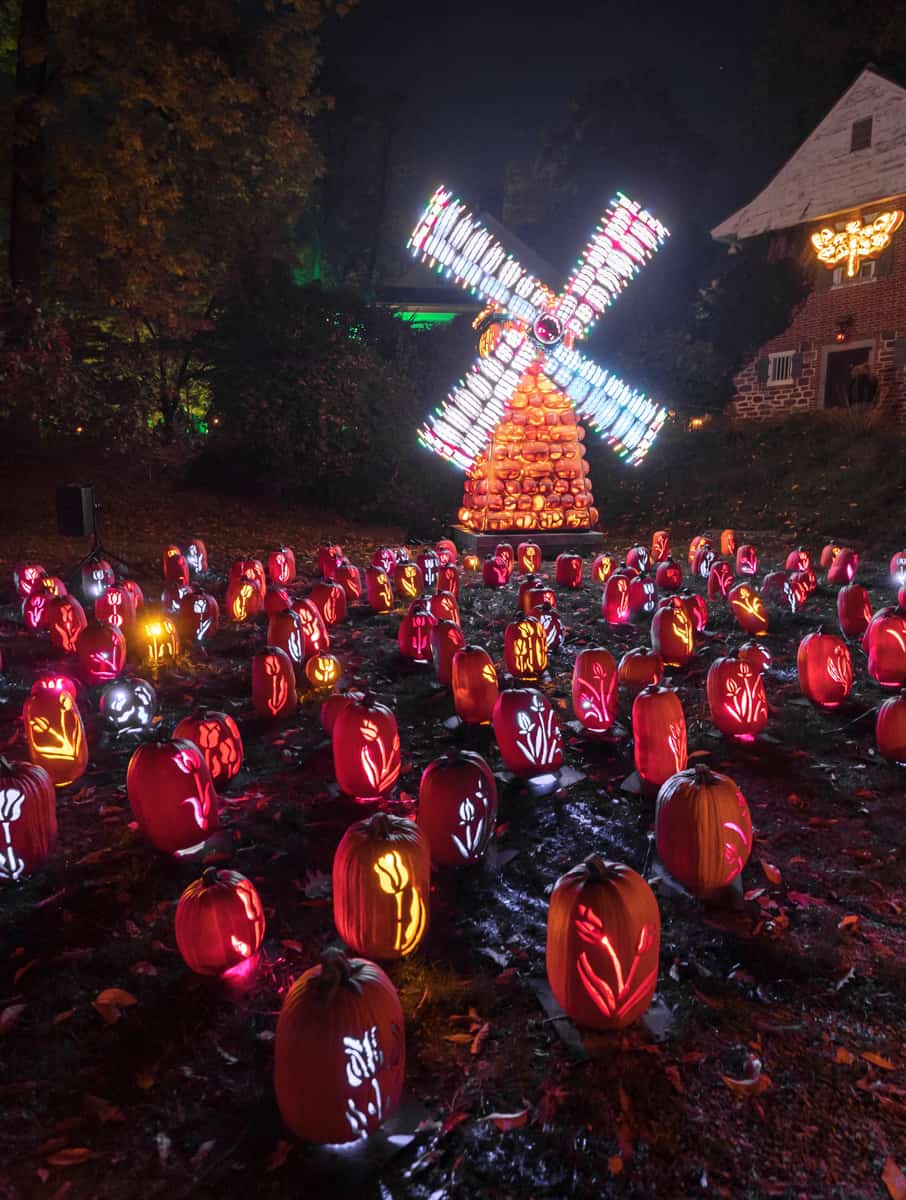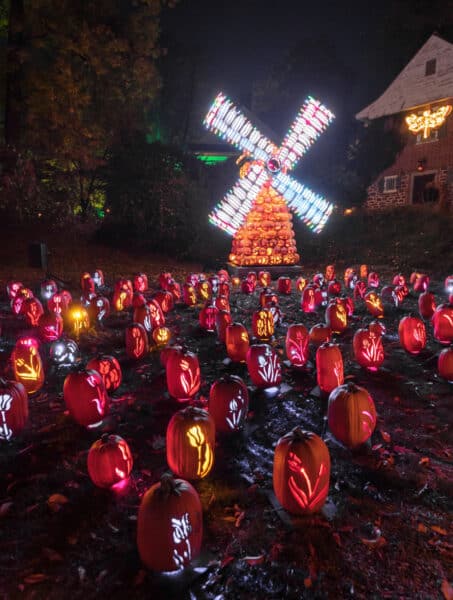 Just a few more closing thoughts about visiting the Blaze that I think are worth noting.
The Great Jack O'Lantern Blaze in the Hudson Valley is open most nights from mid-September through mid-November. If you opt instead to go to the Blaze on Long Island, it is open from late September through early November.
Tickets must be purchased online prior to arrival (They check tickets as you enter the parking area), and tickets often sell out days or even weeks in advance, especially on weekends. In 2023, tickets for adults cost $42-57 and tickets for kids are $34-49, depending on the night that you visit. Ticket prices also increase a bit if you buy them on the day of your visit (though, again, they often sell out ahead of time, so buy your tickets early).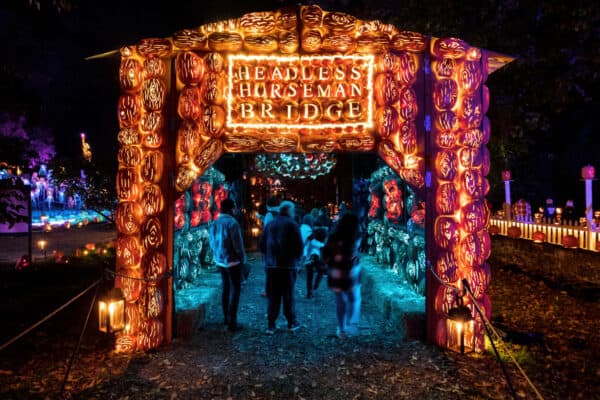 Tickets can be purchased on the event's website.
The Blaze in the Hudson Valley is located just off of the Croton Expressway (Route 9), about a one-hour drive north of New York City. You can also take the Metro-North Hudson Line from Grand Central Terminal to Croton-Harmon station, which takes about an hour. From there, it's a 10-minute walk to the event.
Find out more and get tickets at PumpkinBlaze.org.
Looking for more things to do nearby? Check out Croton Gorge Park, the West Point Foundry, Bannerman Castle, and Yonkers Brewing Company.