Disclosure: This article may contain affiliate links. We will make a small commission from these links if you order something at no additional cost to you.
New York is home to many beautiful waterfalls and parks, but, to the best of my knowledge, only one is named after an actor, even though many have come from the region.
Located in Amsterdam New York, you'll find Kirk Douglas Park and, within the park, Kirk Douglas Falls. This urban park features a bit of playground equipment, several picnic tables, and two beautiful waterfalls.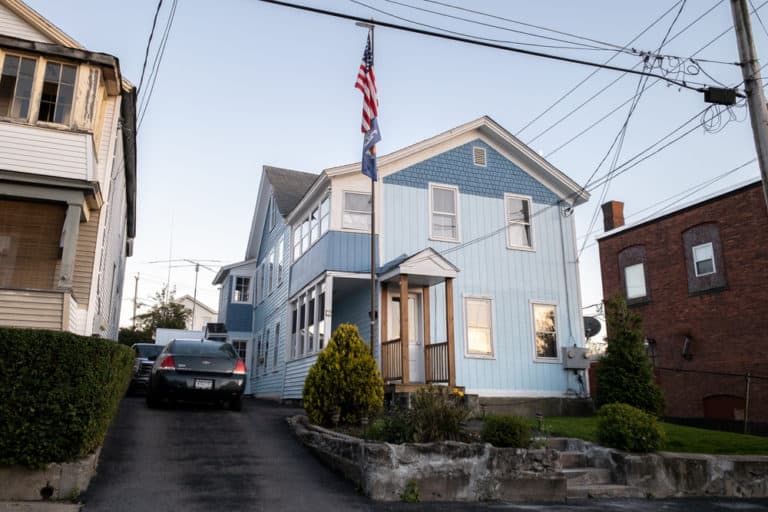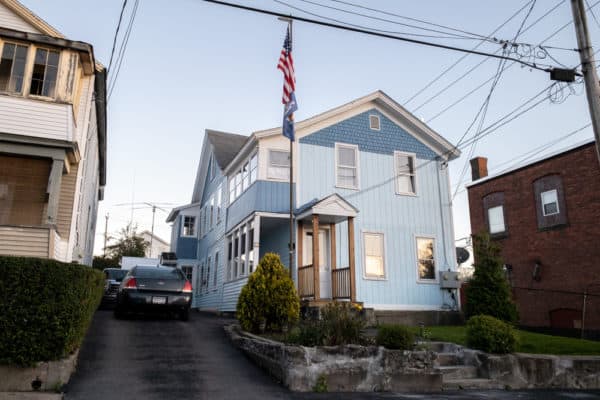 Kirk Douglas was born Issur Danielovitch in Amsterdam, New York in December 1916. His childhood home, where he lived with his immigrant parents and four sisters is located just off of Main Street along Eagle Street. While the home is a private residence, it's still an interesting spot to visit.
During his life, Douglas would star in dozens of films, most notably films such as "Spartacus," "Champion," and "Lust for Life," and would become one of the biggest stars of Hollywood's Golden Age.
Just down the road from his childhood home, Kirk Douglas Park was dedicated to the actor in 1985 to honor his life and career. A small plaque bearing his likeness is located on a giant boulder at the entrance to the park.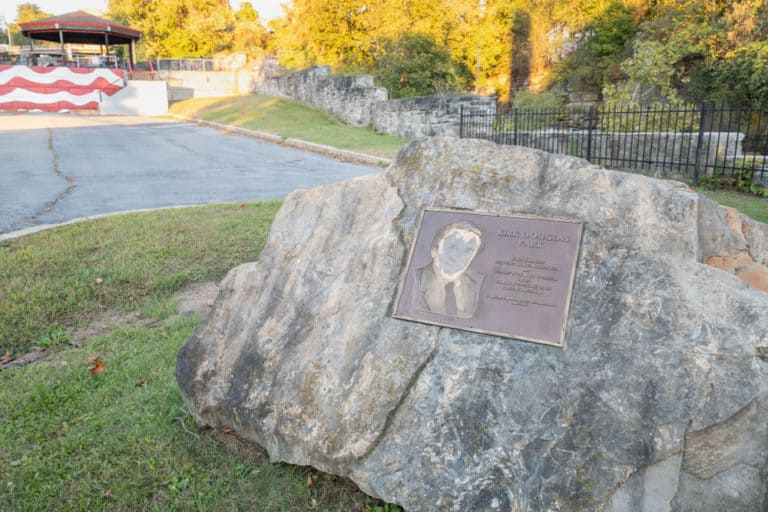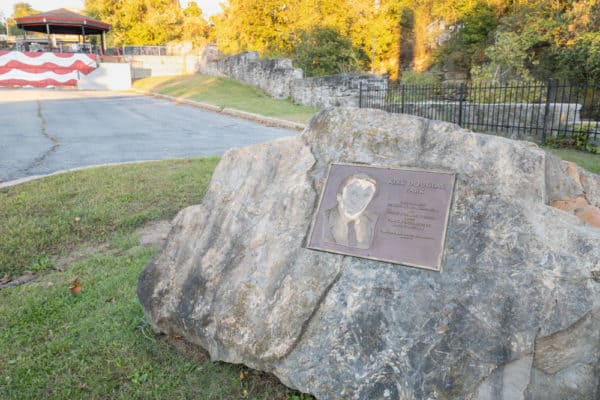 This is a small urban park tucked into the middle of downtown Amsterdam. Without a doubt, the highlight of the park is the waterfalls located along North Chuctanunda Creek shortly before it empties into the Mohawk River. These two waterfalls are located relatively close to each other, though you can't see both in one view.
Lower Falls is the furthest downstream of the two waterfalls in Kirk Douglas Park. This waterfall consists of a series of slides that I'd estimate to be somewhere around 15-20 feet in total height.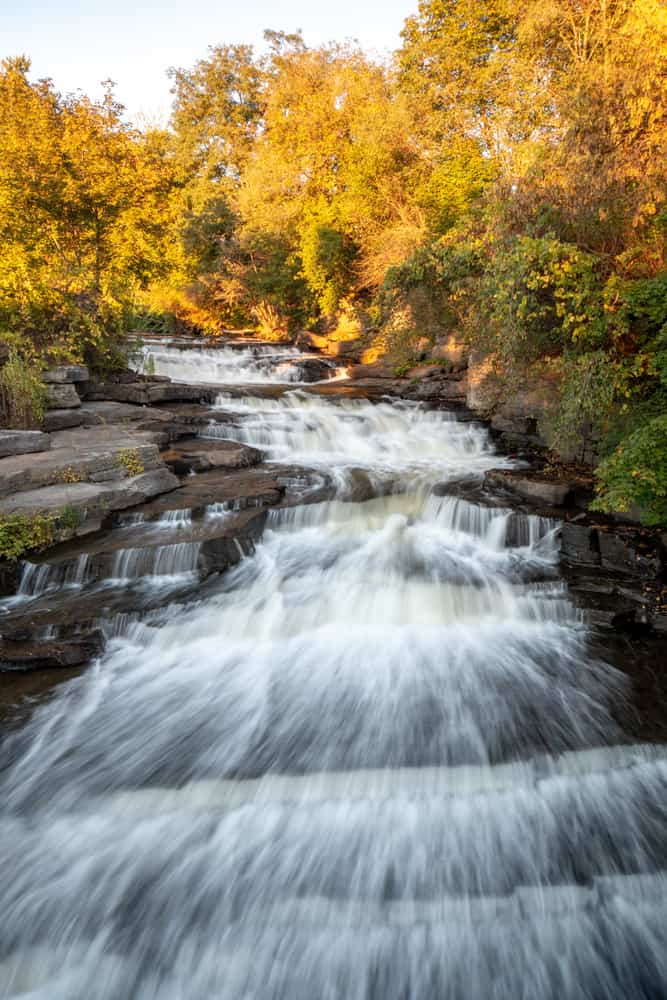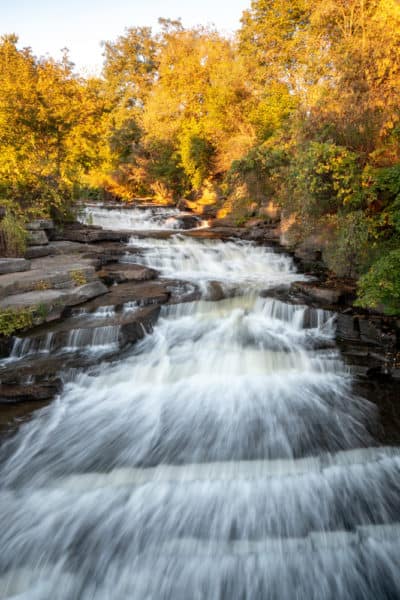 This waterfall is actually best viewed not from the park itself, but from the Guy Park Avenue bridge over the creek at the southern end of the park, which makes this a great roadside waterfall in New York to visit.
What I loved about this waterfall was how secluded it felt when looking at it. Even though I was standing on a road bridge next to the police station and in the middle of the city, I was able to look at the waterfall and only see beautiful nature.
When viewing the waterfall from the bridge, be careful as the sidewalk on the waterfall side is fairly narrow and it's hard to not stand in the road when viewing the falls. Fortunately, this seems to be a fairly lightly trafficked road.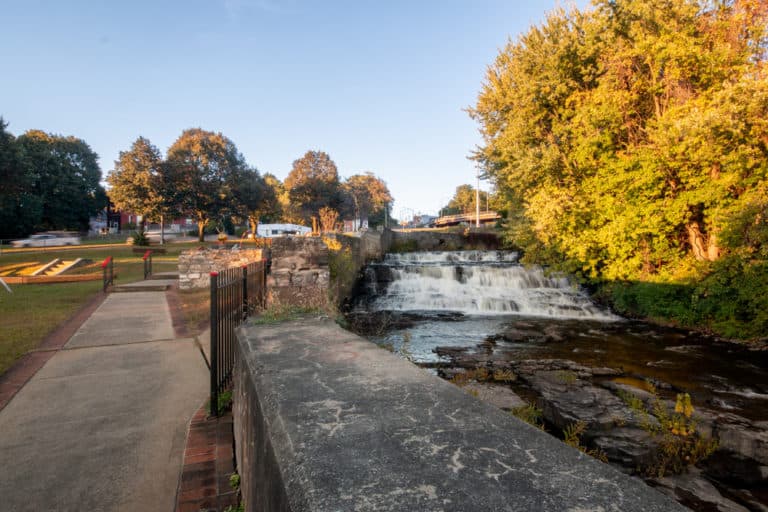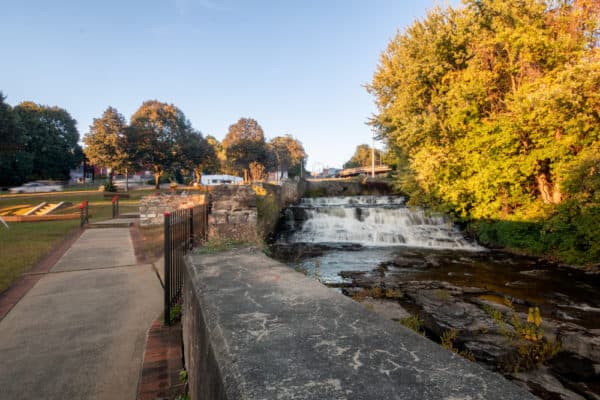 After you've enjoyed Lower Falls, walk east (away from the police station) and turn upstream to head into the fairly small Kirk Douglas Park. Other than the waterfalls, all you'll find here are a few picnic tables and benches, as well as a bit of playground equipment for kids.
As you head upstream along the sidewalk adjacent to the stream, you'll soon come to the upper part of Kirk Douglas Falls.
Upper Falls is approximately 10-15 feet tall and features a small upper drop and a larger lower drop. The viewing area for this waterfall is along the main concrete path through the park. While it would be nice to be able to easily get down to stream level, this viewing area does provide a nice view of the waterfall.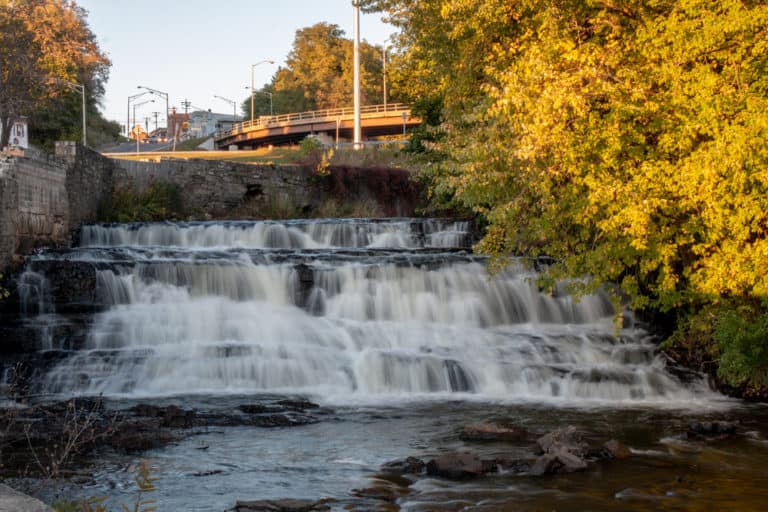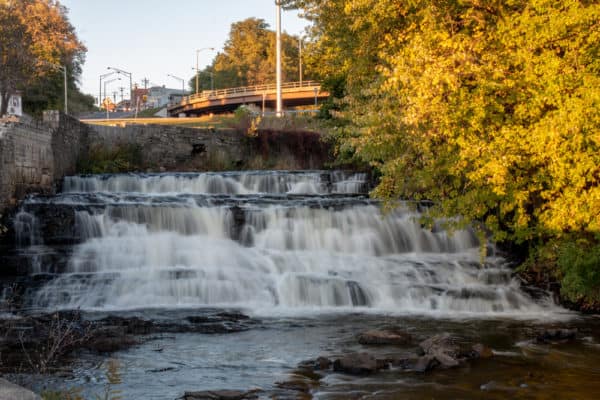 This upper falls feels a bit more urban than the lower waterfall simply because you can see a bit more of the city behind it. Nevertheless, it's still a beautiful waterfall and a great spot in the city.
While the waterfalls in Kirk Douglas Park in Amsterdam, New York are not among the largest or most impressive in New York, they are still a great spot to visit in Central New York. If you find yourself in Amsterdam (perhaps staying overnight in the fantastic Amsterdam Castle Hotel) or driving through the area on I-90, these two waterfalls are a quick and easy stop and a great way to explore the beauty of the region and honor the life of one of Hollywood's most influential stars.
How to Get to Kirk Douglas Falls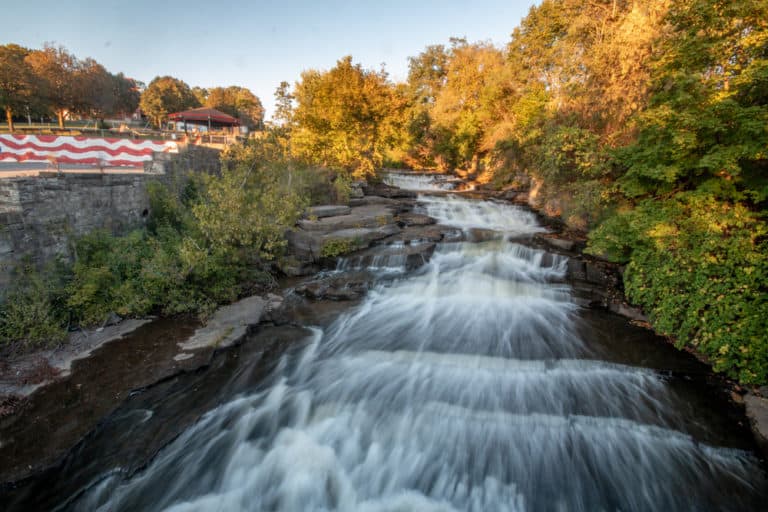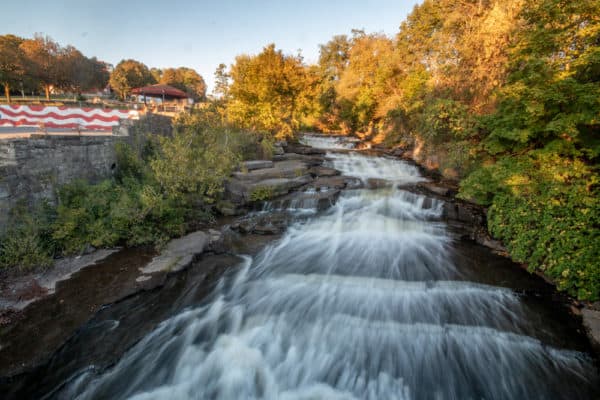 Kirk Douglas Falls consists of two separate waterfalls in Kirk Douglas Park in downtown Amsterdam, New York.
These two waterfalls are very close to each other and both are very easy to reach. Upper Falls is located at the following coordinates: 42.939508, -74.190389. It is best seen from the main concrete pathway through this small park.
Lower Falls is located just downstream of the upper waterfall. It is best seen from the bridge on Guy Park Avenue at the following coordinates: 42.938750, -74.191001.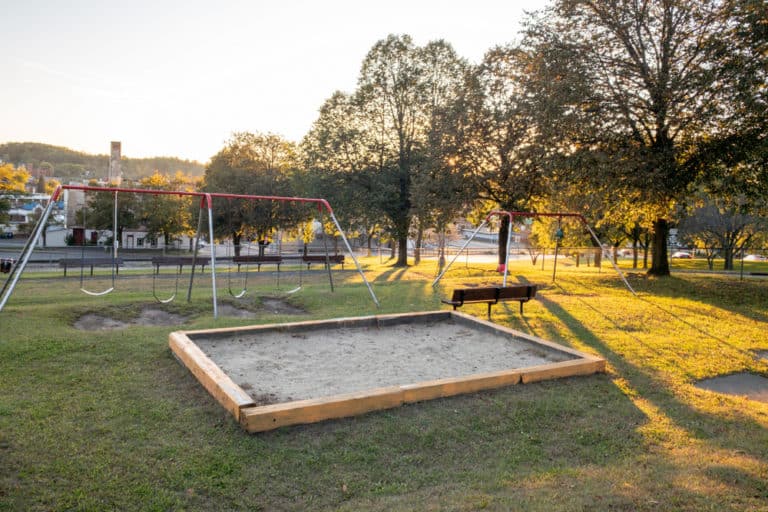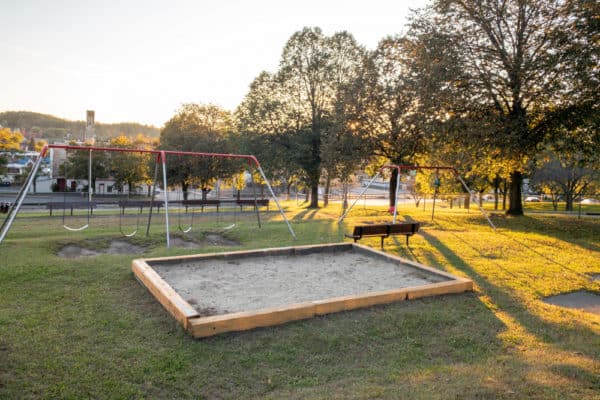 Parking in the area is quite challenging. There are two parking lots on the southern end of the park, but both are reserved for those visiting the police station and courthouse. Park here at your own risk outside of business hours as the signs were a bit unclear if this was allowed.
Your best parking option is to park about a block further away from the park along a residential portion of High Street at the following coordinates (42.938092, -74.189727), and walk the short distance to the park.
Looking for more places to visit nearby? Check out Stump City Brewing, Howe Caverns, Yatesville Falls, and the waterfalls of Plotter Kill Preserve.