Disclosure: This article may contain affiliate links. We will make a small commission from these links if you order something at no additional cost to you.
When I'm traveling around New York, I always enjoy finding unique places to spend the night. So, when I stumbled upon Amsterdam Castle in Amsterdam, New York, I knew I needed to stay there on my next visit through Central New York.
Amsterdam Castle is a 23-room boutique hotel that was opened to the public in early 2018. (Check current prices here.) If you've ever wanted to stay in a castle in New York, this is a can't-miss spot.
The hotel is located within what was once known as the Amsterdam Armory and was constructed in 1895. It was designed by Issac Perry, who also designed the beautiful New York State Capital in nearby Albany.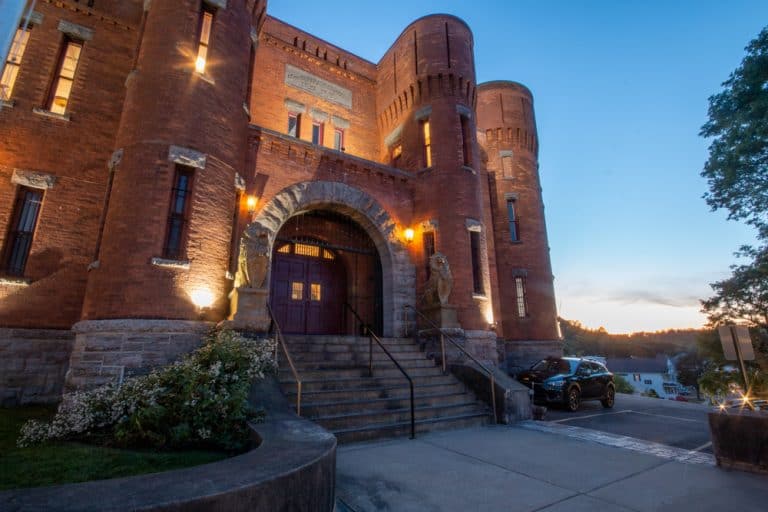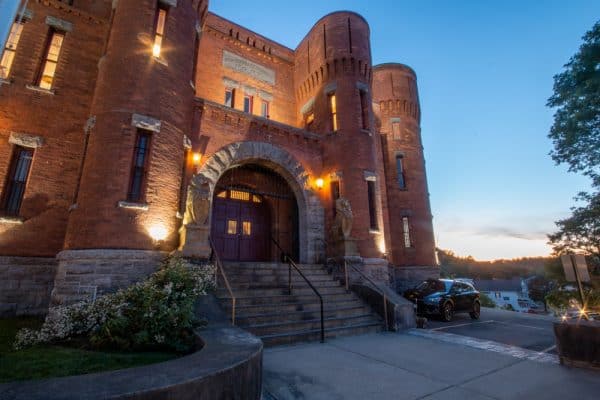 From the time it was built through 1994, the building served as a National Guard armory for Montgomery County, New York. The building later served as a small bed and breakfast before the current owners purchased the building in 2015. After a $4 million renovation, this amazing hotel opened to the public in 2018.
Like many other armories in New York, the exterior of the building is made of stone and resembles a classic European castle. This Neo-Romanesque style was quite popular in the late 19th century when many of these armories were being built around the country.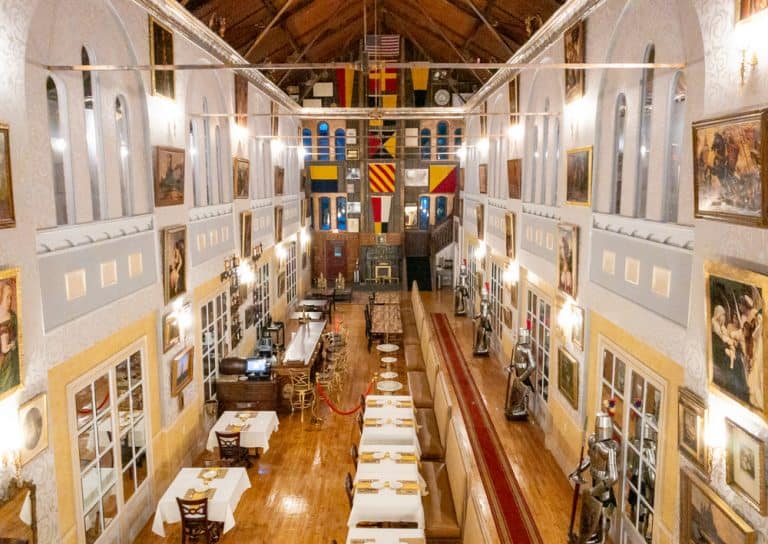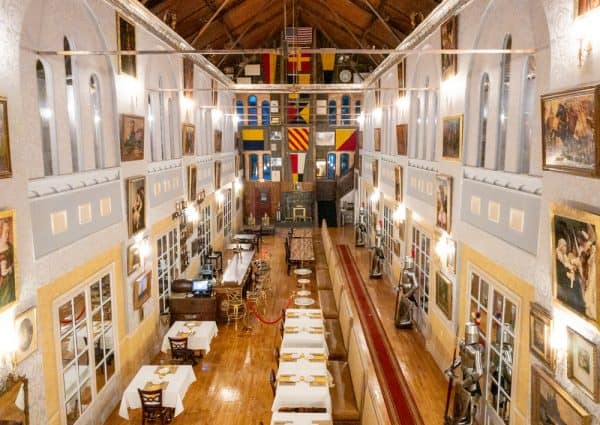 Walking through the front doors of Amsterdam Castle is an incredibly amazing experience.
Just inside the doors, a grand central room opens up revealing the incredible architecture of this building. This two-story room features a wooden vaulted ceiling and would be show-stopping even without any decorations.
That being said, the decorations here really help to amplify the castle motif. The walls are covered gallery-style with dozens of pieces of artwork that wouldn't look out of place in the finest European castles. Along the floor, one wall is lined with suits of armor, which really complete the feel of the room.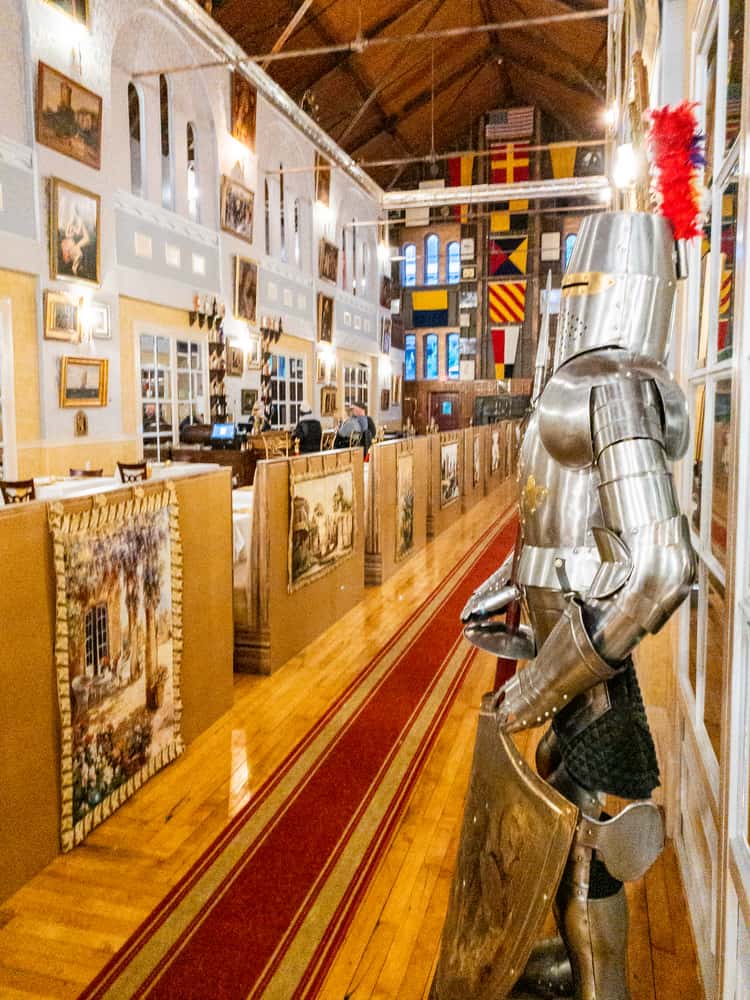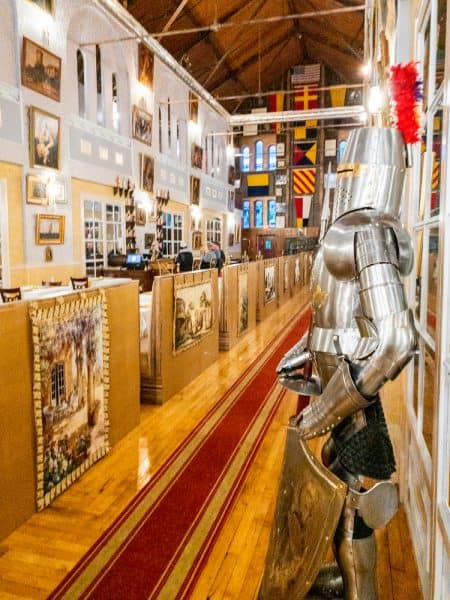 Currently, the room is primarily occupied by the hotel's on-site restaurant and bar. However, there is plenty of room for those not dining here to take in this majestic room.
The hotel rooms at Amsterdam Castle are located on the first and second floors of the building. The hallways and public areas continue this European castle design throughout the public spaces. There is even a public lounge upstairs that is both comfy and also continues the castle feel of the hotel.
The room itself is very nice and is sure to please just about any traveler thanks to its nice finishes and cleanliness. However, if I'm being honest, I wish they would have continued the castle motif into the rooms.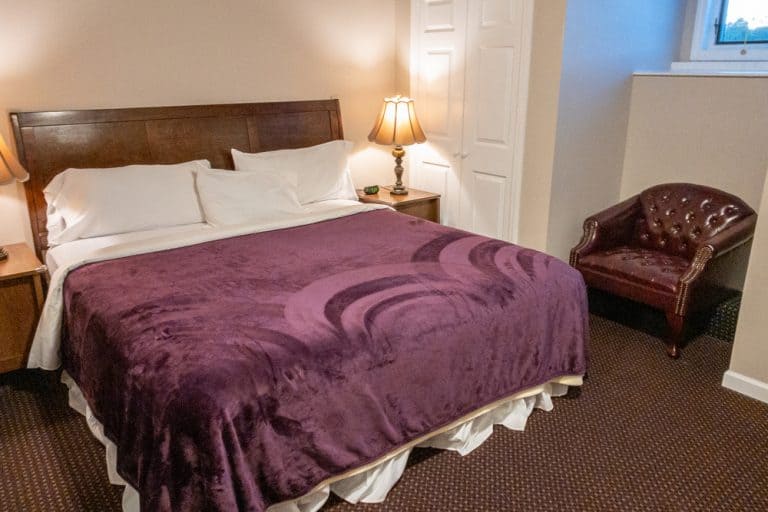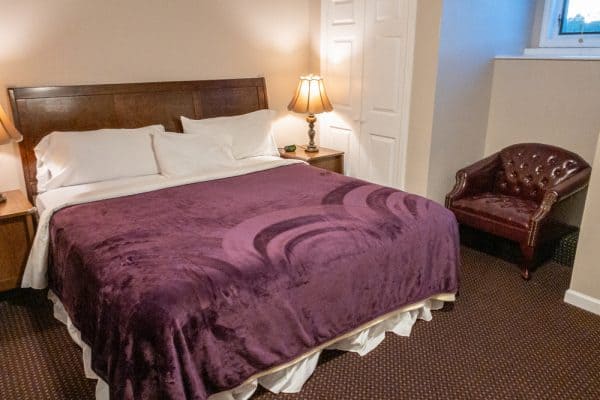 The room I stayed in was more or less just a standard hotel room you'd expect to find in a nicer hotel. Nothing wrong with that, but I feel like a bit of decoration in the room would have been nice.
Overall, though, I really enjoyed my stay at Amsterdam Castle and would definitely choose to stay here again if I was visiting the area.
I've stayed at many great places in New York, such as the Hotel Henry in Buffalo, but few can compare to this beautiful castle in Amsterdam, New York. Not only is this a clean and comfortable place to spend the night, but the castle-like exterior and European castle motif in the interior make this a really fun and unique hotel in Central New York.
Want to stay here? Check current prices for Amsterdam Castle here or check recent reviews on TripAdvisor.
You can also check out some unique treehouses in New York that you can rent.
Looking for more places to visit nearby? Check out Kirk Douglas Falls in Amsterdam, Yatesville Falls, Hyde Hall Covered Bridge, Stump City Brewing, and Plotter Kill Preserve.