Please do your best to limit your travels around New York during this time. If you decide to travel, please check the status of the places you are going. Some places around the state are temporarily closed or have changed their hours We will not be updating individual articles to note these changes. Stay safe and wear a mask!


Have you always wanted to spend the night in a treehouse? Well, you're in luck as there are many great treehouses in New York that you can rent on Airbnb.
While most of these are located within the Adirondacks, there are treehouses in other areas of the state that we'll highlight here as well.
So, whether you want to stay in a simple treehouse or are looking to take it a step further and stay in, for example, a treehouse over a waterfall, there are a lot of great spots to check out here.
Disclosure: This article may contain affiliate links. We will make a small commission from these links if you order something at no additional cost to you.
(Note: Prices pulled from Airbnb in December 2020 and may not reflect current pricing or every situation. Photo at the top of the article used courtesy of Airbnb.)
An Adirondack Tree House Retreat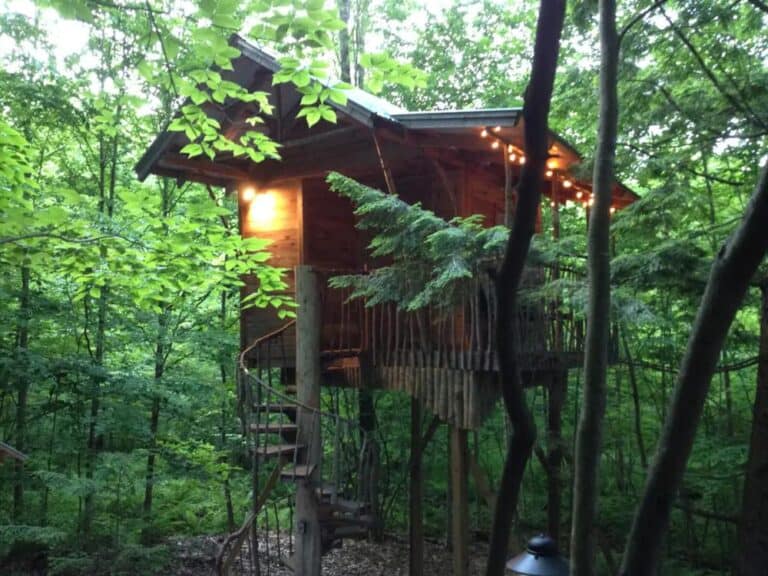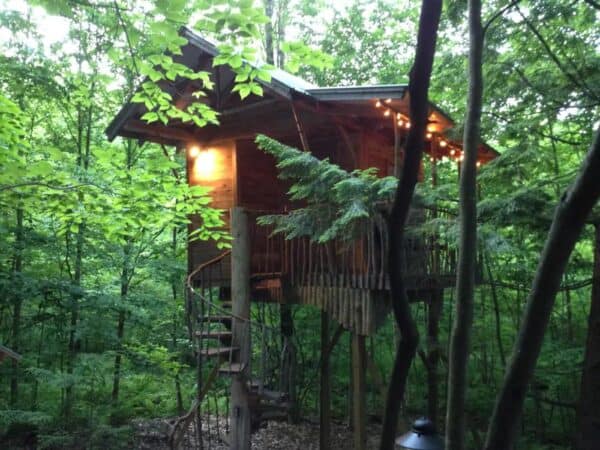 Located in Saratoga County in the southern reaches of the Adirondack region, this New York treehouse features an incredible spiral staircase that leads up to it.
The treehouse itself features a small, but relaxing bedroom with two beds (one of which is in a loft). Outside, there is a covered deck with chairs.
Below the treehouse, there is a second deck with an outdoor kitchen and more places to sit. Nearby, you'll find a firepit, hammock, and full bathroom.
Cost: $260/Night – Check Availability Now!
Chez' Tree Rest Treehouse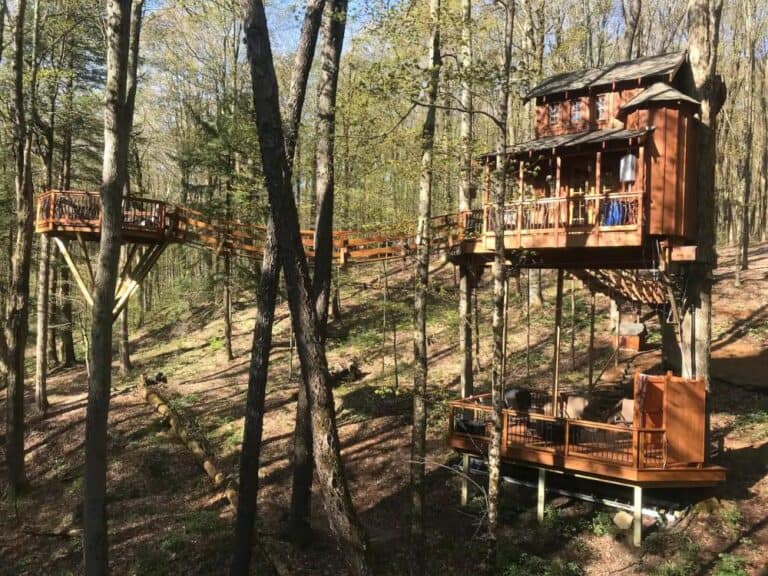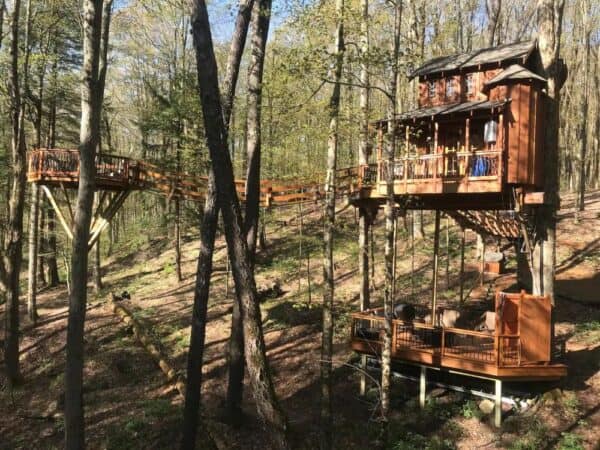 Located a short drive south of Syracuse, the Chez' Tree Rest Treehouse features several amazing structures that are attached together.
The main cabin is reached via a 60-foot cable bridge and is 35 feet above the ground! It features one bedroom, a living room, a small kitchen, and a toilet.
Other decks include a grill, outdoor shower, dining area, and even a firepit.
Cost: $250/Night – Check Availability Now!
Ultra Luxury Treehouse with a Cable Bridge and Waterfall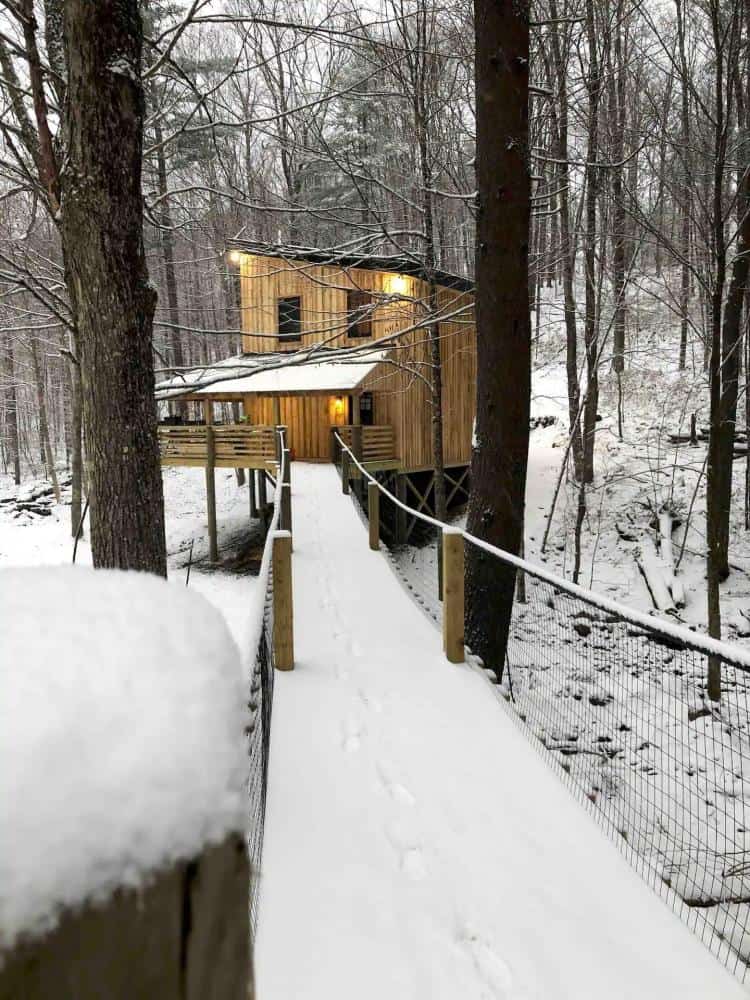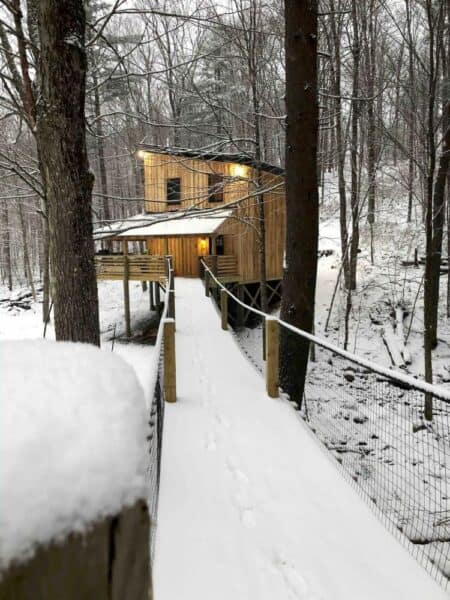 Staying in a treehouse in New York doesn't have to be rustic. It can also be quite luxurious, as is shown by this beautiful spot.
Located in the southern Adirondacks near the shores of the Hinkley Reservoir, this treehouse was built by the Amish using local wood. It features an 80-foot long suspension bridge that is used to access the property.
Inside, the design is incredible with a stylish kitchen and bathroom. There are also two bedrooms.
Outside, you'll find a 50-foot waterfall, a firepit, and more.
Cost: $340/Night – Check Availability Now!
Cozy Treehouse in the Catskill Mountains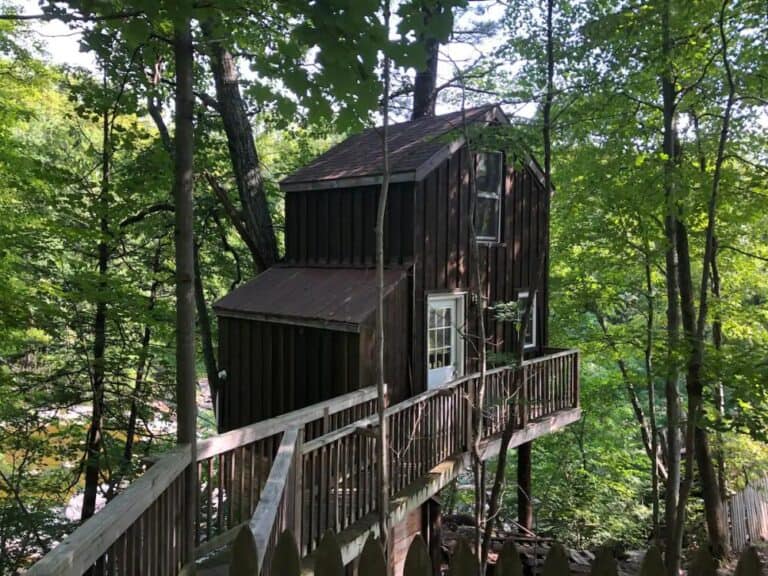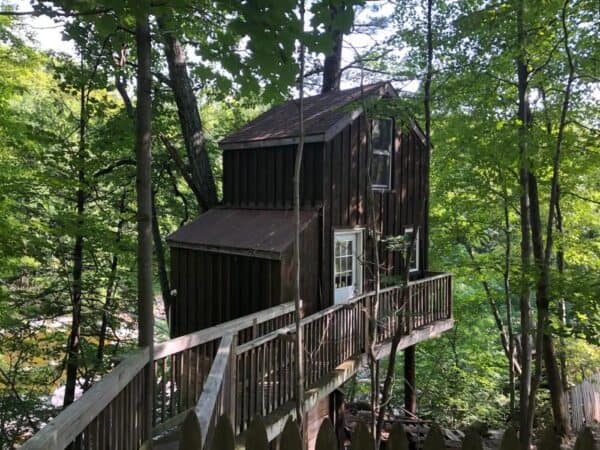 Located near the banks of Kaaterskill Creek in the Catskill Mountains, this treehouse is a great spot for those looking for a great spot to stay in southeastern New York.
This cozy treehouse features one bedroom and one bathroom, as well as a living room and outdoor seating. It also has it's own private swimming hole.
It is also located near the very beautiful Kaaterskill Falls, making it a great spot for those who love waterfalls.
Cost: $150/Night – Check Availability Now!
Adirondack Treehouse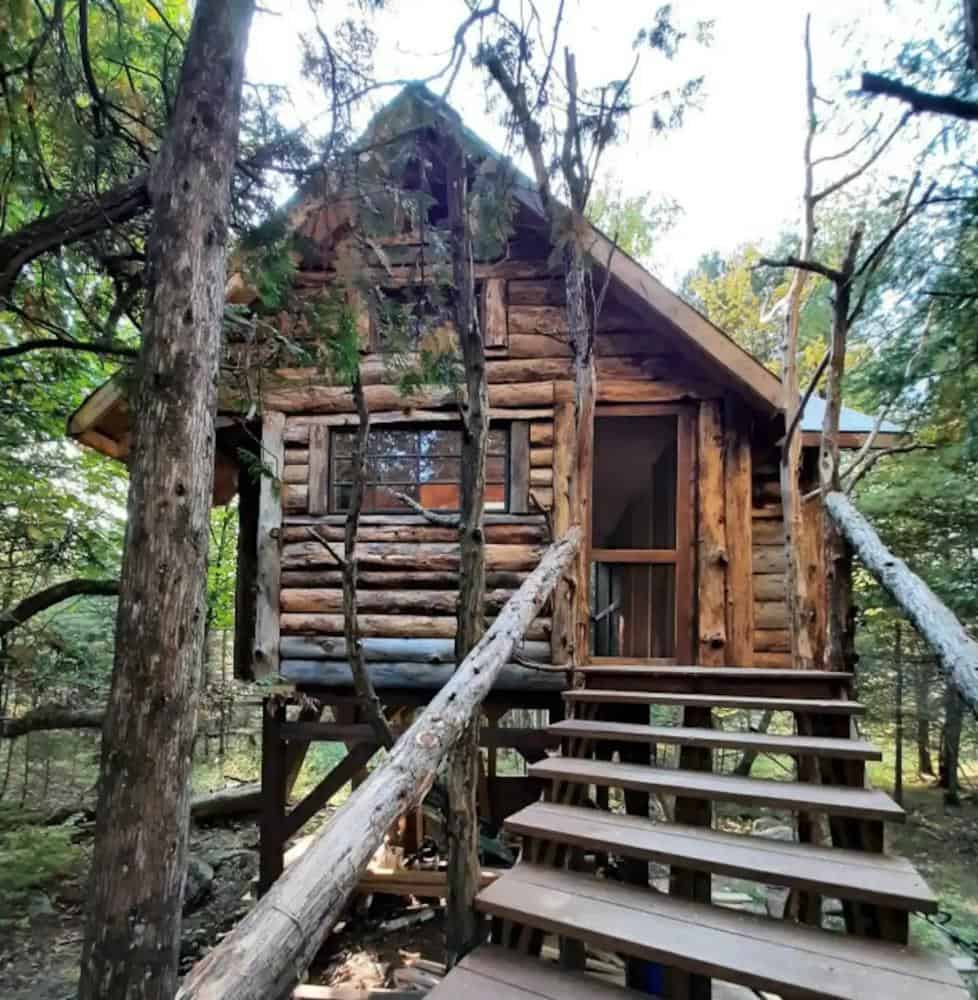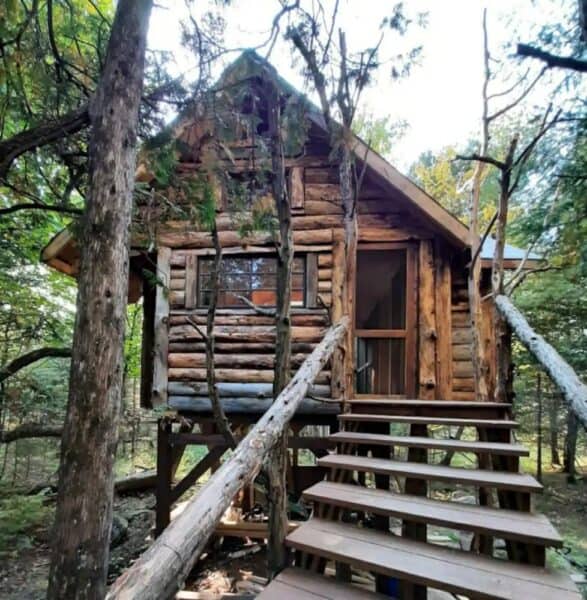 The Adirondack Treehouse looks exactly how I always envision quaint cabins in the region. It just also happens to be built off of the ground and in a tree.
Located only a short drive from Lake Placid, this cabin offers a cozy space that's just big enough for a bed, a small bathroom, and a kitchen.
Outside, there's a screened-in porch attached to the cabin. There is also a separate structure with a cooking area and a table and a nearby fire ring.
Cost: $85/Night – Check Availability Now!
Wag Trail Inn Treehouse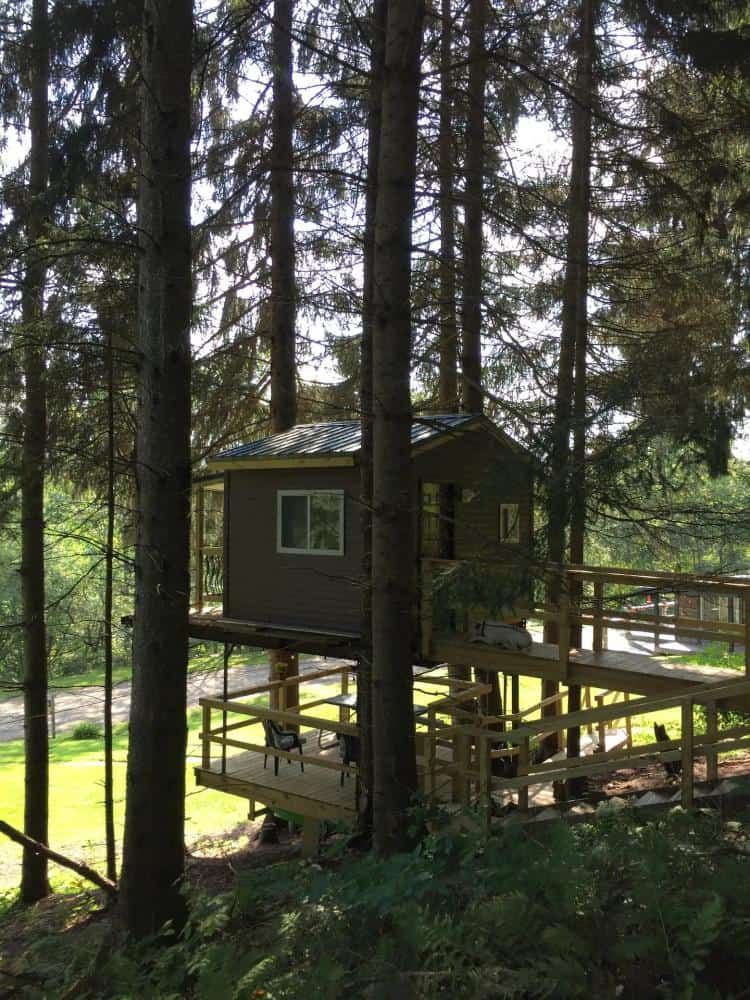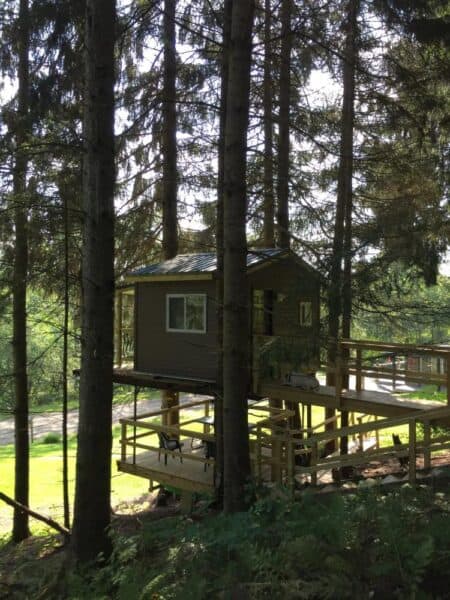 Located near Wellsville in southwestern New York, the Wag Trail Inn's treehouse is perfect for those that want a treehouse experience but with modern amenities.
The interior of the space looks like a well-appointed cabin hotel room and has a nice bed and several great spots to relax both inside and outside the cabin.
Visitors to this treehouse also receive breakfast and dinner included in their accommodation price.
Cost: $75/Night – Check Availability Now!
Out on a Limb Treehouse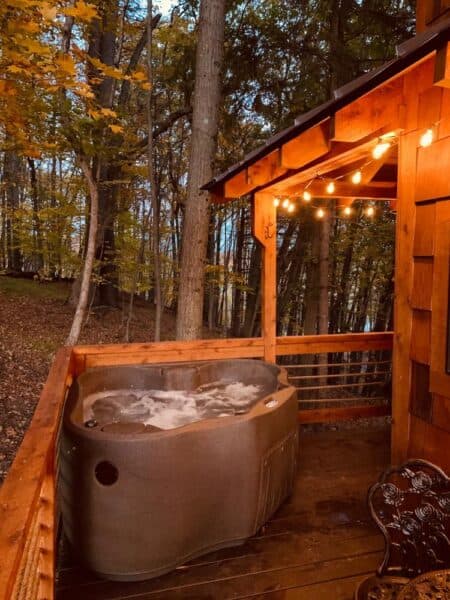 Located near Argyle in eastern New York you'll find the Out on a Limb Treehouse.
Nestled high up in the trees, you'll discover a beautiful cabin with a great bathroom, a kitchen, and more. Outside, there's even a hot tub!
On the ground, you'll find additional amenities like a fire pit and cozy seating.
Cost: $250/Night – Check Availability Now!
The Magical Treehouse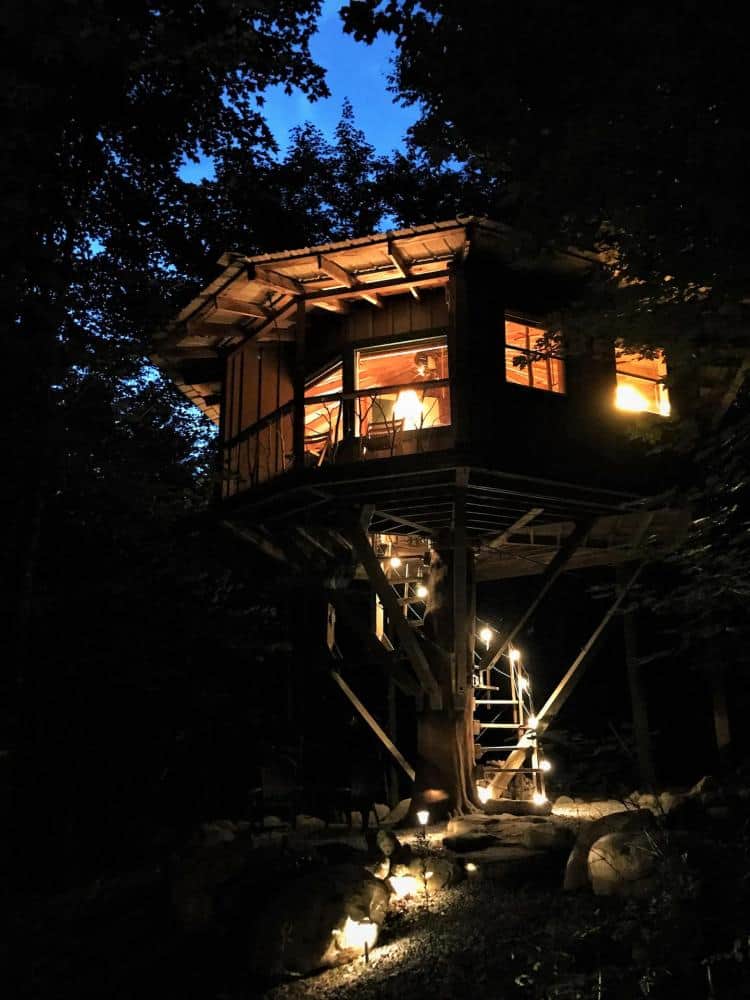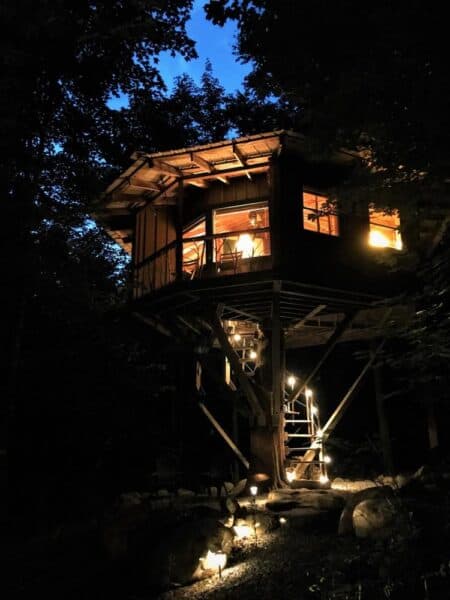 Located in the northern Adirondacks, the Magical Treehouse is an amazing structure and is perfect for anyone that's always wanted to sleep in one of the best treehouses in New York.
This one-room treehouse features a wonderful living room and a futon bed. A separate bathhouse and cooking area are located only steps from the base of this cabin in the trees.
This large property also features several miles of private hiking and mountain biking trails.
Cost: $250/Night – Check Availability Now!
Spirit House Treehouse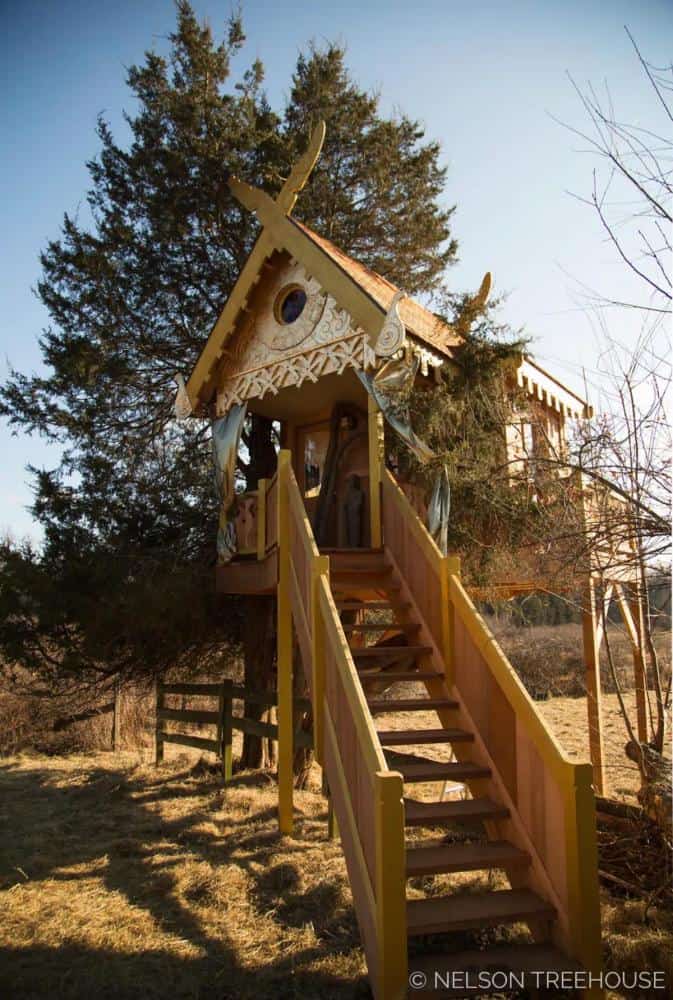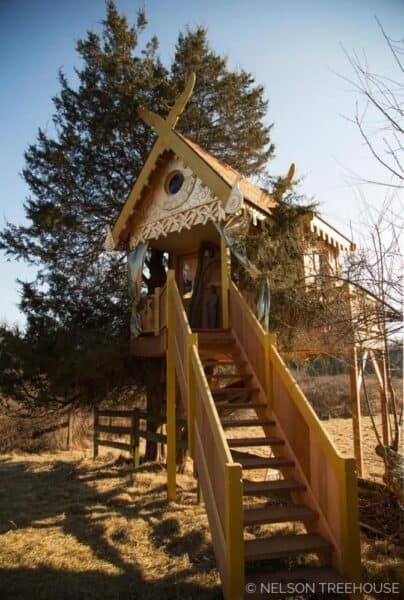 The Spirit House Treehouse is located in the Hudson Valley and was built by Pete Nelson and featured on his show, Treehouse Masters.
The cabin is incredibly light-filled and even has a small stained-glass window. The interior features little more than a desk and a loft with a bed, but it's a perfect spot to visit if you've always wanted to relax in a treehouse.
Outside, you'll find a small balcony with an enclosed toilet.
Cost: $200/Night – Check Availability Now!
Ash Hill Treehouse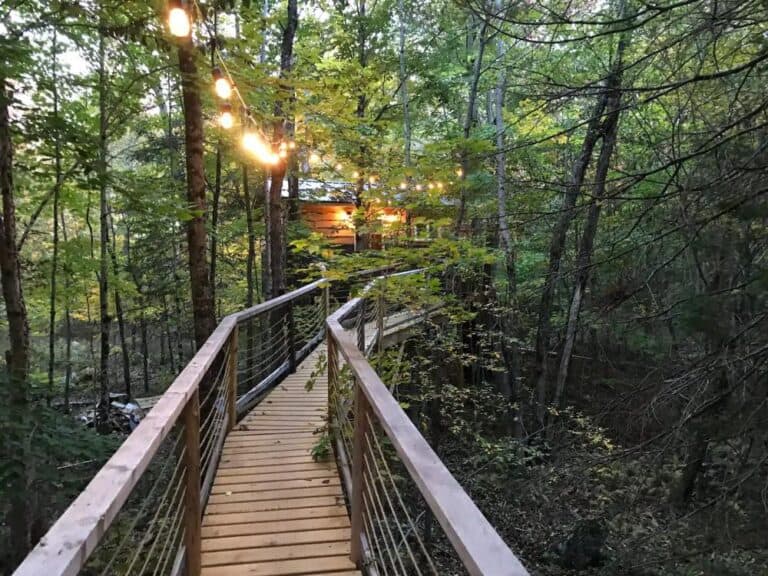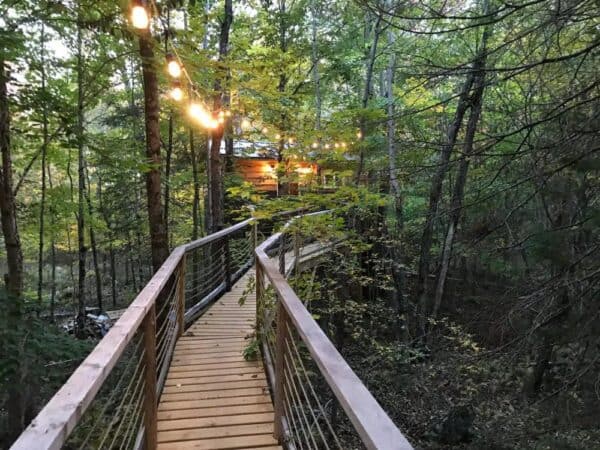 The Ash Hill Treehouse is located in the southern Adirondacks near Old Forge, New York.
Accessed via a 100-foot bridge, this newly-built treehouse is located in the middle of a beautiful ash and maple forest.
The interior space is a perfect mix of a rustic cabin and modern amenities and has a full bathroom within the treehouse. Outside, visitors are allowed to explore the expansive 24 acres of land surrounding their forested rental.
Cost: $275/Night – Check Availability Now!
Whispering Wind Treehouse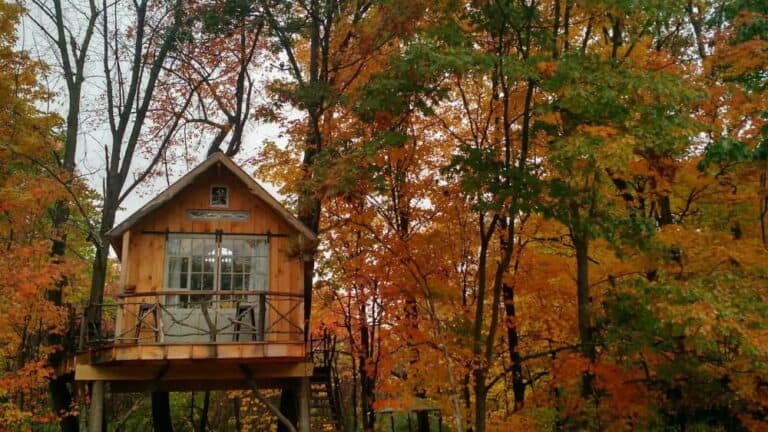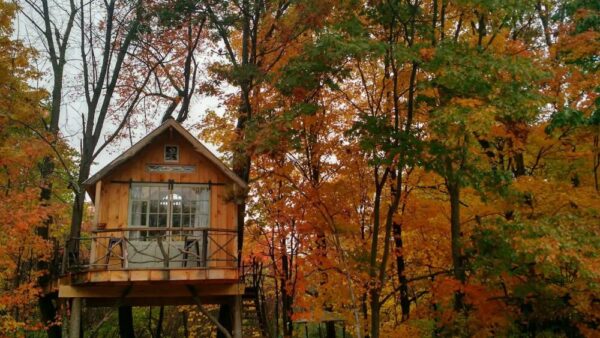 The Whispering Wind Treehouse is located near Argyle, New York, and is only a short distance from the New York/Vermont border.
This small treehouse is located on an environmentally-friendly property and features a great setting high up in the trees. Inside, you'll find a living room, lofted bedroom, and a small kitchen area.
Outside, there is seating both in the trees and on the ground, as well as a firepit. The bathroom area is a short walk away.
Cost: $195/Night – Check Availability Now!
Willow Treehouse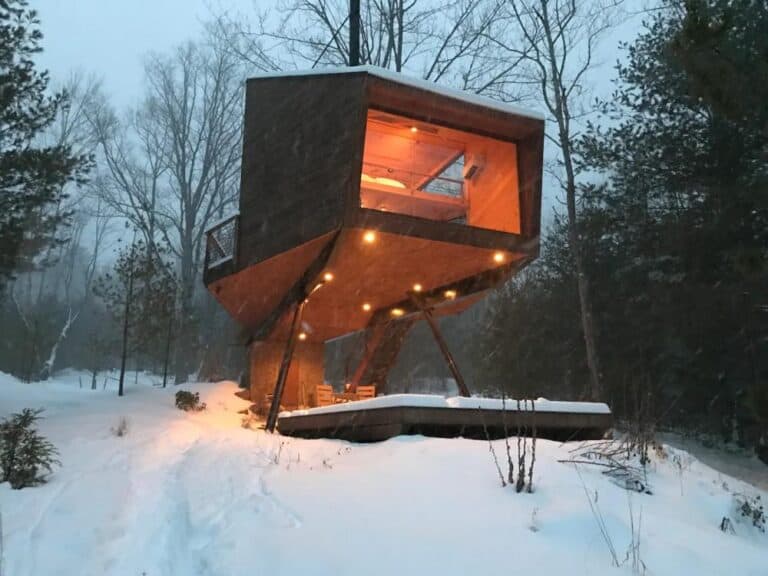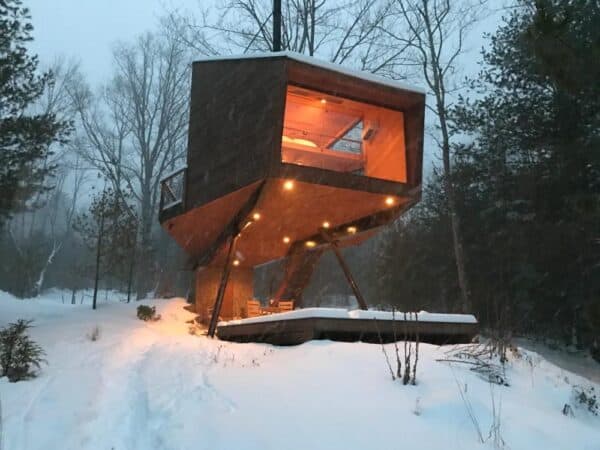 Located in the Catskills, this treehouse features incredible designer touches and is perched on the edge of a beautiful pond (which you can swim in!).
The cabin looks like something designed by Frank Lloyd Wright and is very light and airy. It features a lofted bedroom, a beautiful kitchen, and places to sit indoors and outdoors.
Below the cabin, there is even a hot tub that's warmed by firewood.
Cost: $360/Night – Check Availablity Now!
The Rock House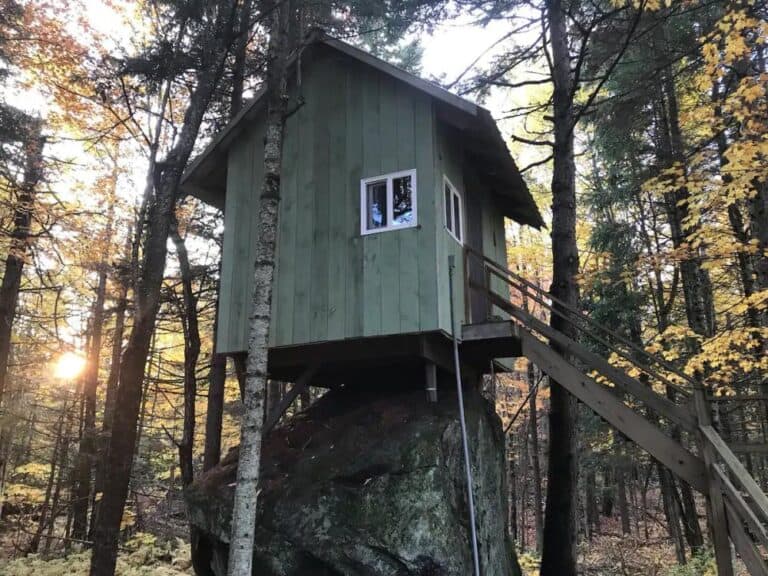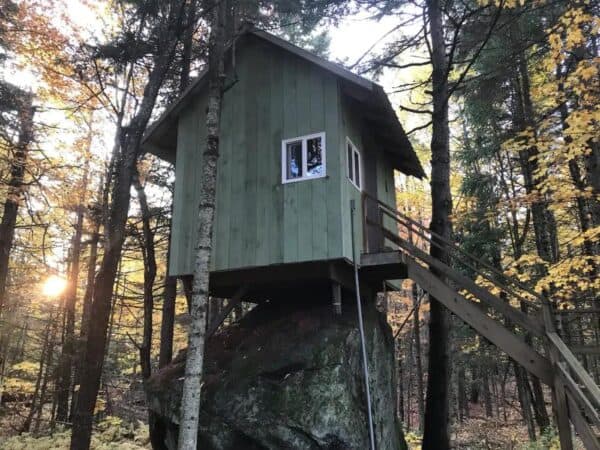 The Rock House is a unique treehouse perched above a giant boulder in the middle of the forest in the western Adirondacks.
This one-room cabin features a cozy space with a small bedroom, sitting area, and kitchen. It's perfect for one person but can accommodate two people.
Outside the cabin, there's a firepit, a sauna, an outdoor bathtub, and 160-miles of private land to explore, including a private stretch of the St. Regis River.
Cost: $125/Night – Check Availability Now!
Have you ever stayed in one of these treehouses in New York or do you have a favorite one to share? Let us know in the comments below.
Looking for more unique places to stay in New York? Spend the night in a castle in Amsterdam or a once-abandoned asylum in Buffalo.